John Cena's 10-Year Anniversary with WWE: Comparing Cena and Hogan's 10th Year
June 28, 2012

John Cena will only celebrate two anniversaries with his currently estranged wife, but the perennial poster boy celebrated his 10th anniversary with the WWE on Wednesday as the year of the anniversary continues. 
John Cena is still going strong as the face of the sports entertainment giant, with no signs of slowing, or heeling, in sight. 
The consummate good guy, John Cena's brilliance lies in the fact that he is whatever WWE fans, both young and old, want him to be.  Some take his not-so-subtle babyface charm and Superman booking at face value, fancying him as pro wrestling's much-needed knight in blue red purple  green armor.  
Some see John Cena's good-guy act as just that, an act.  A pretentious, lumbering sap with more alpha male than in-ring talent, not to mention corny promos and cheesy gear.  Cena's distinction as Superman to this crowd is blurted only in disdain and resentment for what the anti-Cena contingent sees as a stale act from both John Cena and the WWE in general.     
Never have there been so many valid points both for and against a superstar booked this simplistically. 
The polarizing nature of John Cena is what keeps his character fresh as any given arena can cede either a hostile or pleasant reaction depending on the demographic. 
Such is why Cena will always be a lightning rod as he still receives an impassioned response, for better or worse, 10 years later.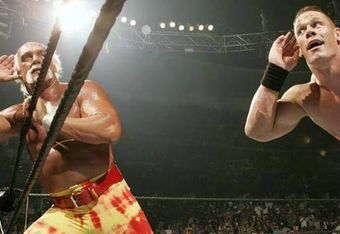 Unfortunately, the same could not be said about Hulk Hogan's 10th year in the WWE. 
Hogan returned to the WWE in 1983 prior to his iconic Hulkamania run as we now know it today.  As the legend meteorically rose to the top of the wrestling world, and stayed there, nobody would have thought to boo a man booked as an immortal.  The brave few who did were either edited out, kicked out or drowned out with cheers. 
A purveyor of propaganda, the appeal of Hulkamania was the fact that its subject was fighting the good fight, and always came out on top.  His values were impossible to compromise.  His spirit, impossible to break. 
As unthinkable as it seemed to embrace the idea of fans getting tired of the same old "good conquering evil" storyline back then, it surely could have made Hogan relevant in the WWE for another ten years.
Yet at the end of his run and creative novelty, and with tensions rising between Hogan and Vince McMahon, Hogan spent the 10th year of the Hulkamania era sitting out his contract the same way Magic Johnson spent his last season with the Lakers on the bench in the playoffs. 
Superman had been cast out from Krypton and it would take a can of black spray paint and a beard three years later to recapture any semblance of palpable magic Hogan enjoyed in the WWE. 
John Cena will need neither a spray paint, a beard or to be flanked by a pair of big names in order to evolve. 
In fact, he'll probably never evolve.  He doesn't have to. 
Fans evolved, as did the WWE in acknowledging his detractors and booking accordingly.  While they'll never get credit for the Cena's unique reception on any given night, the WWE brilliantly capitalized and monetized what should have been a universal fan revolt. 
Instead of being forced to turn their cash-cow into a bad guy, they instead left this arduous task to the fans themselves.  In a novel concept that sounds too good to be true, fans are actually allowed to pick a side when it comes to John Cena—propaganda not included. 
John Cena is the same cheesy Bostonian superhero who seized the torch as the WWE's white knight following WrestleMania 21.  Exempt from indifference and subject to debate, John Cena will always be open to interpretation.  And as boring as a babyface bodybuilder in jorts sounds, his character captures imaginations like no other.  
Metallica at SummerSlam and more on Big Nasty's latest News and Rumors!  Follow Big Nasty on Twitter @ThisIsNasty!