Euro 2012: Observations from Spain's Semifinal Win over Portugal
June 28, 2012

Laurence Griffiths/Getty Images
In dramatic, gut-wrenching fashion, Spain toppled Portugal to advance to the Euro 2012 Final. 
And all Cristiano Ronaldo could do was watch. Slated to kick fifth in the penalty shootout—following a 0-0 draw after regulation and extra time—Ronaldo never even got a chance. Spain won 4-2, leaving Ronaldo utterly dejected. In this case, a picture is worth a thousand heartbreaking words. 
With stakes elevated and familiarity between the Iberian neighbors—a combined 12 players suit up for either Barcelona or Real Madrid at the club level—neither side was able to break through, eventually sending the game to penalty kicks. 
A miss by Bruno Alves in the fourth spot pushed Portugal against the ropes. Cesc Fabregas then delivered the knockout blow. Calmly, as if he's been there before (he has), he placed the ball just out of the diving keeper's reach, off the side post and into the back of the net.
Game over, but Spain's remarkable quest continues. 
Here are three observations from Wednesday's semifinal.  
Credit the Defense
Just once, do it. Fine, I will. 
In a match featuring the likes of Ronaldo, Xavi, Nani and Iniesta, it was the defense—of both teams, really—that stole the spotlight. They had the lighter feet, an extra amount of urgency and aggression. Chances were quickly snuffed out, crosses easily cleared, shots blocked by wall-like efforts.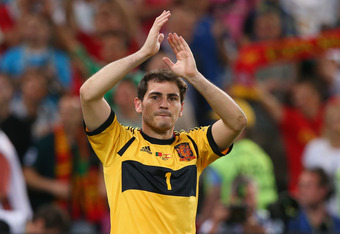 Alex Livesey/Getty Images
Enough so, Portugal—Ronaldo included—failed to land a single shot on goal the entire 120 minutes of play. Not one.
Much has been written of Spain's quality-and-quantity midfield, but maybe now, after nine straight shutouts in knockout stage matches, the defense and Iker Casillas deserve some of the credit—or a lot. 
Spain Miss David Villa aka The Vicente del Bosque Lineup Shuffle
Is he indecisive, being methodical or has del Bosque simply gone mad? 
It's the million dollar question these days, with the final answer (and Regis Philbin) nowhere in sight. Spain's coach, yet again, fielded a different starting lineup against Portugal—his fourth in five games and a new one, altogether.
Alvaro Negredo started at forward and made little impact before going to the bench in favor of Fabregas and a return to the false-nine, striker-less formation—a move the team has been forced to rely on often in the tournament.  
It's becoming apparent, borderline obvious, that La Furia Roja is a lot less furious with Villa out. Almost tame in a way. And no doubt, his goal-scoring absence correlates to del Bosque's lineup shuffling. Spain's tiki-taka style thrives when Villa—able to stretch the field and open up passing lanes in the process—is on the pitch. Not Fernando Torres. Not Negredo.
Is it time to turn to Llorente, or to see what Pedro brings to the starting 11?  
More questions... 
Best Team Ever (?)
To be determined—pending Sunday's outcome—but realistic enough to ask now.
Winners of Euro 2008, World Cup 2010 and having advanced to the Euro 2012 final, Spain is more than just "on a magical run." They're smack dab in the middle of a dynasty. A chase to rival the 1970 Brazil National Team—starring Pele, Jairzinho, Tostao, Carlos Alberto and others—as "The Best Team in Soccer History."  
In truth, a win Sunday vaults Spain into a whole 'nother category. But let's not get ahead of ourselves. 
A deep Germany or relentless Italy stand in their way.