5 Ways to Ensure Jarrod Parker Isn't the Next Oakland A's Stud to Get Traded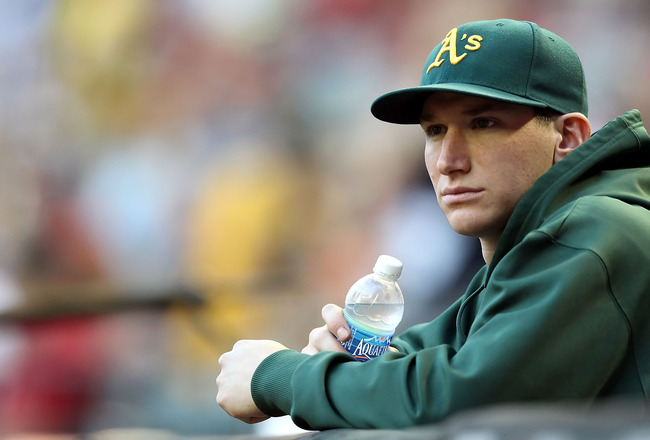 Christian Petersen/Getty Images
Last night Jarrod Parker was once again brilliant for the A's, going seven strong innings against the Seattle Mariners, allowing only one earned run while racking up nine strikeouts. Barring any arm problems (knock on wood) he figures to be a constant at the top of the A's rotation for some time, but in A's terminology that unfortunately turns out to be only a few years.
One thing's for certain however, by now Billy Beane has been through this situation more than enough times to know exactly what the best course of action is to ensure that Parker remains in the green and gold for more than just the customary few seasons.
Obviously the best case scenario would be the conception of a new ballpark, but lets be honest, most A's fans, myself included, have given up on that hope a long time ago. So assuming a new ballpark isn't going to magically appear, the A's have only a few options to try to keep Parker around for the long haul.
Here are five ways to make sure Jarrod Parker doesn't become yet another bargaining chip come the trade deadline/offseason.
Lock Him Up Early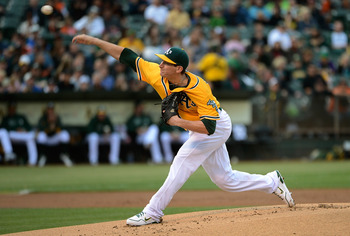 Thearon W. Henderson/Getty Images
Just like Brett Anderson, giving Parker a long term deal early in his career could turn out to be a very smart way to maximize his value. By signing him earlier you have much more leverage in the contract negotiations, thereby being able to retain him longer for cheaper.
If they wait till his current contract comes to an end he'll already be a major pitcher in the league and command much more than he would, say, after this season. Also, if the A's were to throw in team options, then they would be in control of his contract, not having to worry about him opting out and hitting the free market early.
The longer the A's wait, the more expensive Parker becomes.
Protect Him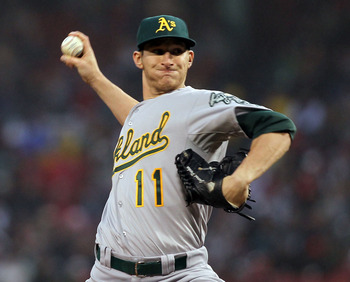 Jim Rogash/Getty Images
Also just like Brett Anderson, the A's have to make sure he doesn't have too much work too early in his career resulting in more arm problems. Already undergoing Tommy John surgery, Parker's arm must be protected if he's going to log the kind of innings that elite pitchers do.
You may not like the idea of putting a pitch count on a guy who's dominating, but there's no way for Parker to be a stud if he's constantly getting injured. Anderson was expected to be one of the game's best starters at this point in his career; it would be a shame if a couple of years down the line the same was said about Parker.
Spend Wisely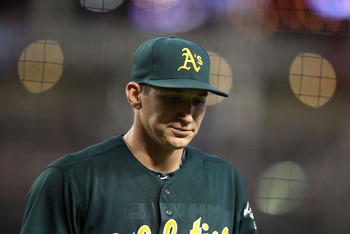 Christian Petersen/Getty Images
The A's are one of the poorest team's in baseball, that's obvious. It only makes it that much more important that when they do spend, they do so incredibly carefully.
Yoenis Cespedes' huge contract comes off the books after the 2015 season, and at that point, assuming Parker has established himself as a major starter, the A's will have some serious decisions to make. It's going to be extremely tough to lock both of those players up assuming (a) there's no new stadium and (b) both players live up to their potential.
It'll be a difficult decision for Billy Beane and company to make, but Parker is younger and the A's have a stockpile of young outfield prospects waiting in the wings.
Try to Give Him a Leadership Role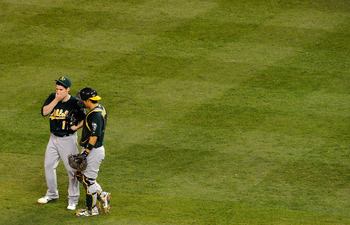 Hannah Foslien/Getty Images
There have been many who've tried to fill this role in the A's rotation, but none have really been able to succeed. Both Dallas Braden and Brandon McCarthy tried but injuries have gotten in their way. Especially now with rookie Derek Norris taking over behind the plate for Kurt Suzuki, it's even more imperative that someone steps up in the A's rotation and becomes "the guy." Now, Parker doesn't have to assume that role this year and he shouldn't seeing as how he's still a rookie, but one or two years down the line yeah, Parker can be "the guy."
Judging by his performances thus far, it's not a stretch to say that Parker will be the A's best starter heading into the future, and with it comes responsibility. Younger, less experienced guys like Sonny Gray and A.J. Cole will eventually reach Oakland and they'll need a mentor, someone who's been in their position. If Parker can take on that role then he'll be more invested in his fellow pitchers and the team itself, making it a much more difficult decision to leave should he be confronted with that decision.
Build a Winner Around Him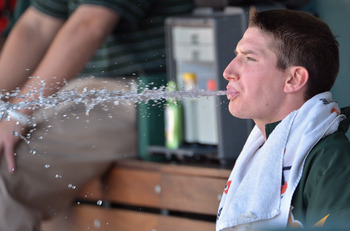 Doug Pensinger/Getty Images
As difficult as it seems for the A's, increasing revenue is actually quite simple. More wins equal more crowds which equals more money. For A's fans they've heard this a thousand times, but that doesn't make it any less true. If you're also constantly in contention that means you'd be less inclined to trade away your best players, instead of becoming buyers around the deadline when attempting to make a serious playoff push.
This may seem so incredibly obvious, but the only way the A's will have an actual chance at increasing their revenue is by putting a winning product out on the field. If they're not winning, why would Parker even want to stay with a team that looks as though they're in an inescapable hole that is the Coliseum. It makes no sense for him to stay in Oakland when he can make more with a contender somewhere else.
It's not going to be easy, but if they manage their prospects and money correctly, there's no reason to believe that the A's can't accomplish all of these solutions.
Keep Reading

Oakland Athletics: Like this team?