Chad Ford 2012 Mock Draft: Exposing Analyst's Biggest Mistakes
June 28, 2012

Streeter Lecka/Getty Images
ESPN NBA analyst Chad Ford recently unveiled his latest 2012 mock draft, and there are some real doozies on this one. Ford usually has some pretty solid opinions on basketball-related subjects, but there are some true head-scratchers in his projections.
The NBA draft is like any other draft, though, and everyone has an opinion about how it's going to go. The experts are always proven wrong to some extent, and here is my opinion on which picks Ford got wrong in his latest offering.
Harrison Barnes to the Sacramento Kings at No. 5
Ford acts like he doesn't quite know what to do with Barnes, so he just put him here. From his own words:
Someone isn't going to be very happy and it might be Barnes. Not only does he really not want to go to Sacramento, but it's possible the Kings trade this pick and he slides down even further. We think the stopping point is Golden State at No. 7, but don't be so sure...
This isn't a convincing argument, and I'm not buying it. Barnes isn't the player the Kings need, nor is he the best available, according to Ford's mock. 
Andre Drummond is still available at this point, and he'd be a much better fit for what the Kings need going forward. They need another big man to pair with DeMarcus Cousins much more than they need another wing man.
Austin Rivers to the New Orleans Hornets at No. 10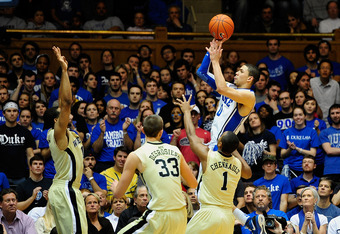 Grant Halverson/Getty Images
Rivers should not be picked this high in the draft. Yes, he's an explosive player with the ball in his hands, but he's a shooting guard, not a point guard. He isn't ready to become a starting guard yet, and the Hornets have greater needs inside.
Ford writes:
If they keep the pick, they really need help at center, point guard and small forward. Although Rivers doesn't fill any of those positions, I'm told the Hornets have been enamored with him. 
I sure hope not, for the sake of Hornets fans everywhere. 
The right pick here would be for the Hornets to select center Tyler Zeller out of North Carolina. He is a better prospect than Rivers, and he meets a greater need. 
Jeremy Lamb to the Phoenix Suns at No. 13
Lamb is a solid scorer with a sweet jump shot, but no way in hell is he going to go here in the top half of the draft.
He is coming off an ankle injury that has kept him from doing much in the way of pre-draft workouts, and, according to Ford, "Although GMs think he's talented, they have questioned his toughness. His inability to work out has hurt him a bit, too."
A better fit in Phoenix and a better player overall is shooting guard Terrence Ross out of Washington. He is an elite scorer who translates better to the NBA game than Lamb, and the Suns would be foolish to overlook him.
Marquis Teague to the Memphis Grizzlies at No. 25
Teague is going to be long gone by the time the Grizzlies pick at No. 25. He possesses rare skills at the point guard position, and there are a number of point-guard needy teams in front of the Grizzlies that will jump at the chance to draft him.
Everyone, including Ford, talks about how if Teague had just stayed in school one more year he'd be a top-10 draft pick in 2013 because he's so talented. If he's so talented, why in the world is he going to slip to the bottom of the first round in 2012? 
It's not going to happen. He'll be taken before the Denver Nuggets pick at No. 20.