Wimbledon 2012: Andy Roddick's Start Holds Promise for London Olympics
June 28, 2012

Julian Finney/Getty Images
Andy Roddick hasn't had too many good weeks on the tennis court this past year, but the last seven days certainly qualify.
On Tuesday, Roddick was named to the U.S. team for the London 2012 Olympics. So what if his selection was much a testament to the sad state of American tennis (and Mardy Fish's withdrawal from consideration) as it was a celebration of his game?
Like I said, the 29-year-old former phenom hasn't had much to cheer about lately, so give the guy his due.
Wednesday, Roddick made his own good news, beating Scotland's Jamie Baker in straight sets to win his opening round match at Wimbledon.
Just four days earlier, Roddick ended a sixteen-month losing streak by winning a grass-court warm-up tournament called the Eastbourne Championships—this despite entering the draw as a wild card.
Well done, Mr. Roddick.
Now, I wouldn't be so foolish to declare the imminent re-emergence of Roddick as a top-ten player based on a few good results. Roddick isn't nearly the athlete he once was when he played the role of perennial bridesmaid to Roger Federer and Rafa Nadal.
He just so happens to be a master on grass, and, lucky for him, it's grass-court season.
And, even luckier for him, the Olympics just so happen to be on grass...at Wimbledon...a place where Roddick has played some of his best tennis.
I think you see where this is heading, so I'll get to the chase.
Is Andy Roddick a medal favorite in London?
Of course not, especially not since tennis' "Big Three" (Federer, Nadal and Novak Djokvoic), are all committed to playing.
Is Andy Roddick a dark horse medal contender?
Eh, I wouldn't even go that far. Beyond the aforementioned trio, there are at least 10 players you'd name in the medal chase before a fading Andy Roddick.
But the Olympic tennis tournament has never been kind to favorites or prognosticators. Settled smack dab in the middle of Grand Slam season, the Games have a way of casting strange fates.
Even as more and more top players have decided to make the Olympic pilgrimage—a pronounced trend over the last 12 years—outcomes have remained stubbornly aberrant.
A look at your men's singles medalist over the past three Olympiads:
2000: Yevgeny Kafelnikov (Gold), Tommy Haas (Silver), Arnaud Di Pasquale (Bronze)
2004: Nicolas Massu (Gold), Mardy Fish (Silver), Fernando Gonzalez (Bronze)
2008: Rafael Nadal (Gold), Fernando Gonzalez (Silver), Novak Djokovic (Bronze)
And here's the real surprise:  Roger Federer was in all three of those tournaments.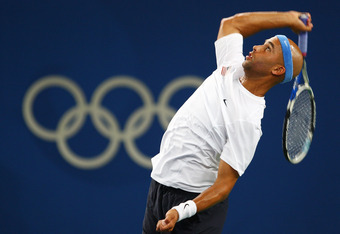 Clive Brunskill/Getty Images
It is an inexplicably wacky competition in a sport defined, at least over this past decade, by rigid hierarchy.
Four years ago, one of the surprise contenders was American James Blake, who made it all the way to the bronze-medal match.
Might Roddick pull a similarly styled shocker this year?
Might he finally shed the label of failed prodigy with a gutty, late-career resurgence?
I won't make any predictions, at least not yet.
But you can bet I'll be watching.