Melvin Guillard Exclusive: A Man Living in Memory of His Father
June 28, 2012

Isaac Brekken/Getty Images
Losing a loved one can be the hardest thing for an individual to deal with.
For UFC lightweight, Melvin Guillard, words can't describe what he went through as he said goodbye to his father prior to making his UFC debut. Guillard's father never missed a fight and got to witness his son become one of the most dangerous fighters in the world.
While Guillard's father is no longer with us today, his spirit remains alive. Every time Melvin enters the Octagon, he knows his father is with him.
In a recent interview with Bleacher Report, Guillard shared memories of his father and discussed a variety of other topics.
Garrett Derr: I know you're from New Orleans and a diehard Saints fan. What's your take on the whole bounty incident and how everything has unfolded?
 
Melvin Guillard: It's messed up, man. When people do things, they got to pay the consequences. Me personally, I don't think the Saints are the only team who had the bounty programs. I know a lot of NFL fans and I spoke to former NFL players, and they said there has been bounties for as long as they can remember.
Not to the extent for what the Saints are being looked at under the radar for. It is what it is. I don't see anything wrong with paying anyone extra for playing hard, but for trying to hurt someone is messed up. Paying someone to play hard and put it all on the long, I don't see anything wrong in that aspect.
We won a Super Bowl not too long ago, and now this. It will hurt, but we've been through worse. They might still make the playoffs. There's a good possibility that they can. I love the city of New Orleans and wouldn't change it for the world.
GD: You're coming off back-to-back losses with the latest coming to Jim Miller. Talk me through that loss. What was running through your mind at the time?
MG: I was over it shortly after it happen. I realized that I made a mistake. I had him hurt and I didn't jump on him. I had him down twice in the fight and didn't jump on him. I didn't take advantage of that small window of opportunity. But when the fight was over, I congratulated him.
He was the better guy that night, and I was over it and ready to go again. It's been a while since I last fought back in January. I've been holding out these past two months because I enjoy fighting around the Fourth of July. If it wasn't for that, I would have been back sooner.
GD: One of the things that your dad said to you before passing was, "Son, never make excuses." And you haven't. How has your dad's spirit remained with you? Are you constantly thinking about him every day and when you take the Octagon?
 
MG: Oh man. I think about my dad every day. There isn't a day that goes by that I don't think about him. There are so many things that remind me of him every day. It's hard not to think about him. My dad was a great guy, and I wish he was still here. As sick as he was, I know he's in a better place.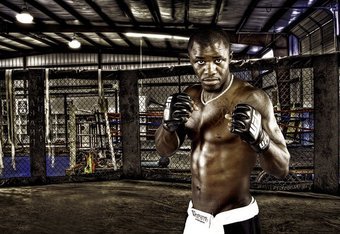 He's always with me. Through all the good times and the hard times. One thing I always remember him telling me was that I'm a man now. He told me it's time to grow up and take care of my family. That's what I do. I take care of my mom and my family. Even when I was being a little knucklehead and messing up, I was still taking care of my family. That will never change.
I know he's proud of me. He's always looking down on me, and he's my biggest fan. He never missed a fight of mine. He got sick right before I got into the UFC, so he never got to see me in the UFC. If there's one thing I could ever have, it would be to have had him there. But, he's with me every time I fight.
GD: You'll be meeting Fabricio Camoes at UFC 148. This guy is 1-1-1 in the UFC. You have 10 wins in the UFC. Did you consider this a big step down in competition?
MG: No, not at all. Sometimes the record doesn't mean anything to a certain extent. I'm a fighter, and I go in there to fight. Whoever you tell me to fight, I'm going to fight. It doesn't matter to me if a guy is 0-10 or 10-0. Any guy can beat anyone on any given day. It can be a new guy coming in and beating a veteran guy. I've seen it happen in the UFC.
I enjoy fights like this. These are the fights I wake up for every morning. These are the fights that don't have added stress. Going up against Jim Miller, I wasn't overly nervous, but I was still a little nervous. I was nervous to the extent that I wanted to make sure that I performed to my best ability.
I'm not looking past this guy, because this is how guys like him make their name off guys like me. With a win over me, it catapults him into the limelight. I don't want to ever be a stepping stone for anyone. I've always been the guy who people brought the opponent in for me. They are bringing him into my house to fight me.
GD: What can we expect to see in this bout?
MG: I'm looking for a three-round beat-down. I'm looking to beat him up for three straight rounds. I definitely want to be the bully in this fight. If I end up knocking him out and finishing him, then great. In the words of coach Greg Jackson, when you knock a guy out, you want to be shocked and surprised that you knocked him out.
That's how I go into every fight now. That's how I enter every fight from here on out. I want to finish because that's who I am, but if I got to beat him up for three rounds, then the fans will get 15 minutes of entertainment. My coach always tells me, you got 15 minutes to beat this guy up. That isn't enough time for me.
GD: When you guys finish up, Anderson Silva and Chael Sonnen will meet for what many consider the most anticipated rematch ever. Who wins this fight and why?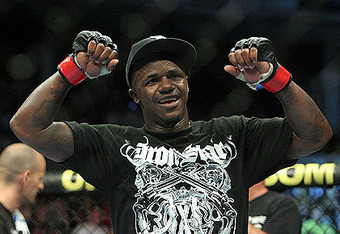 MG: You know what, Anderson is my favorite middleweight of all time. I knew Anderson Silva before he came into the UFC and before people knew who he was. I'm definitely pulling for Anderson. I'm also a fan of Chael Sonnen. He's a great guy and I know him personally. I think there is a lot of bad blood, and with everything that's been said, Anderson is going to take this a little more personal.
Chael has been a little disrespect not only to him, but the Brazilian culture. I think he went a little overboard. I think we're going to see the best Anderson Silva of all time. I think he's going to finish him in the first three rounds. I could see him finishing, even before the third round. TKO or KO in the second round is my official prediction.
 
 
GD: You now have 10 wins inside the Octagon and you're only 29 years old. I know you plan to fight a long, long time. Randy Couture fought until he was in his late 40s So, if you have 10 wins now, do you believe you have a chance of beating the UFC record of 18 set by Matt Hughes?
MG: I do. Definitely, man. The last time I checked, I was third all time with knockouts in the UFC. Anderson Silva, Chuck Liddell, then me. I was only one fight off from Chuck. Breaking records is cool, but it's all about being in the UFC and competing.
It's my childhood dream, and not everyone can wake up and say they are living out their dream. People go to college to get jobs, and that's not even their passion. Fighting is my passion and I love to fight. I hope for a lot more wins and not too many losses. I want to keep going as long as my body allows. If the good Lord keeps blessing me, I will.
GD: I understand you're a gamer. So, what's the best video game on the market right now?
MG: Right now, I'm all about Modern Warfare 3. I'm about to get on there right now actually [laughs]. It's got to be Modern Warfare. I got all of them and the Black Ops. I got all the UFC games and I was on the last one. I love to play Modern Warfare online though.
GD: Are you one of those guys talking trash on there?
MG: [laughs] I don't like to talk trash or rub them guys the wrong way. Some of these guys are Internet heroes and Internet tough guys. You have grown men and 10-year-olds arguing, and the 10-year-old gets the best of the man. It's the funniest thing ever, but it happens a lot.
GD: I know you're a pretty thankful man. Who would you like to thank?
MG: I want to thank my wife for being there and being there from the very beginning. She's been through a lot of hot water, and she's always stuck by me. My mom and my family have also been there throughout my whole career. Also my agent, Glenn Robinson.
A special shout out to my sponsor Harvey Sharp. That guy has been with me since I was 16 years old. He's always been in my corner. He was with me when I buried my dad. I have a special place in my heart for that man.
Garrett Derr is a Featured Columnist for Bleacher Report. Unless otherwise noted, all quotes were obtained first-hand.
For additional information, follow Garrett Derr on Twitter.