Rafael Nadal: Opponents Who Will Give Rafa Trouble at Wimbledon
June 28, 2012

Clive Brunskill/Getty Images
After cruising through the French Open 2012, Rafael Nadal looks to continue his stretch of dominance at Wimbledon.
While there is always a small possibility that he might beat himself, there are only three opponents who could give Rafa trouble for the rest of the tournament..
It would take an immense effort to beat one of the world's best, and after losing only one set in his last eight matches in Grand Slams, it would be a daunting task to win three against him. However, these three players have the ability to do so in London.
Jo Wilfried-Tsonga
Rafal would meet with Jo-Wilfried Tsonga quarterfinals, and he is the only player who can challenge him before the finals.
Tsonga is on a mission to prove he is among the best players in the game today. He is a very consistent player who has the necessary skills to take down the Spaniard.
Tsonga won his first match in straight sets against Lleyton Hewitt, who could have posed problems to anyone in the game today. However, Tsonga brushed him aside, and proved that he has what it takes to stop Nadal on grass.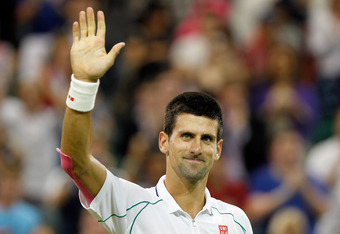 Paul Gilham/Getty Images
Novak Djokovic is the world's No. 1 for a reason, and while he lost in four sets to Nadal at the French Open, he was the only person who won a set against him during the entire tournament.
Nadal is unstoppable on clay, but not so on grass. Djokovic has the skill to beat anyone in the game today, and if anyone is going to stop Nadal, it will be the Djoker in the finals.
This Serbian treasure has beaten Rafa again and again on any surface other than clay, and now that the two would meet on grass, Nadal would be hard-pressed to knock off the world's No. 1 when he is seeking revenge for Nadal's victory at Roland Garros that Stopped Djokovic from completing his career Grand Slam.
Once dominant on grass, Roger Federer has looked like his old self as of late. He's won back-to-back matches in straight sets on grass, and hasn't even been challenged.
If these two meet it will be in the finals after Fed knocks off Djokovic. Federer will be looking for his seventh Wimbledon title, which would tie him for the most in the Open Era with Pete Sampras.
Fed looks like a much younger version of himself, and this new, regenerated Federer has the potential to take down Nadal at Wimbledon.