NHL Rumors: Zach Parise or Rick Nash, Who Would You Rather Have?
March 25, 2017
Bruce Bennett/Getty Images
The NHL free-agency market opens on July 1, so we can expect the rumors to continue as to where players like Zach Parise and Rick Nash will land.
Both Parise and Nash have spent their entire NHL careers with the team that drafted them. Parise with the New Jersey Devils and Nash with the Columbus Blue Jackets. Both currently serve as the captain of their team.
Parise is set to become an unrestricted free agent on July 1st, while Nash remains available via trade.
Obviously each NHL team has different needs, but in general, which player would you prefer, Parise or Nash?
Bio
Zach Parise was born on July 28th, 1984 in Minneapolis, Minnesota. He stands 5'11", weighs 195 pounds, shoots left and plays left wing. The Devils selected Parise 17th overall in the 2003 NHL entry draft, widely regarded as one of the best draft classes ever.
Rick Nash was born on June 17th, 1984 in Brampton, Ontario. He stands 6'4", weighs 219 pounds, shoots left and plays right wing. The Blue Jackets selected Nash first overall in the 2002 NHL entry draft, ahead of Kari Lehtonen, Jay Bouwmeester and Joni Pitkanen.
Statistics
Zach Parise
Career Statistics
GP: 502, Goals: 194, Assists: 216, Points: 410, Plus/Minus: 57, GWG: 37
Best Season: 2008-2009
GP: 82, Goals: 45, Assists: 49, Points: 94, Plus/Minus: 30, GWG: 8
Rick Nash
Career Statistics
GP: 674, Goals: 289, Assists: 258, Points: 547, Plus/Minus: -71, GWG: 44
Best Season, 2008-2009
GP: 76, Goals: 40, Assists: 39, Points: 79, Plus/Minus: 11, GWG: 5
It's clear from the statistics that both Parise and Nash boast tremendous offensive talent. However, each player also has a unique skill set that separates him from other players.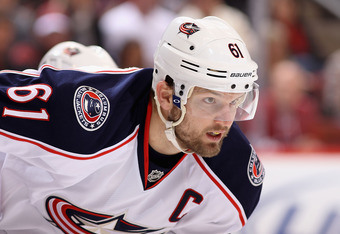 Christian Petersen/Getty Images
Parise's speed, agility and hockey sense make him a solid two-way player. He was the Devils' leader in takeaways this season with 65.
He's also a force on special teams as well. Parise helped make his team's penalty kill (89.6 percent) the best in the NHL this season. He also notched three shorthanded markers, to go along with his seven power play goals.
Perhaps the best aspects of Parise's game are those that can't be found on a stats sheet. He's proven to have the drive, determination and passion to help his team win.
In the midst of rumors of his imminent departure in the offseason, Parise helped lead the Devils all the way to Game 6 of the Stanley Cup finals. He finished tied for the team lead in goals scored in the playoffs and second in points.
Parise was also a key part of the United States hockey team at the 2010 Vancouver Olympic Games. After scoring the tying goal in the dying seconds of the gold medal game, Parise and the Americans lost in overtime to Nash and the Canadians. However, Parise was named to the tournament All-Star team and finished third in scoring.
Unlike Parise, Nash has not had the luxury of playing on a decent hockey team. To date, Nash and the Blue Jackets have made the playoffs only once, in 2009 and they were swept by the Detroit Red Wings.
Nash has great hands, a good wrist shot and is a solid skater, especially for a player his size. In only his second season in the NHL, Nash finished tied for the league lead in goals, sharing the Maurice 'Rocket' Richard Trophy with Jarome Iginla and Ilya Kovalchuk.
Despite not having talented forwards around him, Nash has consistently put up solid numbers throughout his career, including 83 power play goals and 14 shorthanded markers. While he may not have the same defensive abilities as Parise, Nash did register 62 takeaways this season.
In addition to his offensive skills, Nash also brings a strong physical presence to the game. He had 104 hits this past season and has averaged over a hit per game throughout his NHL career.
The question is, just how much better could Nash be if he was to play on a good team alongside other skilled forwards?
Whether a team adds Parise or Nash, they will certainly receive a huge boost offensively and in the leadership department. The more attractive player would appear to be Parise, just because he's a free-agent.
Nash comes with a $7.8 million cap hit on a contract that doesn't expire until 2018. Also, the team that trades for him will likely have to give up some young players and draft picks. Parise, on the other hand, doesn't require a team to give up anything but cash and cap space.