Anthony Davis: Best- and Worst-Case Scenario NBA Comparisons for Future Top Pick
June 28, 2012

Ronald Martinez/Getty Images
Barring something more unforeseen than Michael Phelps finishing last in a swimming race, Anthony Davis will be the No. 1 overall pick in the 2012 NBA draft as a member of the New Orleans Hornets.
There is always a great risk in taking any player in a draft, especially a big man. Just ask the Portland Trail Blazers as one of the more recent examples of such.
However, the risk is often worth the reward and with Davis being the clear-cut best player in this draft with such a high ceiling, this pick is a no-brainer.
Let's take a look at some of the possible outcomes and player comparisons for the career of Davis.
Best-Case Scenario: Tim Duncan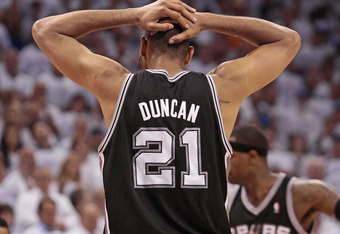 Brett Deering/Getty Images
Four NBA Championships, two MVP awards and a Rookie of the Year honor, Duncan has had an incredible career in this league that isn't quite over yet. Any comparison drawn to Duncan, possibly the greatest power forward of all-time, is a humbling one.
Davis might end up playing a different position, but there are many comparisons to be drawn between the two.
Like Duncan, Davis is a polished defender coming right out of college. His defensive prowess in the low-post was unmatched by any other collegiate basketball player last season and that should be the department where Davis can help a team right away.
Offensively, Duncan was just as polished scoring the ball as he was defending it. That's also because Duncan had a full college career to prove his abilities while Davis has only had one year in a system that called for him to sacrifice scoring for a more team-oriented approach.
Still, Davis is expected to have a decent low-post game at least and with his ability to rebound on the offensive end as well as run the break as an athletic big man, he could easily match the 20 or more points per game Duncan averaged during his career to go along with double-digit rebounds.
Duncan's game wasn't anything particularly special for a big man. He was able to score down low with an occasional short-range jumper that he'd bank off the window all day long. To think Davis could develop the same skills isn't out of the realm of possibility.
Worst-Case Scenario: Tyson Chandler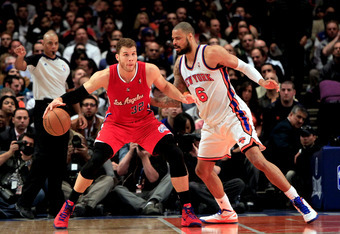 Chris Trotman/Getty Images
While I don't expect Davis to take as long as Chandler did to develop and make an impact, it's very possible Davis ends up being the type of player Chandler is.
The only thing in question at this point is Davis' offensive abilities thanks to the team-first approach Kentucky took last year. There's no question that Davis, at the very least, will be a great defender for years to come.
However, it's possible he becomes a one-dimensional player like Chandler. The New York Knicks found out just how inept Chandler was offensively last year not having any semblance of a short-range game, namely in the low-post.
Instead, Chandler was the kind of offensive player that needed the ball handed to him as close to the rim as possible with a little pick-and-roll throw in as well. Not to mention, Chandler routinely seemed to have holes in his hands as his ability to actually catch the ball was pathetic at best.
Still, his impact on the Dallas Mavericks winning the NBA Finals a year ago is unmistakable and he single-handedly improved the Knicks' defense as Defensive Player of the Year.
Davis is a damn near certainty to have the ability to make that impact at the very least. That's more than enough to consider him somewhat of a success as opposed to his worst-case scenario being a total bust.
Hey, it could be worse. I could've pegged him as the next Kwame Brown, but I didn't.
Career Conclusion
I can't sit here and say Davis will be a great offensive player because I simply haven't seen enough. However, I can say from a good deal of experience watching the talented big man that he will definitely be an impact player on any defense he joins.
Davis won't be able to do much by himself offensively, but with the right pieces around him, namely a solid point guard, Davis will be able to run the pick-and-roll and score points in easier ways than creating them for himself.
Combine that with his great defense and athleticism leading to several fast breaks throughout the course of a season, and you have yourself a guy who can average 15 and 11 on a nightly basis as well as being a perennial candidate for Defensive Player of the Year.
If that's what the Hornets knew they were getting, I'm sure they'd still like to be signed up for such a talented player.