Why Josh Hamilton Will Never Be a Hall of Famer or Considered an All-Time Great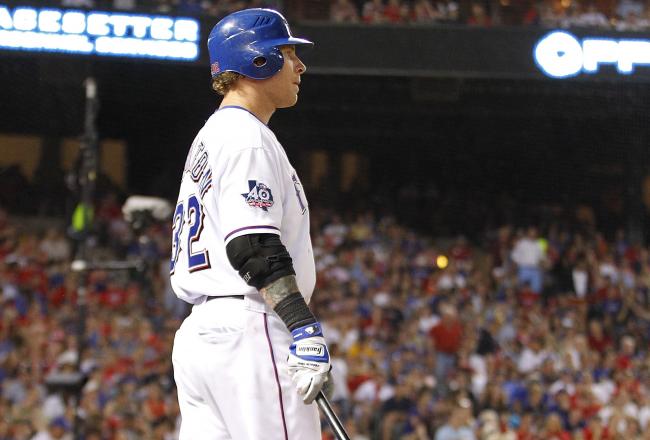 Rick Yeatts/Getty Images
When the Tampa Bay Devil Rays (now just Rays) selected Josh Hamilton with the No. 1 overall back in 1999, they figured that he would become the player that he is today. Back then, he certainly had the look of a player who would go on to become one of the game's most feared sluggers and a perennial MVP threat.
They just figured that he would be playing for them, and that he would have established himself a lot sooner. They didn't plan on the Hollywood stuff (seriously).
Hamilton's journey to the big leagues has been well-documented. He got off to a promising start in the minor leagues in the early 2000s, but drug and alcohol abuse sent him into a hellacious downward spiral that robbed him of several years' worth of playing time.
In the meantime, the Devil Rays got to watch Josh Beckett, the prospect they had passed on in order to draft Hamilton, lead the Florida Marlins to a World Series title in 2003.
Jeff Pearlman said it best in an article he wrote for Sports Illustrated in 2004:
Who knows what Hamilton's baseball future holds—if, indeed, he has one...Even if Hamilton were to return next spring, it will have been 2 seasons since he last played. Five years after being touted as can't-miss, Josh Hamilton just might join Steve Chilcott and Mark Merchant in the annals of baseball busts.

One thing seems certain: The Devil Rays chose the wrong Josh.
Hamilton was a teenager when he was drafted by the Devil Rays in 1999. By the time he finally made his major league debut in 2007 with the Cincinnati Reds, he was 25 years old, and he already had the look and demeanor of a world-weary soul.
Now here's Hamilton at the age of 31. He has four All-Star appearances and an MVP award under his belt. He's due to become a free agent at the end of the season, and the fact that teams are very much concerned about his past struggles with addiction will not keep him from earning a contract worth $100 million or more.
He is, after all, one of the game's best players. That's been true for a couple years now, but it still feels amazing to say it every time. It's a story very much worthy of Hollywood, so Casey Affleck better not screw it up.
Behind all the feel-good stuff, though, is the humbling reality: As good as Hamilton is, he's also one of the game's biggest enigmas. Staying healthy is an endless struggle, and he has a tendency to be mercurial when he is healthy.
That's the thing about Josh Hamilton's greatness. It definitely exists, but it comes and goes at its leisure. Because of that, there will always be a cap on how great he can possibly be.
Jeff Gross/Getty Images
It's something different every year. His strong rookie season in 2007 with the Reds was undone by a bout with gastroenteritis and a wrist injury. He only played in 90 games, hitting .292 with 19 home runs.
Hamilton played in over 150 games for the Texas Rangers in 2008 for the first and (so far) only time. He finished with impressive numbers, hitting over .300 with 32 home runs and an AL-best 130 RBI. However, 21 of those home runs and a staggering 95 of those RBI came before the All-Star break, per Baseball-Reference.com. He stayed healthy after the break, but he wasn't quite able to recapture his stroke.
Many chalk this up to his explosive performance in the Home Run Derby, which is a sound theory.
Hamilton's 2009 season was marred by injuries.
He only played in 89 games and hit .268 with 10 home runs. He went on to have his best season in 2010, hitting an AL-best .359 with 32 home runs and 100 RBI, for which he was rewarded with the MVP reward. But even that season saw him start slow at the plate and then miss the final month of the year with a ribcage injury.
It was a great season that could have been better.
This season is starting to slide into that category. Nobody could get Hamilton out in the first six weeks of the season, as he ended the day on May 13 hitting .402 with 18 home runs and 44 RBI. He was well on his way to breaking the single-season home run record, and it looked like he even had a shot to be the first man since Ted Williams to hit .400.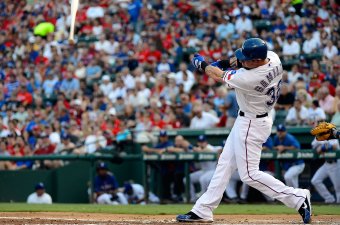 Ronald Martinez/Getty Images
Since then, Hamilton is hitting .237 with just six home runs and 23 RBI in 36 games. He hasn't yet had to go on the disabled list, but he did have to be hospitalized with an intestinal illness.
At this point in his career, the raw numbers tell tales of a truly great player. Per Baseball-Reference.com, Hamilton boasts a .309/.367/.554 line with 142 home runs and 492 RBI through the first five-plus seasons of his career. Many players would kill to have statistics like that through the first several seasons of their career.
What the raw numbers obscure is that there's a lot missing. If Hamilton had been able to stay healthy and consistent to this point in his career, his career numbers would look a lot like Mickey Mantle's through his first five-plus seasons. Per Baseball-Reference.com, the Mick hit .308/.412/.560 with 173 home runs and 575 RBI between 1951 and 1956.
Those numbers put Mantle on a road towards Cooperstown, but that's not where Hamilton is headed.
He's only a couple years away from entering that nebulous area where even the best hitters start to lose their swings and are subsequently forced to watch their numbers plummet. This same nebulous area has a tendency to add injury to insult, and that doesn't bode well for a player in Hamilton whose health is constantly betraying him.
Right now, Hamilton's 162-game averages include a .309 batting average, 35 home runs and 121 RBI. If he puts numbers like those up over the next nine years, he'll be knocking on the door of the 500 Home Run Club, and he'll have driven in well over 1,500 runs.
Numbers like those would place him among the game's Hall of Famers and general all-time greats, which would be remarkable given how long the start of Hamilton's career was delayed.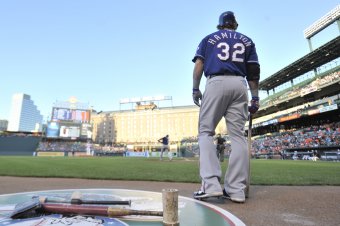 Mitchell Layton/Getty Images
But surely even the most optimistic of Hamilton optimists doesn't expect him to actually put numbers like those up consistently right up until he hits the big 4-0. Due to his tendency to get hurt and his tendency to go cold, you have to throw 162-game averages out the window when it comes to Hamilton.
In fact, one must be careful with even the most modest expectations when it comes to Hamilton. With him, one is forced to take it as it comes, and one learns to be grateful when he catches fire.
This is what separates Hamilton from the Hall of Famers and all-time greats like Mantle, Aaron and Mays, and even contemporary greats and future Hall of Famers like Albert Pujols, Chipper Jones and Jim Thome. The true greats are the players who make a habit of greatness. Their greatness is a full-time thing.
Hamilton's is a part-time thing.
Here's a tip: Don't worry about it. Just enjoy it when it comes along. Live in the moment.
Because when the book on Hamilton is closed, there will be no anticipating what his Hall of Fame speech might sound like, nor will there be much talk of how great he was.
The talk will be mainly concerned with how great he might have been.
If you want to talk baseball, hit me up on Twitter.
This article is
What is the duplicate article?
Why is this article offensive?
Where is this article plagiarized from?
Why is this article poorly edited?

Texas Rangers: Like this team?