US Olympic Swimming Trials 2012: Stunning Finishes Spice Up Meet
June 28, 2012

Al Bello/Getty Images
Remarkable as they are, Michael Phelps and Ryan Lochte have sucked some of the fun out of the U.S. Olympic Swimming Trials.
The problem? They're too damn good; too damn predictable.
Thankfully, a handful of other swimmers reminded us just how wild these trials can be on Wednesday night, providing Omaha with the spark of wonder it has lacked since Lochte-Phelps swept into town.
The excitement started in the women's 100-meter backstroke final, where a couple of bright-eyed teens conspired to take down a legend.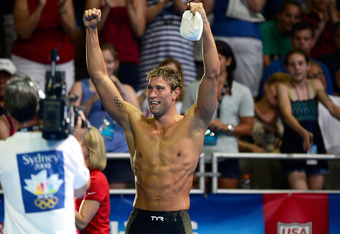 Jamie Squire/Getty Images
Natalie Coughlin, who won this race at both of the past two Summer Games, was denied in her three-peat attempt by the combined efforts of Missy Franklin (17) and Rachel Bootsma (18). Pundits knew the aging Coughlin would have her hands full—still, it was jarring to see this paragon of swimming excellence finish third in her signature event.
Both Franklin and Bootsma grew up idolizing Coughlin, an affinity developed over years of idle adolescent dreaming. On Wednesday night, it took each less than a minute to topple her.
Next up was the final of the men's 100 back, an event long dominated by the now-retired Aaron Peirsol.
Rebuilding year? Think again.
Six-foot-eight behemoth Matt Grevers, the 2008 silver medalist, swam a blistering 52.08, just 0.14 seconds shy of Peirsol's 2009 world record. Grevers' time was a full .68 seconds better than the winning time from the 2011 FINA World Championships, a race he wasn't even entered in. It was the second-fastest swim ever in the event.
Then came another shocker, the women's 100-meter breaststroke final.
Pre-race buildup revolved around the showdown between defending world champion Rebecca Soni and world-record holder Jessica Hardy. Who, we wondered, would enter London as the favorite?
Apparently neither.
Texas A&M sophomore Breeja Larson surged past the ballyhooed pair en route to a titanic trials upset. Soni scrambled to hang on for second.
Hardy finished third, another hard-luck loser in an event known for its exacting cruelty.
The bullies were gone. The drama was back.