Roger Goodell's Sole Authority Can Be Good for the NFL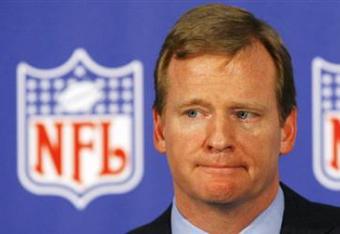 Goodell's five-year extension will conclude at an annual salary of $20 million. (AP)

Roger Goodell is in a position of authority that most executives can only dream of. As commissioner of the most lucrative and entertaining sports league in the world, he calls the shots for the NFL, and his decisions are nearly impossible to overrule.
No wonder Goodell has a history of keeping a stiff upper lip. Wouldn't you do the same if you had no reason to argue?
So how can this supremacy be good for the NFL? And would the league be better off with an executive board that governs by majority rule? With the recent explosion of sensitive issues, the league is in defense mode, but as long as Goodell doesn't lose sight of the NFL's big-picture items, the league is better off with him in full control.
To support this, let's defer to those who have studied Goodell's role and the commissionerships of various other professional sports leagues.
Love-Hate Relationship
In 1977, The College of William and Mary published a law review entitled 'Professional Sports: Restraining the League Commissioner's Prerogatives in an Era of Player Mobility.' In it, a district court judge was quoted as saying:
The Commissioner has all the attributes of a benevolent but absolute despot and all the disciplinary powers of a proverbial pater familias.
In layman's terms, that means an absolute ruler or tyrant that governs like the head of a household.
In an interview with Deion Sanders, Brett Favre stayed neutral on the Saints' Bounty Scandal. (NFL Network)
To the majority of players in the NFL, that description fits Roger Goodell. But some do not see it that way.
While it's true that Goodell has a tremendous amount of sovereignty, he has earned praise for doing things which have kept 32 NFL franchises viable in a sagging economy.
Since becoming commissioner in 2006, Goodell has managed the league's worldwide popularity and has donated to or created charities for a wide range of causes. He has instituted revenue-sharing between large- and small-market teams, and he has stood behind efforts to construct new stadiums or improve upon existing ones.
The NFL has become one of the most global sporting brands in the world, with its own website and television network. Goodell also did a favor for those who do not subscribe to cable or satellite TV packages, by reaching a new multi-billion dollar agreement to keep football on broadcast television (through 2022).
But amid all of his proponents, Goodell has his critics. Some dislike the fact that he got a contract extension and a huge raise. Others despise him for his stern punishment of players and coaches.
Near-Autonomous Authority
According to an article written by attorney Brent Showalter (for the Marquette Sports Law Review), a pro sports commissioner "makes many decisions based on his sole discretion and represents an almost autonomous authority within the internal structure of the league, uncontrolled by its principal owners."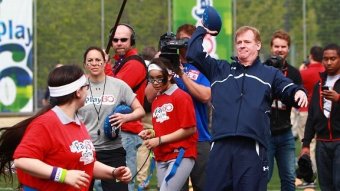 NFL PLAY 60 is nationally recognized for its fight against childhood obesity. (NFL.com)
But "almost" is the word that sticks out in the previous paragraph. Although Goodell's rule is mostly unfettered, he has to adhere to the NFL's collective bargaining agreement. He is also given the right to make decisions "through the league's constitution and bylaws, which can limit his authority.
So, as we witnessed last year at this time, Goodell is not a dictator and never will be. He can certainly come to conclusions that are criticized for being unfair, but upon utilizing his executive privileges, he must work within the parameters of what has been agreed upon, while being impartial and unbiased in his role.
Make no mistake, Goodell works for the league's owners and will do whatever is necessary to keep them financially fit. In return, they have his back when he needs support in tumultuous times.
Last summer, the commissioner kept a level head and was rewarded for his efforts.
During the NFL lockout, there were some unpleasant moments, but Goodell eventually came to an amicable agreement with NFLPA President DeMaurice Smith. By acknowledging their differences, remaining unselfish and forging an agreement that was fair to both sides, the two men saved the league from embarrassment and the financial loss that it was destined for from a shortened or cancelled season.
Power Given Cannot Be Taken Away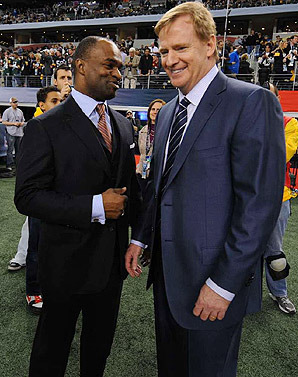 DeMaurice Smith (left) and Roger Goodell have carried on a good relationship since the labor conflict. (Sports Illustrated)
Like it or not, Goodell will wield his exceptional power from now until the end of the 2018 season. A lot of the NFL's players are unhappy with that, but they only have themselves to blame.
Six years ago, Goodell was granted sole punishing power for violations of the league's conduct policy. Back then, a few players jeopardized the CBA because of felony charges against them. At the time, the NFLPA wanted to keep the few bad apples from spoiling things, so they agreed to let Goodell rule the roost.
According to ESPN.com's Jeffri Chadiha:
The power given to Goodell -- also known as the personal conduct policy -- sounded great when it was applied in extreme cases.
But since then, the commissioner has retained his ability to reprimand, without the need for much evidence.
Take, for example, the New Orleans Saints' bounty scandal. Goodell came down hard and heavy on coaches and players that he believed put the integrity of the game in harms way. Appeals have already been denied and some of those involved have expressed frustration with Goodell's authority.
The simple truth is that Goodell can do whatever he pleases to protect the league's integrity. The players couldn't strip him of that power during last year's lockout... and [they] were too concerned with money and offseason downtime to take a serious stand on downsizing Goodell's muscle.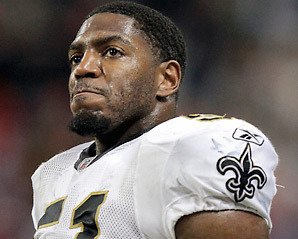 Jonathan Vilma has denied Goodell's accusations and is suing for defamation. (AP)
And with another season just two months away, the "missed opportunity" is regrettable for players who can not reverse what has been done.
"Obviously we don't want Roger Goodell having absolute power," said Kansas City Chiefs right tackle Eric Winston, in an interview with USA Today. "It's unfortunate. It seems like he's running amok with it and deciding to do what he wants. Unfortunately, we don't have an alternative option to appeal to."
Leader of the Not So Free World
Roger Goodell has more power than the President of the United States.. sad, but true!
Mr. Goodell rules with an iron fist, but that is not such a bad thing. Somebody has to maintain order, while keeping a well-oiled machine running. His predecessors certainly did and Goodell has always been one to follow the examples set forth by Pete Rozelle and Paul Tagliabue.
From the outside looking in, things could get far worse for the NFL before they get better. Despite his pledge to improve player safety, Goodell will have to defend the league for what appears to be a blatant disregard for it in the past.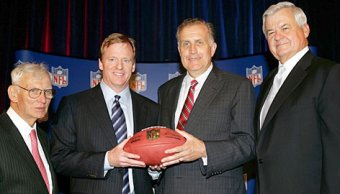 Paul Tagliabue handed Goodell his commissioner role in 2006. (Getty Images)
He also must deal with a massive wave of DUI arrests in recent weeks, including multiple ones for members of the Detroit Lions' organization.
To curb the growing problem, Goodell may need to come to a mutual agreement with the NFLPA to force players to "think before they drink." But in order to do so, broader conduct penalties would need to be enacted and Goodell would likely have to yield some of his authority to a neutral arbitrator.
Mike Florio of NBC Sports expressed his concern, in a column he wrote for ProFootballTalk.
Ultimately, this is an entertainment business. And the men providing the entertainment shouldn't randomly be endangering the lives of the folks they're trying to entertain.
With these issues and numerous others to come, Goodell is the right man for the job. And his sole authority is necessary to maintain a positive image for the league. A more democratic reign may take shape in the future, but for now, Goodell is gridlock free and master of the NFL's Universe.
"He is the judge, jury and executioner," said suspended New Orleans linebacker Jonathan Vilma (to the Associated Press), following his appeal in the Saints' bounty scandal.
And for seven more years, NFL players will have to live with that fact.
This article is
What is the duplicate article?
Why is this article offensive?
Where is this article plagiarized from?
Why is this article poorly edited?