Michael Phelps: 200m Freestyle Win over Ryan Lochte Holds Little Meaning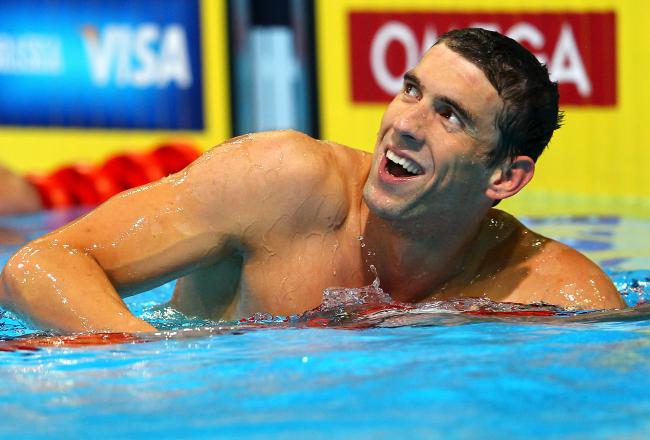 Al Bello/Getty Images
Michael Phelps avenged his loss to Ryan Lochte in the 400-meter individual medley by edging his teammate by .05 seconds in the 200-meter freestyle. Phelps and Lochte will both say their head-to-head competition in the U.S. Championships doesn't really matter...and they are right.
Phelps has dominated the 200-meter free over the last eight years. But Lochte also edged Phelps in their semifinal heat on Tuesday night, adding a bit of intrigue to the finals.
"That was semifinals, so it doesn't really matter," Lochte said after Tuesday's race. "We're just great racers. We just want to win. We definitely kicked it in gear the last 50, me and him."
The goal at nationals is to earn a place on the U.S. Olympic team. The top two finishers in the water do just that, making the competition between second and third the only one that truly matters.
For what it's worth, Ricky Berens finished third with a time of 1:46.56, just off Phelps mark of 1:45.70.
While some competitors will certainly be interested in the metal in their medals, Phelps and Lochte have been there, done that. Their focus right now is preparing for the Olympics, not individual marks.
Lochte wasn't pleased with his performance, but he also showed little concern over his place.
Jamie Squire/Getty Images

I was just not trying, and then the last 75 (meters) it was like, all right, I've got to put it in gear, and by that time it was a little late. I know what I did wrong, I just waited too long, instead of going out faster. But I have another month to make sure I get that race down.

Ryan Lochte following the 200-meter finals
Gold vs. silver simply shouldn't matter to them...at least not until they are in London.
Carrying a heavy load of races during the competition, Phelps has also downplayed the importance of winning in Omaha.
"It's about getting spots on the team," Phelps said per a USA Today article. "That's the only thing. From here I have three to four weeks to prepare myself and get some extra training in there and it's going to be a lot better (in London) than it was here."
He and Lochte are expected to swim 1-2 in in London, but the performances this week show that either swimmer could walk away with the gold.
While Phelps is certainly happy with the win, all that can be gleaned from the race is these two are virtually inseparable in this event.
This article is
What is the duplicate article?
Why is this article offensive?
Where is this article plagiarized from?
Why is this article poorly edited?