NBA Draft 2012 Schedule: When and Where to Catch Thursday Night's Action
June 28, 2012

Jamie Squire/Getty Images
The NBA draft is finally just hours away, and it's shaping up to be one of the best in recent memory.
We have our obvious No. 1 pick that is set to break barriers in the sport (Anthony Davis). We have one of the NBA's most controversial stars potentially on the move (Dwight Howard). Who knows, we may even get Dan Gilbert and his awesome son dressing up again. 
The basketball world has been building up the 2012 NBA draft virtually since the tip off of the college basketball season, when it was revealed how deep the pool of talent would be and how many teams were in desperate need of young talent. 
NBA trade rumors have been brewing for many months and deals have already gone down, such as Ben Gordon to the Bobcats and the Houston Rockets piling up picks for an apparent move at Howard.
Needless to say, you don't have to search very far to find a reason to watch Thursday night.
Here's everything you need to know.
Where: Prudential Center, Newark, New Jersey
When: 7 p.m. EDT, June 28, 2012
Watch: ESPN
Live Stream: ESPN3.com
Storylines to Watch For:
Will the Bobcats Make Any Additional Moves?
Just one day after making a big deal to bring in Detroit Pistons standout Ben Gordon and a future pick for the slumping Corey Maggette, the Bobcats find themselves sitting pretty with the No. 2 overall pick.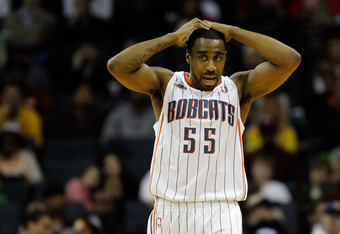 Streeter Lecka/Getty Images
Although missing out on Davis is a letdown in itself, picking a player like Thomas Robinson to lock down the post with strength and determination could light a fire on a seemingly hapless Charlotte team. 
Reports have been surfacing (via ESPN) in recent days that they're looking to deal the No. 2 pick. But no one knows at this point, and they couldn't go wrong either way.
With the way the buildup for this draft has gone, they could turn a deal that may very well be more fruitful than a Robinson or Kidd-Gilchrist. 
I think it's safe to say that there's nowhere but up after a 7-59 season that featured the worst winning percentage in NBA history (.106), but botch this draft and we could see more of the same.
However, if the cards are played perfectly, we could be looking at a young, talented team.
Does Houston Have Enough to Offer the Magic for Dwight Howard?
Houston is either making a significant push at Dwight Howard, or they really, really, really like mid-round draft picks.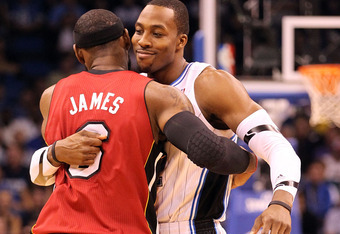 Sam Greenwood/Getty Images
According to USA Today, the Rockets now have the No. 12, 14 and 18 picks in the first round after making a few small deals throughout the last 48 hours. 
B/R's own Josh Martin highlighted the possibility of Howard teaming up with free-agent target Deron Williams in Houston, which could entice Howard in the same way LeBron James was wooed to join forces with the Miami Heat. 
If they can persuade the Magic with a mega deal involving multiple first-round picks in this deep draft, it will pay dividends and their master plan will have worked. If not, they'll have a ton of flexibility in the first round, whether that was their intention or not. 
Stay tuned to B/R's NBA front page for up-to-date news, reaction and analysis to the craziness that is the NBA Draft
Follow me on Twitter -- My tweets are lottery-protected: @StevenCookBR