NBA Draft 2012: How a Pair of 1st-Rounders Will Turn Around Cleveland Cavaliers
June 28, 2012
Chris Chambers/Getty Images
The Cleveland Cavaliers are in the process of picking themselves back up after LeBron James' departure. In Cleveland's first post-James season, the Cavs went 19-63 (.231 winning percentage) and were awarded the No. 1 overall pick, which they used to select point guard Kyrie Irving.
This past season, the team improved to 21-45 (.318 winning percentage), and Kyrie Irving proved to be a good building block, winning the NBA's Rookie of the Year award.
After making some strides, the team is looking to improve even more with its two first-round picks (No. 4 and No. 24). With this year's draft being one of the deepest in recent memory, the Cavs should have a prime opportunity to improve the franchise even more.
With the No. 4 pick, the Cavs are looking to get an impact prospect. Based on recent projections and predictions, they should have their pick of anybody except Anthony Davis and Bradley Beal, who are likely to be gone by the time Cleveland's on the clock.
The ESPN experts' most recent mock draft has the Cavs taking Kentucky small forward Michael Kidd-Gilchrist at No. 4.
Here's what ESPN draft insider Chad Ford had to say about Kidd-Gilchrist going to Cleveland.
Cavs GM Chris Grant always talks about building a winning culture in Cleveland. MKG is a culture guy. He is not the draft's best scorer, he has an ugly jumper and he's not particularly polished. But he is an incredible defender, has an elite motor, finishes tremendously well around the basket and is a leader. If the Cavs are trying to build a winner, they can't go wrong with Kidd-Gilchrist.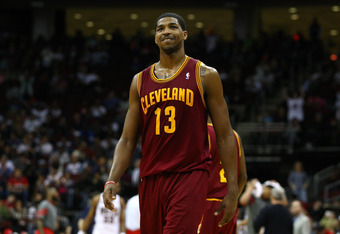 Chris Chambers/Getty Images
Regardless of whether it's Kidd-Gilchrist, Harrison Barnes or Thomas Robinson, the Cavs will get somebody to pair with Kyrie Irving for years to come. Between Irving and their top pick, they should have the cornerstones of their franchise.
The No. 24 pick, while obviously not as coveted as the No. 4 pick, should provide some value as well. Cleveland received the pick from the Los Angeles Lakers in the Ramon Sessions trade.
The same mock draft has Cleveland taking Washington shooting guard Tony Wroten Jr. at No. 24. However, given how many different ways the draft could pan out, it's nearly impossible to guess with any certainty who Cleveland will take and who will be available.
But we know this much to be true: every year there are impact players drafted at No. 24 or later. Since Cleveland is only set at point guard, they'll be able to choose the best player available outside of the 2.
This upcoming season, with another year of development from first-year players Kyrie Irving and Tristan Thompson along with promising prospects at No. 4 and No. 24, the Cavs should be well on their way back to the playoffs.