NFL Power Rankings: What Quarterback Will Have the Best Supporting Cast in 2012?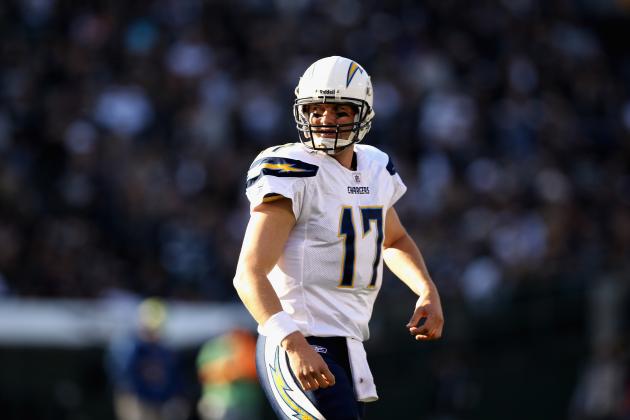 Ezra Shaw/Getty Images

The NFL has become a passing league, but it would be foolish to think that the only important piece of a passing game is the passer. Not only do the receivers have to catch the ball, the offensive line has to protect the passer, the running back has to establish the running game and the coordinator has to call the plays.
A huge amount goes into the play of an NFL quarterback. It is true that the best quarterbacks in the league improve the play of the players around them, but similarly, the players around them can handicap the signal-caller.
Last year, there were a number of perfect examples to prove that point. Everyone saw what Cam Newton did for his teammates in Carolina and how Peyton Manning's loss couldn't be handled by the Colts. It's not always that simple or obvious however.
A midseason addition by the San Diego Chargers completely changed the fortunes of Philip Rivers, as Jared Gaither provided the protection he needed to return to elite form. Prior to Gaither's arrival in San Diego, Rivers was being swallowed up by opposing pass rushes.
Without Gaither, Rivers threw 16 touchdowns to 17 interceptions. With him, he threw 11 touchdowns to three interceptions.
It's a quarterback driven league, but it helps to be driving a Ferrari rather than a Fiesta. Here are the rankings of each quarterback situation for the 2012 Regular Season.
Rankings criteria: Every factor of offense, excluding the quarterback position. IE: Halfback, Offensive Line, Wide Receivers, Coaching etc etc
Note: Rankings are not completely based on combination of grades. Grades reflect the talent at each position without taking into account durability or the congruency of the offense as a whole.
Last year's rankings can be found here.

Begin Slideshow

»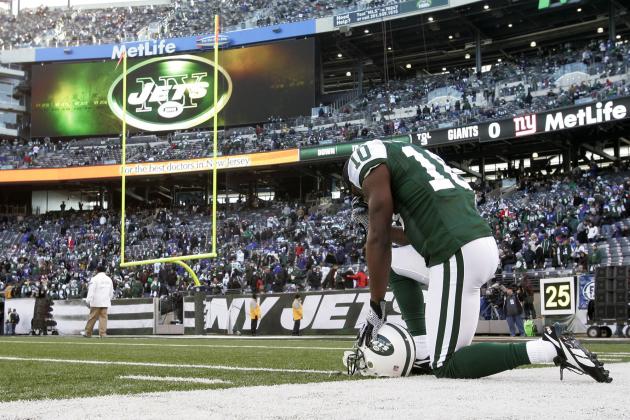 Rich Schultz/Getty Images

Running backs: C
Offensive Line: C+
Wide Receivers: B-

Tight Ends: C+
Coaching: C

Talent-wise, despite the additions of Chaz Schilens and Stephen Hill to Santonio Holmes, Jeremy Kerley and Dustin Keller, the Jets offense is in trouble next year. Peyton Manning wouldn't make this offense excellent; it's an impossible task for Sanchez.
Your best weapon, essentially your only one, was called a poison to the team at the end of last season and has already been causing some furor entering this year.
The right tackle who ruined your pass protection from last season hasn't been replaced. Your backfield features an unproven player who thinks McDonalds is a fitting diet for a professional athlete. That backfield is shared by a breakout star from the past two seasons still waiting to break out. Your offensive coordinator prefers to run the ball and hasn't got the best out of his quarterbacks in the past.
Oh, and Tim Tebow is the backup.
The circus, and lack of talent, that will consume Mark Sanchez next year has doomed him before the season has even begun.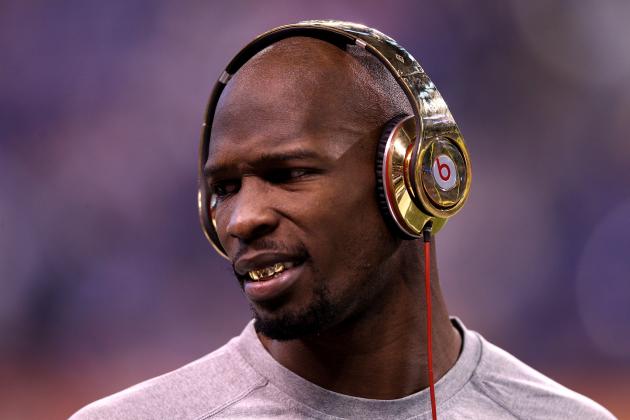 Elsa/Getty Images

Running backs: C+
Offensive Line: C+
Wide Receivers: C-

Tight Ends: B
Coaching: B-

There is a certain element of the Dolphins sacrificing the short-term for the long-term this season. Trading Brandon Marshall should make the team's transition to that spread the ball offense easier, but it removes the team's only legitimate threat on the outside.
Adding Chad Ochocinco to Davone Bess, Brian Hartline and Roberto Wallace won't be enough to complement whatever quarterback starts under center. The Dolphins' best receiver is arguably tight end Anthony Fasano who no longer fits the scheme seemingly.
The Dolphins will be a run-first, second and third team next year. Even at that, though, they lack the quality at guard to properly maul opponents. John Jerry and Richie Incognito aren't scaring defenses, while Reggie Bush will need to prove his ability to be a feature back next year. Daniel Thomas is still waiting to break out, but nothing is certain with him going forward.
Jonathan Martin and Jake Long should prove to be quality long-term tackles with Mike Pouncey inside playing center; however, for this season, the best offense in South Beach belongs to the Heat, and it's not even close.
To even be relevant this year, Reggie Bush will need to eclipse what he managed last season. That is asking a lot of the veteran back.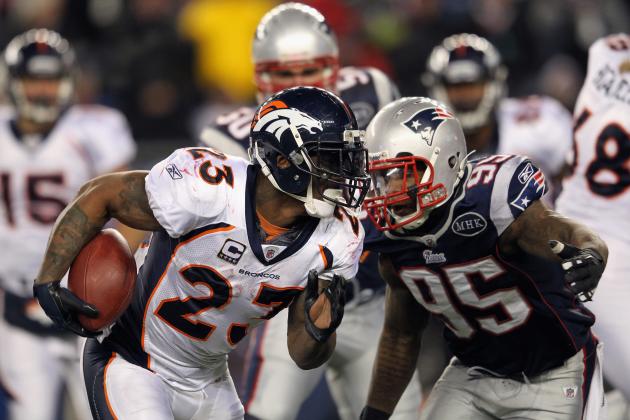 Jim Rogash/Getty Images

Running backs: B-
Offensive Line: C
Wide Receivers: C+

Tight Ends: C+
Coaching: C+

Even when you take Peyton Manning out of the equation, the radical scheme change in Denver this year in the aftermath of the Tim Tebow era will see major changes on the field for the Broncos. The players largely remain the same, but the assignments will be completely different.
Despite leading the league in rushing attempts last year, the Broncos offensive line didn't receive rave reviews across the board. That same line returns this year with arguably the most important assignment of any unit in the NFL: protect Peyton Manning. After not impressing in limited pass protection last year, it doesn't bode well for this group being a part of a pass-oriented offense.
On the outside, DeMaryius Thomas and Eric Decker have talent, but one must wonder how they will adjust to having to run a greater variety of routes and more complex patterns. Brandon Stokley is the only receiver who has proven himself as a capable route runner, and he lacks the explosion to be a game-changer.
Instead of adding a better receiver than Andre Caldwell this offseason, the Broncos invested in two tight ends. Jacob Tamme was a backup for the Colts, while Joel Dressen was an important piece for the Texans. While Dressen was a good player for the Texans, he benefited largely from scheme in Houston. As the second tight end, Dressen saw plenty of passes in wide open space off of play-action. He showed the athleticism to make plays, but not the route running to create separation.
Adding Ronnie Hillman to the backfield does provide the team with a threat, but with Knowshon Moreno being completely unreliable to this point in his career and Willis McGahee being asked to return to a primary running threat, he could see his production fall again. McGahee benefited more than anyone from the presence of Tim Tebow in an NFL backfield last year.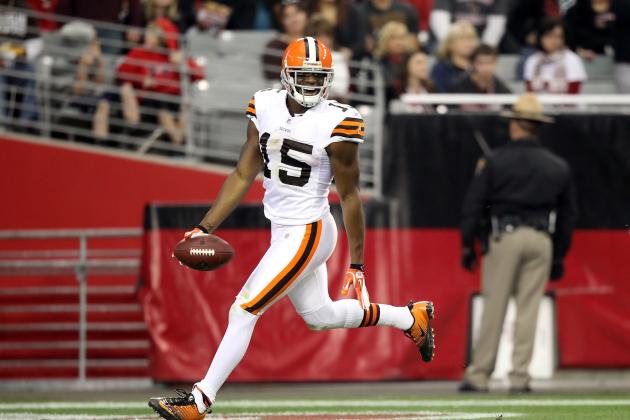 Christian Petersen/Getty Images

Running backs: B+

Offensive Line: C+
Wide Receivers: D+

Tight Ends: C-
Coaching: C
Greg Little is considered a candidate to break out at receiver in 2012. The funny thing about Little is that he is essentially Limas Sweed. Little cannot catch the ball and only escapes vindication because of the porous offense he is a part of. Little may improve next year, but he is some distance away from being a number one receiver.
Little needs Travis Benjamin to step up because Mohammed Massaquoi simply isn't good enough to start for any NFL franchise. Benjamin Watson and Evan Moore are average talents who could produce in better situations, but they won't impact games the way the Browns need them to.
The Browns' only real hope lies in the backfield. Trent Richardson has been advertised as the next Adrian Peterson as a franchise altering running back. Richardson will need to be as impactful as Peterson has been during his career if he is to produce in the NFL.
What is working in Richardson's favor is the solid offensive line in front of him. Joe Thomas is the best left tackle in the NFL, while Alex Mack is arguably the best young center. Mitchell Schwartz needs to quickly adjust to the professional game, while Shawn Lauvao and Jason Pinkston aren't impressive players, but can be somewhat hidden at guard.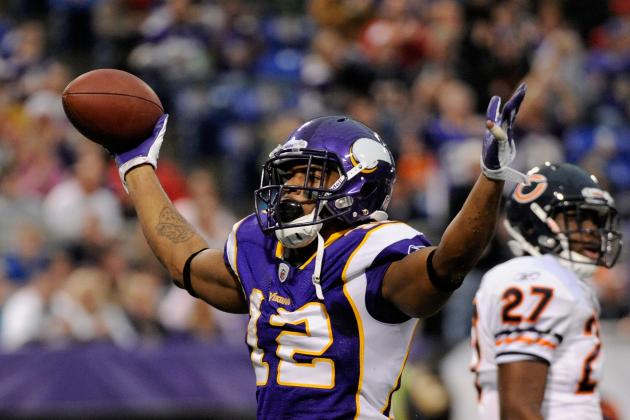 Hannah Foslien/Getty Images

Running backs: B

Offensive Line: C
Wide Receivers: C

Tight Ends: C+
Coaching: C-

It's foolish to think that Adrian Peterson will be ready by opening day. It's even worse for the Vikings to even consider playing him that early. Peterson got injured in unnecessary action; this year figures to be another down year for the Vikings, which means it would likely be better to sit him for a while
Toby Gerhart may not be Peterson, but he is a strong runner and showed a lot of flashes last year in limited time. How he reacts to playing more snaps, however, will determine how this offense fairs in 2012.
Matt Kalil will upgrade the offensive line, but Christian Ponder still won't have the cleanest of pockets to throw from. Kyle Rudolph is a big upgrade at tight end, but even though Percy Harvin is set to stay and Jerome Simpson was added, the receiving corps is still below average.
Harvin is the Vikings' greatest threat and only real home-run hitter. Without Peterson and Harvin, this group would easily be the worst in the NFL.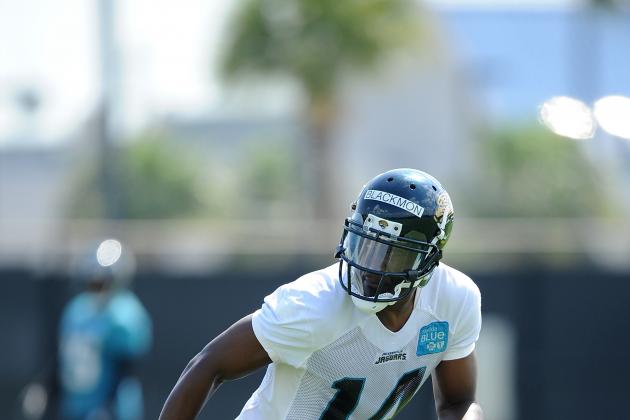 Rick Dole/Getty Images

Running backs: A

Offensive Line: C+
Wide Receivers: C+

Tight Ends: B-
Coaching: N/A

Presuming that Maurice Jones-Drew is back on the field, the Jaguars offense should actually be decent this year. Blaine Gabbert has his question marks, but at the very least, his offensive line should be healthier this season, while the receiving corps has been upgraded.
Last year, the Jaguars regularly were forced to change their offensive line combinations, as both Eben Britton and Eugene Monroe both played through injuries at times. Monroe even spent time at guard. That is not something that the team can deal with next year.
Adding Justin Blackmon will be the most talked about move of the offseason in Jacksonville, but Blackmon will be the second receiver for the Jaguars as Laurent Robinson looks to draw coverage. While the Jaguars don't have that much talent, their offense is constructed well with a strong running game and receivers who complement each other.
A bounce back year for Marcedes Lewis would make a major difference for this group as a whole.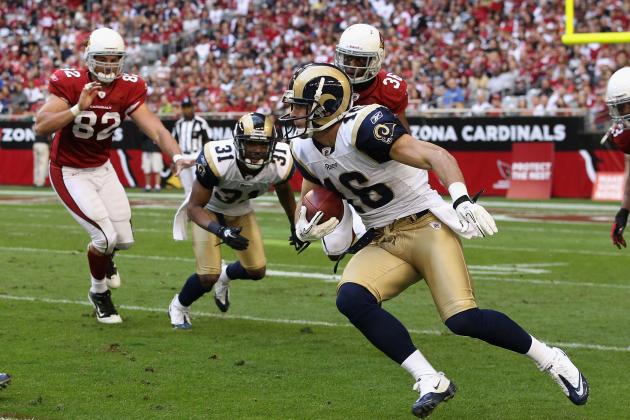 Christian Petersen/Getty Images

Running backs: B+

Offensive Line: C
Wide Receivers: C+

Tight Ends: C-
Coaching: B-

The Rams offensive line was their greatest issue last season. They haven't made many changes to what was a unit which underperformed. Adding Scott Wells to the center position should improve the group as a whole with better leadership. Rodger Saffold and Jason Smith will be looking to reach their potential this year while there is some competition for the guard position across from Harvey Dahl.
Even though they didn't add multiple pieces to the offensive line, adding Isaiah Pead to the backfield should help as Pead offers a better receiving back. Using Pead on screens to make defensive linemen hesitate will be a staple of the offense to complement Stephen Jackson's hard running.
Brian Quick will need to emerge for the Rams' other receivers. Danny Amendola and Steve Smith are excellent possession receivers when fully healthy, but if there is no deep threat they will be strangled of space. The Rams have lots of receivers on their roster, but Quick appears the most likely to become a true number one option.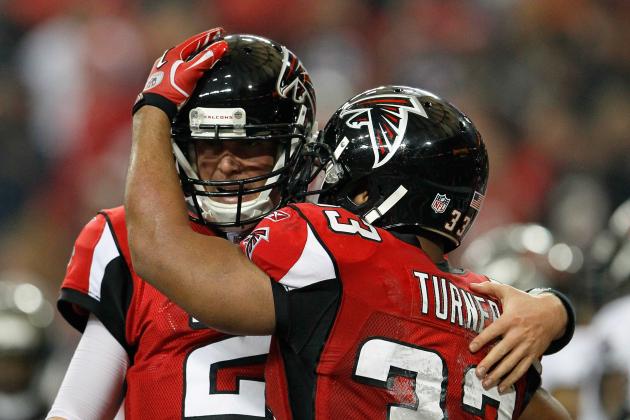 Kevin C. Cox/Getty Images

Running backs: C+

Offensive Line: C-
Wide Receivers: B-

Tight Ends: B-
Coaching: C+
Michael Turner's prominence in this offense is sure to fall off this year as the big back cracks into his 30s. If that does indeed happen, Jacquizz Rodgers and Jason Snelling will need to step into greater roles on the offense. Neither of those players are proven in substantial roles, but both have a lot of talent.
Tony Gonzalez may be a Hall of Fame player, but he is at the twilight of the twilight of his career at this stage. This must be the elderly receiver's, last season as he has significantly lost a step. Instead, the Falcons offense will be more inclined towards the playmaking ability of Julio Jones and Roddy White. White and Jones should play better together this year as Jones is more accustomed to the NFL game while White surely won't drop as many passes as he did last year.
Even though those two are very talented, they still need Harry Douglas to emerge and give them a third option to take advantage of any shifts in coverage.
The problem with passing more in this offense is that the Falcons offensive line is one of the more troublesome units in the league. Sam Baker/Will Svitek, Tyson Clabo, Justin Blalock and Todd McClure have all proven themselves in the past, but must rebound from a terrible year last season. The average quarterback can't deal with the pressure that this group puts on the position.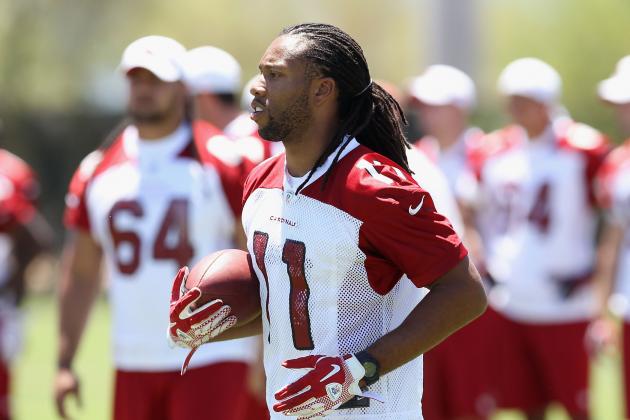 Christian Petersen/Getty Images

Running backs: C+

Offensive Line: C
Wide Receivers: B+

Tight Ends: C
Coaching: A

As it has been over the past few seasons, the Cardinals' greatest issue on their offense(outside of quarterback) is the state of their offensive line. Bobby Massie was drafted, but he is not expected to start right away. Adam Snyder was signed in free agency to be a starting guard, but the 49ers won't be too worried about losing him to a division rival. Levi Brown is no longer ridiculously overpaid, but that doesn't mean he'll suddenly become a competent left tackle, despite finishing last season well.
Chris Wells and Ryan Williams are expected to be healthy entering the season, however, with their track records it is difficult to really believe that they can be relied upon. Both players have a huge amount of talent, but that talent is worthless if they are sitting on the sidelines.
Todd Heap is a solid tight end, but long past his prime, while the main strength of the offense lies outside the numbers. Dealing with Larry Fitzgerald's physical talents is difficult enough, but putting Malcolm Floyd across from him seems simply unfair. When you have two receivers as physically gifted as those two, then your offense improves both in the running game and the passing game.
Both should be willing blockers and difficult coverage matchups.
Ken Whisenhunt's offensive mind is an underrated aspect of the formula in Arizona also.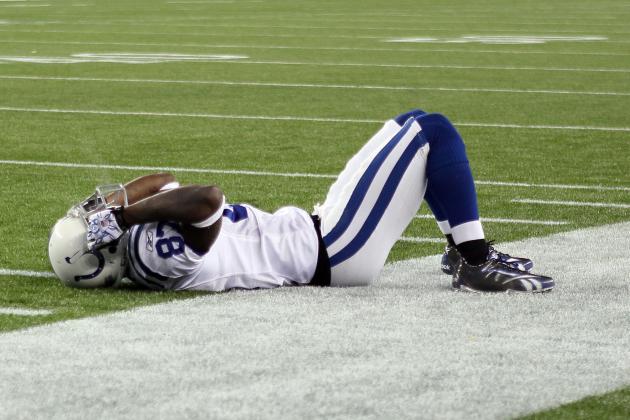 Elsa/Getty Images

Running backs: C+

Offensive Line: C-
Wide Receivers: B-

Tight Ends: B-
Coaching: C+

The strength of this offense will be the depth at tight end. Bruce Arians is a tight end aficionado and will make use of every tight end which the team carries on the roster. That should suit Andrew Luck as he looks to hook up with Coby Fleener and Dwayne Allen. Fleener and Allen are talented but will need to adjust to the speed of the game as rookies.
Despite the loss of Pierre Garcon, Reggie Wayne and Austin Collie are more than capable starters. Donnie Avery could be a sleeper if he has recovered his speed after suffering from injury in recent years. TY Hilton is a rookie who may get lost on the depth chart on a tight end heavy team.
Donald Brown and Delone Carter will be looking to repeat their performances of last year, while Mewelde Moore should fill the third down role effectively. The Colts' problem offensively is that their offensive line is incredibly ineffective. For the first time in over a decade Jeff Saturday won't be there. The one saving grace for the offensive line is that they brought in veterans in the off-season to give the unit some leadership.
Outside of Anthony Costanzo, last season's first round pick, who will play left tackle, Mike McGlynn, Samson Satele, Joe Reitz and Winston Justice have all had at least one previous franchise.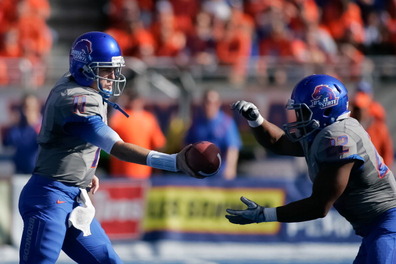 Otto Kitsinger III/Getty Images

Running backs: B

Offensive Line: C+
Wide Receivers: C+

Tight Ends: C-
Coaching: N/A

Despite investing a lot this offseason in their offense, the Tampa Bay Buccaneers still have plenty of issues to deal with. Simply throwing money at a problem isn't always the most astute way of making that problem go away as the Buccaneers appear to be collecting talent opposed to building a team.
The greatest issue with their offensive improvements lies with offensive lineman Carl Nicks. Nicks is the best guard in the NFL, but he is being paid as if he were an elite left tackle. No matter how good he is at guard, he will not affect the game as much as an elite left tackle would. Paying him as such hurts your overall ability to invest in your roster.
Donald Penn is a solid left tackle, but Davin Joseph is overrated and doesn't play to his perception while Jeremys Trueblood and Zuttah aren't impressive players at center and right tackle. The offensive line as a whole has more question marks than answers at this point.
At the very least, the Buccaneers have added a very dynamic runner to make that line look better than it is. Doug Martin is a rookie, so there must be some caution accompanying the optimism, but his potential is seemingly limitless at this level. Presuming that LeGarrette Blount doesn't react poorly to losing his starting job, the duo could be a fantastic pairing in the backfield.
The Buccaneers have taken a risk with Vincent Jackson by giving him the massive contract which has motivated him over the years. Jackson has some character issues to go along with those motivation question marks, but he is one of the most talented receivers in the league.
Adding a true number one receiver should help Mike Williams, but he needs to fend off competition for his starting place while Preston Parker develops into a nice slot receiver.
Dallas Clark and Luke Stocker are being looked to to be a reliable tight end pairing, but Clark looked as if his playing days were over with Indianapolis last year, while Stocker is essentially an unknown.
Chris Graythen/Getty Images

Running backs: A

Offensive Line: B-
Wide Receivers: C+

Tight Ends: C+
Coaching: B

Cam Newton made a major difference for the Panthers last year by improving every aspect of the offense. The year before, however, with essentially the same personnel, the offense was blunt with Jimmy Clausen at quarterback.
The Panthers' offensive strength lies in the backfield with the trio of Jonathan Stewart, DeAngelo Williams and Mike Tolbert on the depth chart. Stewart is the most explosive of the group, while Tolbert is built like a bowling ball. Williams style of play lies somewhere in between.
With a decent offensive line, most notably players like Jordan Gross, Ryan Kalil and the returning Jeff Otah, the Panthers have enough quality upfront to protect Cam Newton while still creating holes for their running backs. There is a lot to make the quarterback's life easy in Carolina, as Greg Olsen offers you a versatile and reliable tight end, however the lack of explosion and depth at receiver would be limiting to most quarterbacks.
Outside of Steve Smith, the team's other receivers are all entering this season hoping to establish themselves. Newton's influence on the offense overshadows some of their flaws as an all-around offense, but still there are pieces to work with in Carolina.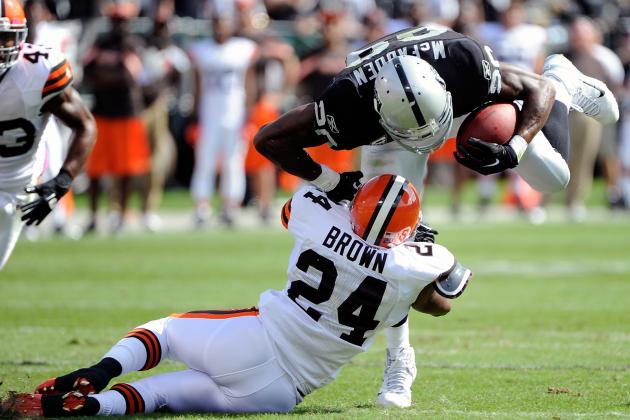 Thearon W. Henderson/Getty Images

Running backs: A+

Offensive Line: B-
Wide Receivers: C+

Tight Ends: D
Coaching: N/A

Even more so than last year, the Raiders offense begins and ends with Darren McFadden this year
Losing Michael Bush will really hurt the Raiders because McFadden has struggled to stay healthy throughout his career. Bush was a very physical runner who rarely came off the field for the Raiders. Mike Goodson may be a solid runner, but he is not as impactful as Bush. Adding Mike Briesel won't hurt, especially since the team is incorporating the zone blocking scheme into their offense. However, Khalif Barnes is a major worry, while there is no receiving threat at tight end with Chris Myers as the starter.
Denarius Moore and Darrius Heyward-Bey are game-breakers at receiver, but Louis Murphy or Jacoby Ford need to step up to complete the passing attack. Moore and Heyward-Bey can't carry the offense despite the explosion they possess, while the third receiver becomes even more important without Kevin Boss.
The Raiders have two very bright young stars on the offensive line in Stefan Wisniewski and Jared Veldheer, but overall, there are too many holes in this depth chart for them to compete in the AFC West. Relying on a running back who is yet to prove his durability is too big of a risk. If McFadden is healthy, however, then this could be one of the most difficult offenses to match up to.
That says more about his quality than the offense as a whole however.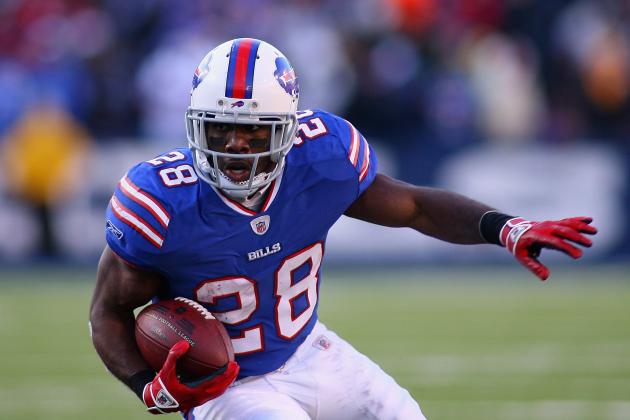 Rick Stewart/Getty Images

Running backs: B+

Offensive Line: B-
Wide Receivers: C+

Tight Ends: C-
Coaching: B
The Bills offensive scheme is very well-designed to hide its flaws. Chan Gailey has given Ryan Fitzpatrick every opportunity to succeed, but it is his inconsistencies which have made his long-term future ambiguous.
On the offensive line, Cordy Glenn will be looked to to step into a starting tackle at some stage. The Bills need help at tackle, but the interior of their offensive line has the potential to be dominant. Kraig Urbik, Chad Rinehart, Eric Wood and Andy Levitre are all quality options who could start for many football teams. The possibility is there that Levitre moves outside and plays left tackle, even if that is not an ideal situation.
With the offensive line leading the way, Fred Jackson should be running hard now with his new contract. Jackson and CJ Spiller are the Bills' two greatest game-breakers. Jackson is the better runner than Spiller, but Spiller has the ability to move outside as a receiver or destroy teams in space coming out of the backfield/running behind screens.
Jackson and Spiller's ability to make defenders miss means that short throws can often turn into touchdowns.
With Stevie Johnson returning outside, there is at least one quality playmaker outside. However, Johnson needs someone, whether it be Donald Jones, David Nelson, Scott Chandler or any other of the team's young weapons, to step up across from him. If nobody does, you could see a lot of Spiller and Jackson on the field together next year.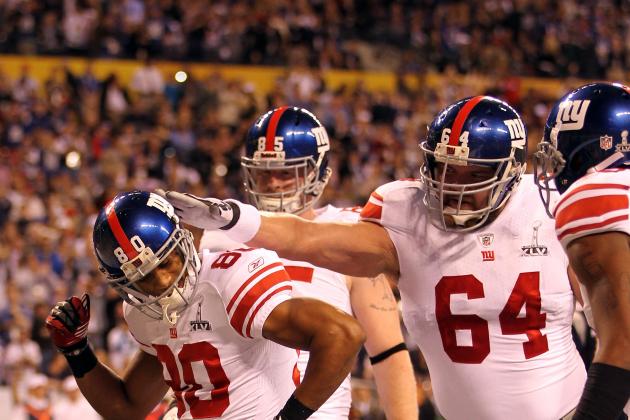 Jamie Squire/Getty Images

Running backs: B-

Offensive Line: C+
Wide Receivers: B+

Tight Ends: C
Coaching: B+

Eli Manning's amazing performances in the playoffs are even greater when you put them in context. Manning's offense hurt him more than it helped him last year and this year shouldn't be much different. Hakeem Nicks and Victor Cruz may be major weapons, but Cruz will see a lot more teams game-planning for him, as the Patriots did in the Super Bowl, without Mario Manningham outside to punish them.
Reuben Randle may be more consistent than Manningham, but he won't be as explosive and will need to adjust to the professional game quickly if the receiving corps is to reach its potential. Nicks needs to have a big year and step into the elite level of receivers to carry this offense's passing attack and free up Cruz.
One thing working in Cruz's favor is his experience. Last year he was learning the game on the fly and he and his quarterback often showed a lack of chemistry. Those issues shouldn't be there this year presuming that there is no complacency on Cruz's part.
David Wilson will be expected to have a big season for the Giants with Ahmad Bradshaw's body creaking and Brandon Jacobs in San Francisco. Wilson will need to overcome a shabby offensive line however.
Manning's performances last year were excellent because his offensive line lacked consistency in both its competence and congruity. William Beatty needs to stay healthy for the upcoming season while David Baas has to return to the form that earned him his contract with the Giants. At the very least Martellus Bennett will be a strong blocking tight end for the Giants in place of the departed Jake Ballard.
Bob Levey/Getty Images

Running backs: C+

Offensive Line: B+
Wide Receivers: B

Tight Ends: B
Coaching: A-
It's unclear whether the Bengals offense has really improved over last year.
Clearly they have more talent overall, but there may be an adjustment period that the team needs to go through with so many new faces. The running game in Cincinnati has been completely revamped, with BenJarvus Green-Ellis arriving from the New England Patriots to play behind two new offensive guards.
Green-Ellis proved to be a good runner in New England playing as a complementary piece to arguably the best passing attack in the league. Now, he moves into a new role as more will be asked of him with the Bengals, even though they are expecting to place more of the offense on Andy Dalton's shoulders.
With Green-Ellis, Travelle Wharton and Kevin Zeitler have also come in at guard. Wharton is a proven player who played well for the Carolina Panthers last season and offers the Bengals a guard capable of contributing both in the passing game and running attack. Zeitler is less clear as he is a rookie, but the Bengals passed on taking David DeCastro when they traded down to select him in the draft.
Green-Ellis is certain to be an improvement over Cedric Benson, but it is unclear how the new offensive line will perform. The interior of the line is the question mark, as Andrew Whitworth and Andre Smith are arguably the most underrated tackle pairing in the NFL.
The Bengals have a new look receiving corps relying on youngsters Mohamed Sanu, Armon Binns or Marvin Austin to step up across from AJ Green. Jordan Shipley returning to play the slot, while an increased role for Jermaine Gresham should only bring positive results. Gresham and Orson Charles could prove to be a very good pairing at tight end if the rookie steps up.
With all that, the Bengals offense is headed in the right direction. It also helps that Jay Gruden is considered one of the better offensive coordinators in the NFL.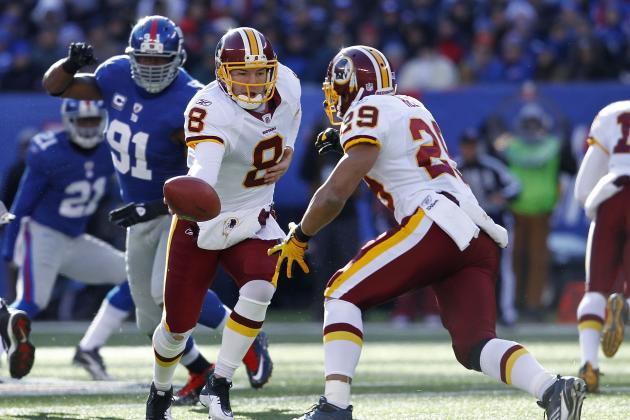 Jeff Zelevansky/Getty Images

Running backs: B
Offensive Line: B+
Wide Receivers: B-

Tight Ends: B
Coaching: A-
Robert Griffin III will inherit a very talented offense from RGI this season.
Pierre Garcon may be overpaid, but he, Santana Moss, Josh Morgan and Leonard Hankerson should be a dynamic quartet. None of the group is a true leading receiver, but each has playmaking ability or is a reliable possession option. With a player like Garcon outside, he will drop some passes, but he will also turn quick throws into large gains.
Because the receivers will be complements to a strong running game, their inconsistencies can be overlooked as part of the whole offense. In a Mike Shanahan run offense, a strong running game is almost a guarantee even if the running back is not.
The Redskins offensive line is talented and will be productive in both aspects of football this season. Trent Williams and Jamaal Brown are excellent pass protectors on both edges, while the zone-blocking scheme should allow Roy Helu and Tim Hightower to rack up the yardage with their tough and intelligent running.
Helu in particular has the potential to breakout as a threat both in the rushing and passing attack. While Hightower is less dynamic, he does promise you a tough runner who will wear down defenses.
After being suspended last year, Fred Davis should be motivated entering this season to prove any doubters wrong. Davis is a very talented receiver who was emerging last season with just under 800 yards in 12 games. At only 26, Davis is entering what should be the prime years of his career.
If Chris Cooley can find any kind of health, he will be another asset for the signal-caller in Washington.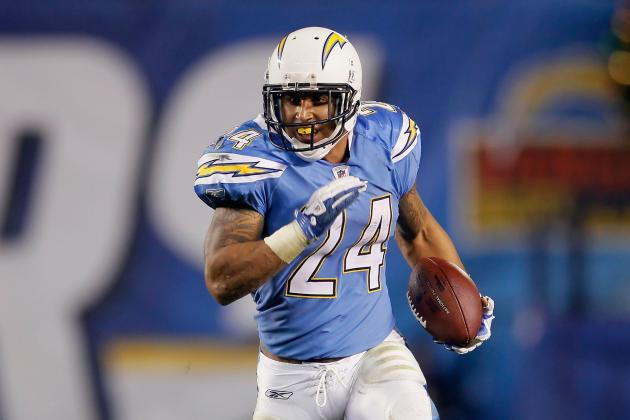 Jeff Gross/Getty Images

Running backs: B+
Offensive Line: B-
Wide Receivers: B

Tight Ends: B+
Coaching: B-

Jeromey Clary may still be playing right tackle in San Diego, but Jared Gaither was signed to a long-term deal in the offseason to shut down all activity on Philip Rivers' blindside. Simply from a statistical point of view, the perception is that Philip Rivers fell off last season. The reality is that he was just suffering from the demons that accompany poor pass protection.
Most of those pass protection issues disappeared once Jared Gaither arrived. Gaither solidified the line and allowed his quarterback to prosper.
Losing Vincent Jackson and Mike Tolbert undoubtedly hurts, but AJ Smith brought in excellent replacements with Robert Meachem, Eddie Royal and LeRon McClain. The Chargers don't really have a No. 1 receiver anymore, but Meachem, Vincent Jackson, Malcolm Floyd, Antonio Gates and Royal form a dangerous receiving corps.
With all those options and Ryan Mathews coming out of the backfield, Rivers has plenty of weapons to rebound this season.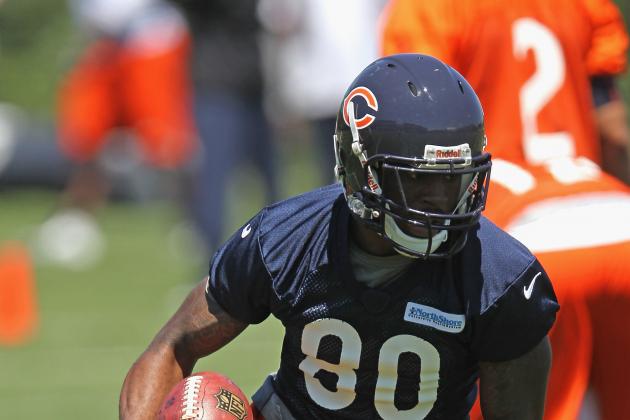 Jonathan Daniel/Getty Images

Running backs: A
Offensive Line: C
Wide Receivers: B

Tight Ends: C+
Coaching: B+
Mike Tice is a former offensive line coach who is going to drastically alter the approach to offense in Chicago. Unlike Mike Martz, Tice will help his offensive line and cover their cracks by establishing Michael Bush and Matt Forte. Forte's holdout may hurt him initially, but Bush is well used to carrying the load and not coming off the field.
With rookie Gabe Carimi returning after an injury shortened rookie season, Bush and Forte should have a cornerstone at right tackle to lead the way in the running game. Across from Carimi, J'Marcus Webb has all the physical attributes to dominate games, but needs to continue to develop his technique.
Kellen Davis and Matt Spaeth will have bigger roles in Tice's offense after being lost in the wilderness of Martz's system. Davis has potential to be a breakout receiving tight end, while Spaeth is a decent run blocker.
Acquiring a top-10 receiver in the league, Brandon Marshall, dramatically alters the surface of the team's receiving corps. Earl Bennett should have a huge year with Marshall drawing coverage, while Alshon Jeffery and Devin Hester are plausible deep threats in the offense.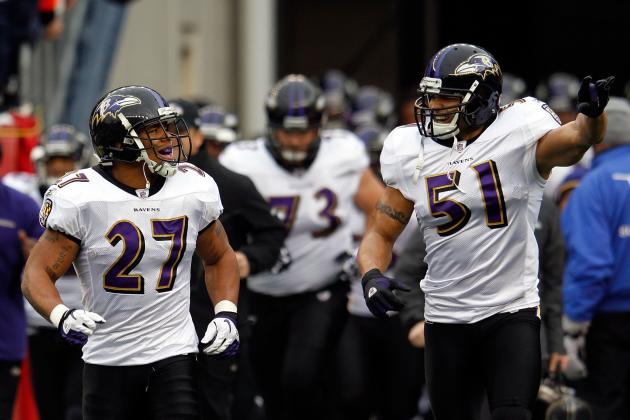 Rob Carr/Getty Images

Running backs: A
Offensive Line: B-
Wide Receivers: B-

Tight Ends: B+
Coaching: C+
While the Ravens may have the best running back in the league now that Adrian Peterson has injury issues, but the unit is set up to pass more in 2012. Although Bobbie WIlliams was added, Jah Reid is still an option to play guard. Williams is a 35-year-old guard coming off an injury, so despite the fact that Reid is a former tackle, he should be the favorite to start left guard.
With question marks over the abilities of Matt Birk and the fitness of Brandon McKinnie, the Ravens offensive line has some major issues to overcome entering this season. Even so, the Ravens have some talent on the outside to make plays. Tight ends Dennis Pitta and Ed Dickson are emerging playmakers at a position that is becoming ever more important in the NFL.
Anquan Boldin may be struggling in his elder years, but Torrey Smith was a big-time threat as a rookie who should develop even more, while Jacoby Jones can provide a spark if not consistency.
The key remains Rice, however. His partnership with Vonta Leach in the backfield is better than any other running back/fullback combination in the NFL. It makes sense for Rice to get the ball as much as possible, but offensive coordinator Cam Cameron hasn't best used him in the past.
Rice's contract dispute should be fixed quicker than Chris Johnson's was last season, so don't expect any major drop off in production from him this year.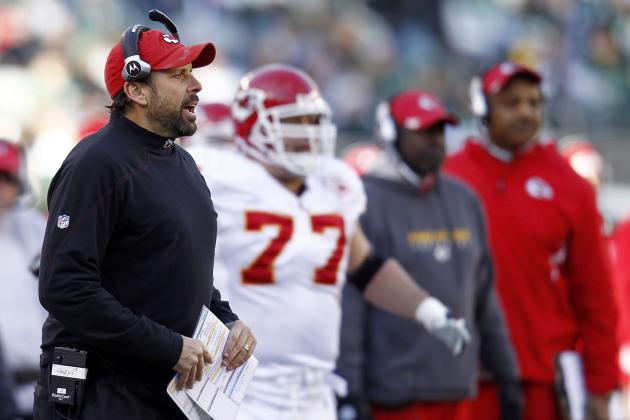 Jeff Zelevansky/Getty Images

Running backs: C+
Offensive Line: B
Wide Receivers: A+

Tight Ends: B
Coaching: A-
Losing Rashard Mendenhall is going to hurt the Steelers running game more than many will realize. The improvements on the offensive line will mask their lack of dynamism in the backfield, as Isaac Redman will have plenty of running lanes to run through.
With David DeCastro and Willie Colon as their guards, the Steelers have two grafting run blockers flanking the talented Maurkice Pouncey. Pouncey needs to improve over his poor season last year, but being fully healthy should help. With Marcus Gilbert installed at right tackle, the Steelers' only question mark is over left tackle where rookie Mike Adams is expected to start if Max Starks isn't re-signed.
Redman will get a lot of carries, but he is a limited receiver and blocker. Instead, the Steelers will likely rotate in Baron Batch, Jonathan Dwyer and Chris Rainey. Rainey is lightning-quick, while Batch is a third-down specialist and Dwyer is a more versatile runner.
The Steelers offense is no longer set up to repeatedly run the ball however. Mike Wallace's contract dispute shouldn't have any bearing on his season, as he is not expected to miss training camp. Antonio Brown broke out last season into one of the best young receivers in the league, while Emmanuel Sanders only struggled because of injuries last season.
With Jerricho Cotchery and Hines Ward replacing Hines Ward's veteran leadership, the Steelers passing attack has enough versatility and potency as any team.
How Todd Haley uses his new weapons in Pittsburgh will ultimately determine the success of this offense, but this unit is full of talent that won't restrict his approach in any way.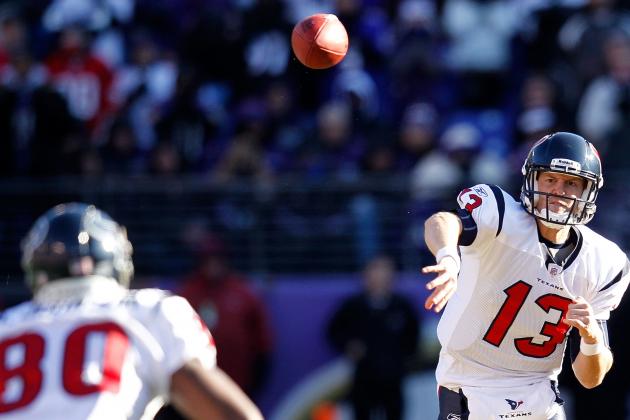 Rob Carr/Getty Images

Running backs: A+
Offensive Line: B+
Wide Receivers: C

Tight Ends: B
Coaching: C+
Even without Eric Winston, the Houston Texans should still have a very strong offensive line to work with this season. The Texans have high hopes for Rashad Butler in their zone blocking scheme, while Chris Meyers was re-signed, and Duane Brown is coming off a season when he didn't give up a sack. Guard MIke Brisiel, who started 13 games last year and twice in the playoffs, has signed with the Oakland Raiders, but Antoine Caldwell and Wade Smith can cope without him.
That is the offensive line which will continue to block for star backs Arian Foster and Ben Tate. Tate and Foster are strong runners who can stake a claim as the best combination in the NFL. Derrick Ward may be gone from the backfield, but Justin Forsett provides a more than capable option on third downs as a blocker or receiver.
It's unclear right now how many positions James Casey will play, but the tight end is very versatile and talented enough to excel regardless of his position. Casey's most important contribution will likely be replacing the production lost by Joel Dressen. Dressen was a decent tight end, but Casey should be an improvement over him playing behind the excellent Owen Daniels.
The Texans need production from their tight ends because of their lack of talent at receiver. Having Andre Johnson back fully healthy will be a major positive; however, unless DeVier Posey steps up, then this group figures to struggle again. Kevin Walter is not a good enough second option for any team regardless how much they run the ball.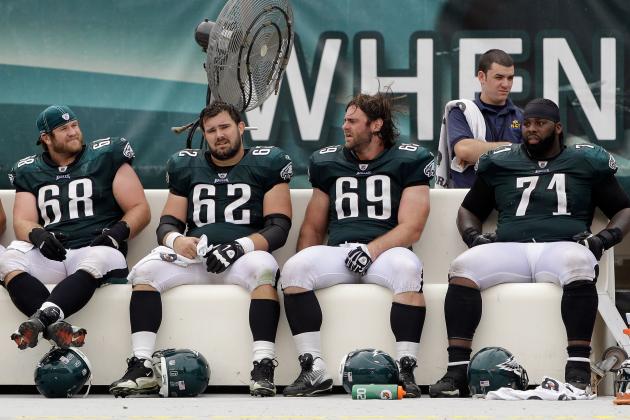 Rob Carr/Getty Images

Running backs: A-
Offensive Line: A-
Wide Receivers: B-

Tight Ends: B-
Coaching: C+
Losing Jason Peters is always going to hurt your offensive production, but the Eagles have more than enough talent across the board to cope without him. Demetress Bell is a solid replacement, and even though he won't reach Peters' level of performance, he is a more than capable blind-side or open-side protector.
Evan Mathis was a star for the Eagles last year at left guard, while Jason Kelce and Danny Watkins are expected to improve with more experience. Todd Herremans rounds out what is a very talented group of offensive linemen.
After receiving a massive $50 million deal during the offseason, DeSean Jackson should be more engaged this season. Even though he likely won't be completely clued in on every snap, it should still be substantially more than last year. With Jackson on top form, there are few better deep threats in the NFL.
Playing across from McCoy, Jeremy Maclin shouldn't have as many disruptions to his season's preparations this year. Maclin is a very dynamic receiver when on top form and should rebound this year to even greater heights.
The Eagles' greatest weapon, however, has become their offensive leader in the backfield. LeSean McCoy may not be Brian Dawkins in the locker room, but his displays on the field have seen him carry the unit. His speed is obvious, but it is his ability to be a threat out of the backfield that makes this offense so difficult to match up to.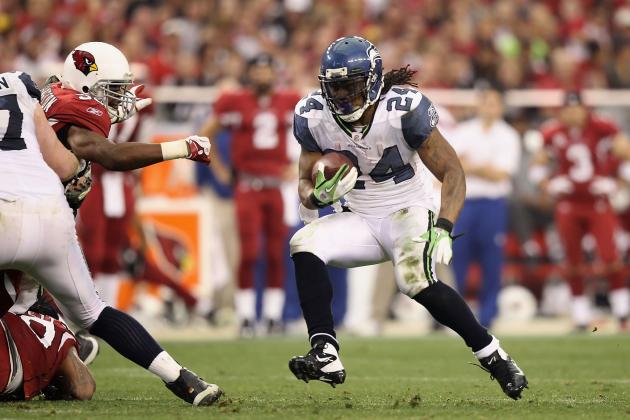 Christian Petersen/Getty Images

Running backs: A-
Offensive Line: C+
Wide Receivers: A

Tight Ends: B
Coaching: B
If Tarvaris Jackson hadn't played through a torn pectoral last season, and if the offensive line didn't go through so much adversity early, then many would have recognized the quality of his work. Jackson plays in an offense with as much potential as any in the league, but also one that is already very good.
Everyone knows about Marshawn Lynch's violent running, but the offensive line issues he had to overcome last season aren't mentioned too often. Russell Okung has struggled to stay healthy, which is a major question mark, but James Carpenter should be back next year, while John Moffitt will hopefully avoid suspensions and injuries, which marred his rookie season.
Health is the only real question mark for the Seahawks, but they proved last year that they had plenty of talent regardless of injuries to key players. One player who would really elevate this roster's attack is Sidney Rice. Rice not only is a very good receiver, but he is the type of receiver who fits perfectly in the play action offense which Darrell Bevell runs and would significantly help the other receivers on the depth chart.
Not that those receivers need help to make plays. Doug Baldwin, Golden Tate and Ben Obamanu are expected to have a big season this year. Tate and Baldwin are smaller receivers with the quickness to make big plays while having the reliable hands to be very effective possession receivers. Baldwin was a star as a rookie last year, while Tate simply doesn't drop passes.
Obamanu is a bigger receiver, but showed flashes, along with Mike Williams. If Sidney Rice is healthy, the Seahawks can move Obamanu and Williams down notches on the depth chart and use Rice's ability to get deep to stretch the field for their possession receivers to make plays.
With Zach Miller and Kellen Winslow playing tight end, the Seahawks have two maligned players, but also two very talented receivers. Neither player has always been used the right way during their careers, but Pete Carroll hasn't brought them in to ignore their greatest qualities.
Miller should see more targets this season unless Winslow takes some of them away. Either way, they should be an effective duo helping both the rushing and passing attack.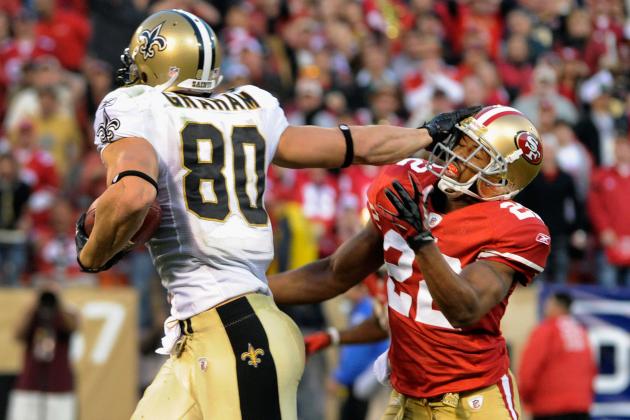 Thearon W. Henderson/Getty Images

Running backs: B+

Offensive Line: B+
Wide Receivers: B

Tight Ends: A-
Coaching: C
Sean Payton is considered an offensive guru and one of the best head coaches in the NFL. If you think he won't be missed by the Saints, then you must really believe that the coaching staff in New Orleans has been carrying Payton all these years.
Payton's play-calling and presence on the sideline will be missed no matter who plays quarterback for the Saints. Even without him, however, the Saints have built a fantastic offense to support their star quarterback. Even if Brees makes good pieces look great, this is still a top-10 unit without him.
Amongst what is the most crowded, arguably most talented backfield in the NFL is little Darren Sproles. Sproles is a game-changing player because you cannot give him a position and accurately feel comfortable that he will play just that position. Sproles is as good a receiver as he is a runner and has phenomenal speed in space. His elusiveness is a staple of the Saints' attack.
While Sproles gets most of the attention, the Saints are still expecting a huge amount from Mark Ingram, a former first-round pick and Heisman-winning running back for Alabama. Ingram is entering the season with injury issues to deal with, but Chris Ivory and Pierre Thomas are more than capable of filling his role. Thomas is the most underrated running back in the NFL, as he had over 50 receptions last year and proved to be a reliable runner. Ivory is less dynamic, but a bull between the tackles.
Most intimidating, however, is the fact that the receiving options for the quarterback in New Orleans are even more dynamic. Jimmy Graham is the best receiving tight end in the league, Gronkowski being a better all-around player, while Marques Colston and Lance Moore are more than capable of overcoming the loss of Robert Meachem to the Chargers. Moore and Colston will be supported by Devery Henderson and rookie Nick Toon, with Adrian Arrington also expecting some opportunities.
For any offensive line, it hurts to lose a player who could make a comprehensive case to prove himself as being the best offensive lineman in the NFL. That is debatable, but there is very little debate that Carl Nicks isn't the best guard in football. Nicks has moved on to Tampa Bay, but Ben Grubbs is a fine replacement. Grubbs will allow the Saints to continue to stress their offensive line with a very balanced attack.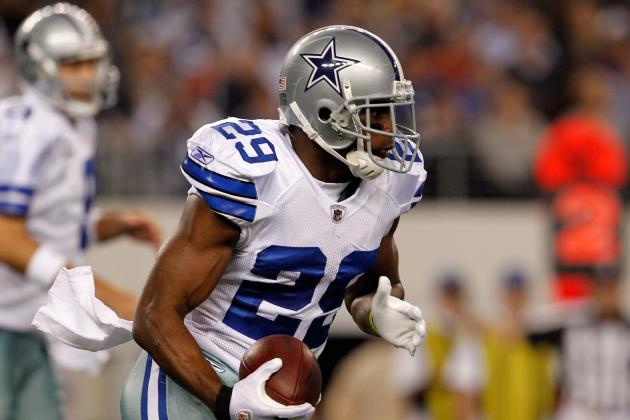 Tom Pennington/Getty Images

Running backs: B+
Offensive Line: B
Wide Receivers: B

Tight Ends: A-
Coaching: A
Tony Romo had an excellent year last year considering the state of the offense around him, as well as having to overcome his own injury issues. At the very least, Romo should have a very impressive supporting cast surrounding him this season.
Laurent Robinson may be gone, but MIles Austin and Dez Bryant are expected to be healthy, while rookie Danny Coale is an exciting slot receiver. Jason Witten remains one of the very best tight ends in the league also despite cracking the big 30.
Health is a major issue for the Cowboys, but none more so than in the backfield with DeMarco Murray. Murray showed all the talent to be a franchise running back as a rookie before being injured. He has everything. A low center of gravity. Strength. Explosion. Agility. Safe hands. Receiving ability. Blocking strength. The only thing Murray needs to prove is his durability.
If he is healthy for a full 16-game season, the Cowboys will have a dynamic threat in the backfield capable of beating teams with his running or receiving. Murray is the kind of back who can stay on the field and still be explosive even when wearing down the defense all day.
The most improved area of this offense is set to be the offensive line. The impressive Tyron Smith is moving from right tackle to left tackle ahead of his second season. Smith has an abundance of talent and should be able to slide right into the left tackle spot. Doug Free taking over on the right-hand-side should enhance his play also, as he is better suited to that role.
Nate Livings has come over from Cincinnati to shore up left guard, while Phil Costa should be over his jitters from his first season as a starter.
Some argue, now that LeBron James has won a championship, that Tony Romo is the next player under the most pressure to win in American sports. Personally, I believe it should be Philip Rivers, but if it is indeed Romo, then he has the quality around him to follow in LeBron's footsteps.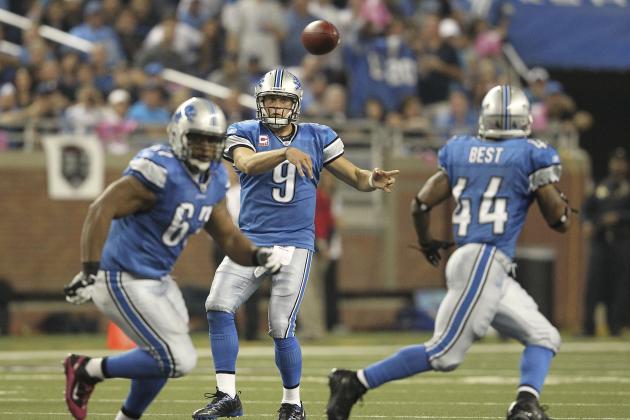 Leon Halip/Getty Images

Running backs: B-

Offensive Line: C+

Wide Receivers: A+

Tight Ends: A-
Coaching: B
Judging by their offseason additions, the Lions are blatantly modeling their offense on their division rival Green Bay Packers. That is most certainly not a bad thing.
The Lions drafted tackle Riley Reiff and Ryan Broyles this year to help an already strong passing attack. Despite having the option to add David DeCastro, who fits a greater need, in the first round, the Lions instead drafted Reiff as their future left tackle and current option at right tackle.
With two quality tackles to protect the passer, the Lions are also getting back their stable of running backs this year. Mikel Leshoure may be facing a suspension, but they will at the very least see him on the field at some point this year. Jahvid Best suffered through concussions last year, but is expected to be healthy while Kevin Smith's talent is there also.
That protection, and improved running game, will make Matthew Stafford's life easier, which is scary because the Lions receiving corps has improved again this year. Despite taking Titus Young last year and needing defensive help, the Lions brought in Ryan Broyles in the second round of the draft to add to an already very talented group of receivers.
Broyles, Young, Nate Burleson and Calvin Johnson are one of the best receiving corps in the NFL, while Brandon Pettigrew and Tony Scheffler are one of the better receiving tight end duos. The Lions offense has so many receiving weapons the greatest problem is spreading the snaps between the group evenly.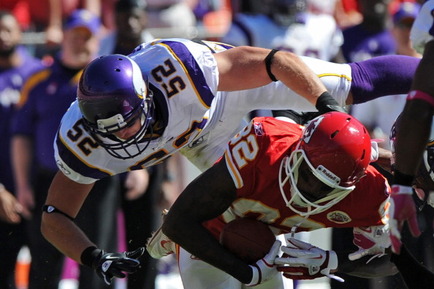 Peter Aiken/Getty Images

Running backs: B+
Offensive Line: B+
Wide Receivers: B

Tight Ends: B
Coaching: C+

Did you ever go to a television sale and watch as someone walked out the door with the biggest TV in the place before you could even buy it? Now, imagine if the salesperson brought out an even bigger TV for half the price from the back after that TV was gone. That is what happened with the Kansas City Chiefs this offseason when they got Eric Winston.
The best right tackle in the league fell into the AFC West to form a quality tackle partnership with Brandon Albert. Albert and Winston, with Rodney Hudson looking to emerge in Casey Wiegmann's place, should give the Chiefs the ability to run a very balanced offense.
Balance will be key for the Chiefs because their talent is spread through the offense. Jamaal Charles and Peyton Hillis, with possibly a sprinkling of Dexter McCluster, will perfectly complement each other in the backfield running the ball. Charles must return from his torn ACL, but shouldn't have an issue considering how far removed he is from the incident.
The Chiefs backs will benefit from running behind a strong line, but will also benefit from having two monstrous receivers outside to block down the field. Jonathan Baldwin and Dwayne Bowe, who should be on the field despite trade rumours and a contract dispute, are physically imposing players who should help clear the way for Charles and Hillis when they break into the secondary.
Compared to their receiving ability, however, the Chiefs receivers ability to block is redundant. Bowe had a great season last year despite the offense's issues as a whole, while Baldwin won't have to delay his season this year, as he did last, and should be better after a whole season of professional football under his belt.
With Baldwin and Bowe, Steve Breaston and Tony Moeaki should be very good complementary pieces, while Kevin Boss could prove to be a great addition if healthy. Health is the greatest issue with the Chiefs offense, as many of their players are returning from injuries entering the season.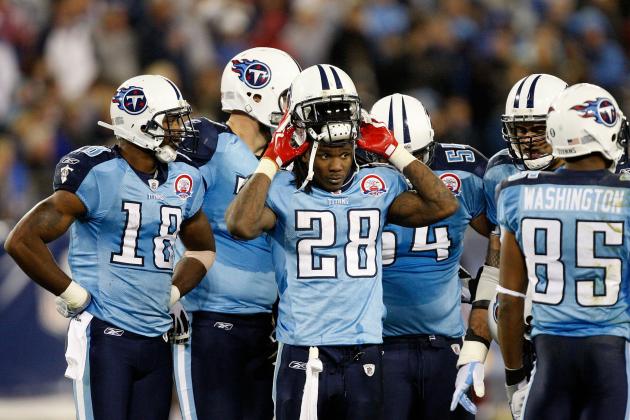 Streeter Lecka/Getty Images

Running backs: A-
Offensive Line: A-
Wide Receivers: B+

Tight Ends: B+
Coaching: B+

Whoever plays quarterback in Tennessee this season will have every opportunity to succeed regardless of their relative experience.
Last season's greatest weakness, or at least the greatest letdown, Chris Johnson should return to being the team's biggest strength next season. Johnson never got his feet under him last year after missing training camp and the majority of the preseason. He often looked lost on the field and was incapable of hitting the right holes; however, he did have performances that reminded you of his talent.
Johnson isn't an aged veteran; he is still only 26 and will be 27 at the end of next season. He may have some significant tread on his tires, over 1,300 career touches, but his after-burners are some distance away from burning out.
The easiest completion for a quarterback is to hand it off to his running back. Having an explosive back like Johnson behind you is one of the most comforting things a quarterback can have. Don't overlook Johnson's ability to take screen passes the distance also.
Receiving weapons are aplenty in Tennessee even if Kenny Britt struggles to return from his torn ACL. Nate Washington has developed into a polished receiver with the threat to go deep on every play. Kendall Wright is Santonio Holmes without the poisonous attitude, while Jared Cook is one of the most athletic tight ends in the NFL with breakout potential entering this season. With Cook, Craig Stevens is one of the best, if not the best, blocking tight ends in the NFL.
Getting the ball to the receivers in Tennessee shouldn't be an issue either considering Michael Roos is arguably the best left tackle in the NFL while David Stewart is one of the better right tackles. The interior of the line isn't as reputable, but very effective, and should be boosted by Steve Hutchinson's presence.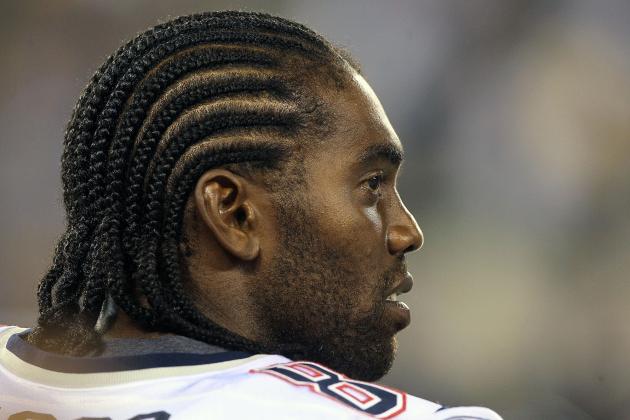 Jim McIsaac/Getty Images

Running backs: B
Offensive Line: B
Wide Receivers: A

Tight Ends: A
Coaching: A+
I believe in Randy!
The San Francisco 49ers had one clear focus this offseason. They blatantly weren't happy that their offense was only a complementary piece to a record-setting field-goal kicker. Jim Harbaugh has a great offensive mind, but it doesn't take a great offensive mind to try and sign Peyton Manning.
That's exactly what Harbaugh did this offseason before Manning moved to Denver. Harbaugh may have messed with the chemistry he had with his quarterback this offseason, but a bit like an apologetic husband, he is replacing chemistry with plenty of gifts.
Those gifts come in the form of Mario Manningham, LaMichael James, AJ Jenkins, Brandon Jacobs and Randy Moss. Of the group, Moss is obviously the most intriguing addition. Moss didn't play last year after a tumultuous season with the Tennessee Titans, Minnesota Vikings and New England Patriots. Significantly, however, Moss didn't drop off for physical reasons. He lost his motivation and desire to play football.
A year out, and watching a Super Bowl where he could have been the difference, Moss should have the passion of a rookie. Even if he has lost a step, he is still a major threat on the outside.
Mario Manningham is expected to play across from Moss. Manningham is famous, or infamous depending on your point of view, for that Super Bowl performance, or even just that catch, but he does have his flaws. He is a big play waiting to happen, but inconsistent catching the football.
One thing is clear, the 49ers have a lot more speed and explosion in their offense this year. Having a pounding running game and reliable offensive line, with Harbaugh on the sidelines, Alex Smith has a pretty cushy work-place.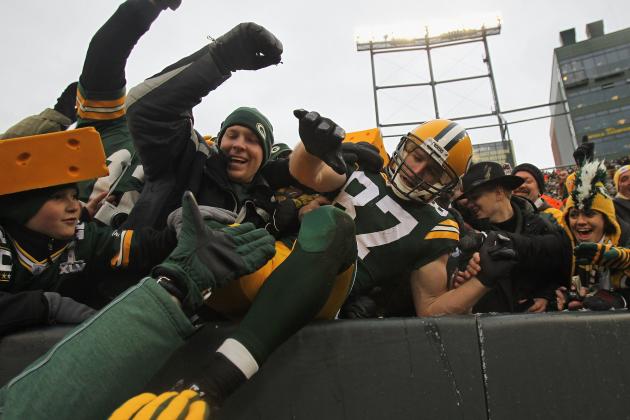 Jonathan Daniel/Getty Images

Running backs: C+
Offensive Line: A-
Wide Receivers: A+

Tight Ends: B
Coaching: A+
The only thing as impressive as Aaron Rodgers' back shoulder throws for the Packers are the players catching them in Wisconsin. The Packers wide receivers are the best in the NFL with dynamic playmakers and reliable pass-catchers littered through the depth chart.
Greg Jennings and Jordy Nelson catch essentially everything thrown in their direction, Donald Driver has fended off father time expertly, James Jones is a threat to go the distance on every play, even if he lacks consistency, while Randall Cobb is a star in the making.
Another season away from his torn ACL injury should help Jermichael Finley. While his ACL is in his knee and not his hands, which failed him, being more comfortable on the field should help Finley return to being the impact player he was prior to his injury. It is essentially impossible to match up to Finley's athleticism and cover every other receiver on the field consistently.
Importantly, the Packers have a lot of quality depth at tight end, with players who play roles that are largely unnoticed.
The Packers' greatest weakness lies in the backfield, but even that isn't a real weakness because Brandon Saine and James Starks have potential, while John Kuhn is a versatile model of consistency who excels in the passing game and is efficient as a runner.
The Packers' most underrated quality lies on their offensive line. Adding Jeff Saturday to the interior of that line can only help, although Scott Wells was a fine center last year. Bryan Bulaga is one of the better right tackles in the league, while TJ Lang and Josh Sitton are a good guard pairing. Marshall Newhouse is a stand-in at left tackle while Derek Sherrod develops.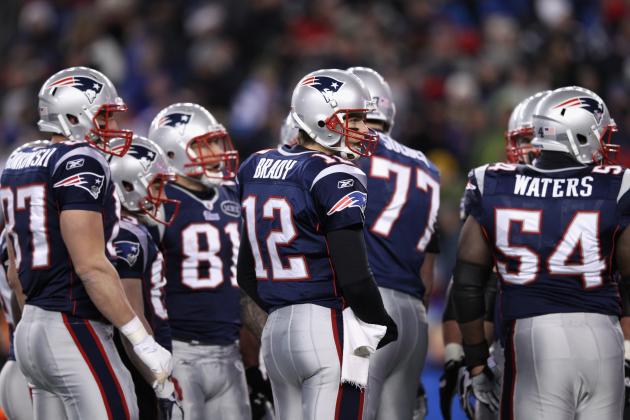 Elsa/Getty Images

Running backs: B-
Offensive Line: B+
Wide Receivers: B

Tight Ends: A+
Coaching: A

Tom Brady may be one of the best quarterbacks in the league, but he has more help than anyone. Only one issue faces the Patriots entering this season, as the offensive line is enduring some turnover.
Matt Light has retired, but Nate Solder is a ready-made replacement. Brian Waters is facing another season when he is a threat to drop off in the second half of the year.
The most significant issue for the Patriots' protection, however, is the potential loss of Logan Mankins. In typical Patriots fashion, nobody is clear how long Mankins will be out for after tearing his ACL last year. Robert Gallery was added as a likely replacement.
Offseason additions have only enhanced this offense after last year. Considering last year's version was pretty stacked as it is, this year it is simply scary. Brandon Lloyd is the perfect addition at receiver because of his pace. Not only is Lloyd a burner, but he can run every route and has very soft hands. Lloyd is the final piece in a mismatch offense that relies on two elite tight ends. His pace will free up those tight ends and Wes Welker underneath, but Jabar Gaffney shouldn't be overlooked as he should be an improvement over Deion Branch.
BenJarvus Green-Ellis' consistency may be lost from the back field, but the group of Stevan Ridley, Shane Vereen and Joseph Addai should provide explosion to an already explosive offense. Ridley should be the main ball-carrier, but Addai will provide a viable replacement for Kevin Faulk. Not fumbling the ball would be enough to match the achievements of last season; anything more is an improvement.
Tom Brady may be a great quarterback, but there is no question that Bill Belichick is the key to the Patriots' long-term(last decade) success as a franchise with what he has built on offense and defense over the years.
Cian Fahey writes for the Guardian, Irishcentral, Steelersdepot and FFBLife. You can follow him on twitter @Cianaf