Buffalo Bills: Leodis McKelvin and 5 Players on the Bubble Before Training Camp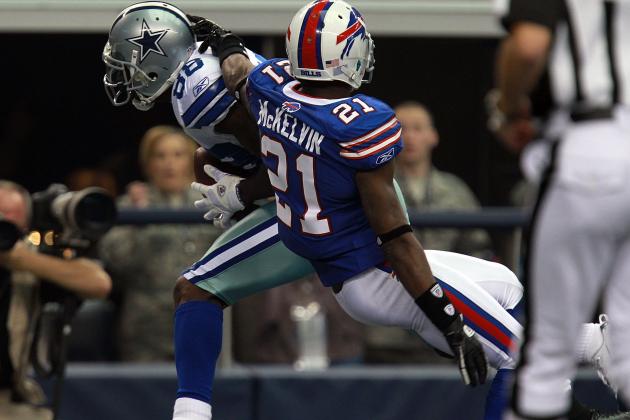 Ronald Martinez/Getty Images

As the Buffalo Bills are making preparations for their training camp, which starts in roughly a month, there are quite a few players who need to make a strong case to the coaching staff on why they deserve a spot on the final 53-man roster.
With the added depth across the board, thanks to Buddy Nix and Doug Whaley, it will be much harder to make this year's squad than in years past.
Today, I'll take a look at five players on the offensive side of the ball who are at risk of losing their Buffalo Bills playbook.
You can find the link to the Bills' salary cap figures right here, courtesy of Spotrac.com.
Begin Slideshow

»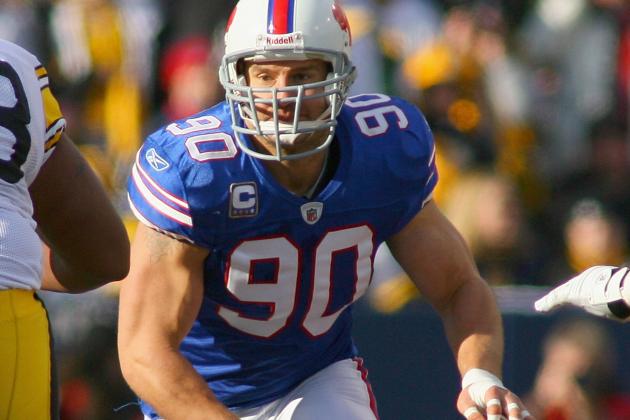 Rick Stewart/Getty Images

Drafted by the Bills in 2003, Kelsay hasn't really been productive, as he never recorded more than 5.5 sacks in a season despite most of those years coming in his natural three-point stance at defensive end.
In 2010, he signed a five-year, $28.2 million contract, with the reasons cited mainly as his leadership in the locker room. While Kelsay is a hard worker with strong hustle, his declining age doesn't fit his inflated contract.
By releasing the aging pass-rusher, the Bills would save $3.5 million this year and an additional $7.4 million in the next two seasons in cap space.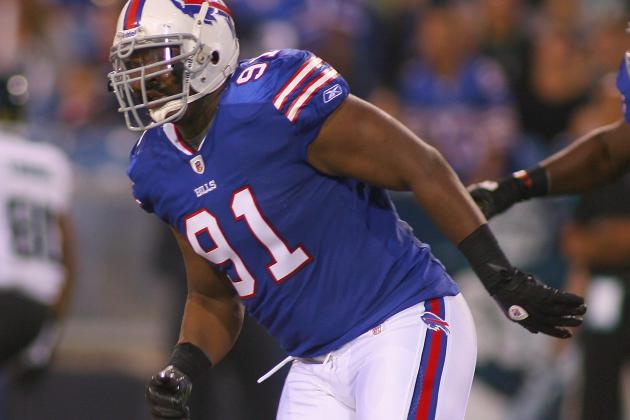 Rick Stewart/Getty Images

Spencer Johnson just becomes a casualty of the transition to the 4-3 defense, as the roster is now loaded with defensive tackles. General manager Buddy Nix even stated that he was looking to get the team younger, and there just isn't a place for Johnson on the roster.
In his four seasons with the Bills, Johnson recorded eight sacks in a rotational role, but at 30 years old, it's time to cut your losses, especially when there are young and promising players on the roster that could be developed.
By releasing the impending 2013 free agent, the Bills would save $3 million in cap space.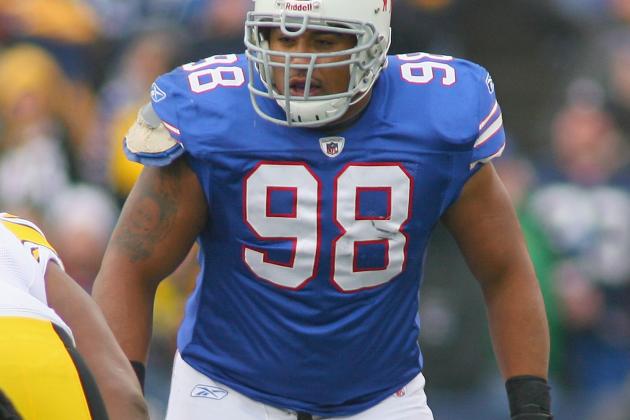 Rick Stewart/Getty Images

The Bills snagged Edwards from the Ravens when they decided to make the move to the 3-4 front, and he performed well, engaging blockers and allowing linebackers to make plays. However, with the move back to the 4-3, Edwards just doesn't fit the bill.
While it's unclear exactly how many defensive linemen the Bills will keep on their roster, considering the depth at defensive end, Edwards will be a salary cap casualty.
With Edwards slated to make $3.8 million in 2012 and $3.65 million in 2013, it's highly likely that Edwards will be moving out of Buffalo.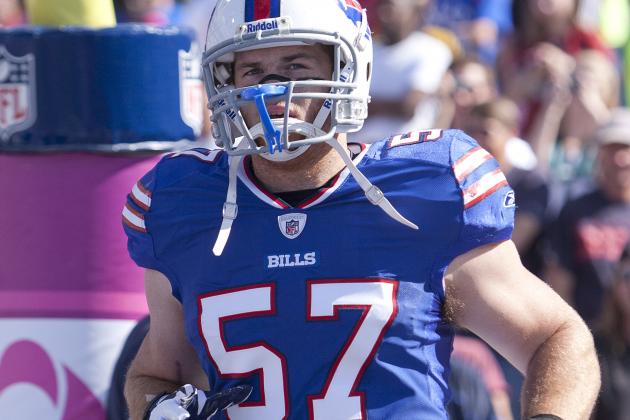 Brody Wheeler/Getty Images

Bills defensive end/linebacker Danny Batten could become a depth casualty due to the multitude of defensive ends and linebackers on the roster at the time. Drafted in the sixth round with the No. 192 overall selection of the 2010 NFL draft out of San Diego State, Batten was a stud defensive end in the FCS, but hasn't had an opportunity to make an impact for the Bills.
As a Jackrabbit, Batten recorded 273 tackles, 52.5 of which for a loss, and 23 sacks as a defensive end. However, he was drafted to be converted to a pass-rushing outside linebacker, and his rookie season ended as quickly as it started, as he was placed on injured reserve prior to the season.
Last season, he appeared in all 16 games, starting four, making the most of his opportunities on special teams. He racked up 25 tackles and half a sack. Unless he can make a quantum leap in his third professional season, Batten probably wont make the team, saving the Bills about $1 million over the next two seasons.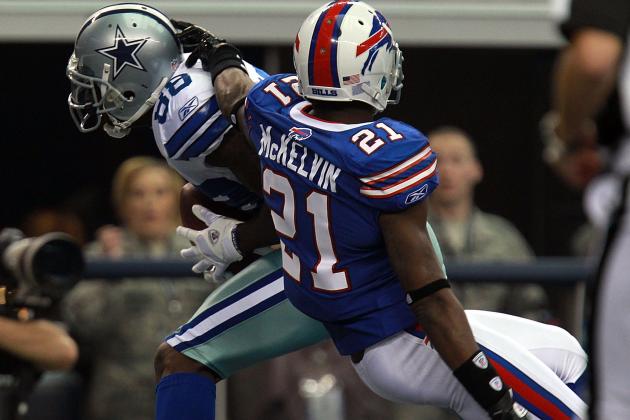 Ronald Martinez/Getty Images

Last year, the Bills brought in competition for former first-round draft pick cornerback Leodis McKelvin when they selected Aaron Williams in the second round.
Williams performed so well that he is expected to be the opening-day starter.
This year, the Bills used their No. 10 overall pick on another cornerback, South Carolina's Stephon Gilmore, further slimming McKelvin's chances as even a role player on the team.
Coupled with Terrence McGee and second-year man Justin Rogers, who played well down the stretch last year, McKelvin needs to prove his worth, as he is entering a contract year.
McKelvin was awful last year, starting just six games and being relegated to the bench for most of the year.
In OTAs, McKelvin has been seeing reps in the slot along with rookie fourth-round draft pick Ron Brooks out of Louisiana State.
McKelvin had this to say to BuffaloBills.com
It's just an opportunity for me to get inside. I'm getting an opportunity on the outside and an opportunity on the inside. We've got a lot of young guys coming around and just the competition level, if anything happens on the back end as far as me not winning a starting job on the outside I can also play on the inside.
For a former first-round pick to be relegated to nickel and dime sets, McKelvin may be a training camp casualty, saving the Bills $1.58 million.