Portugal vs. Spain: Cristiano Ronaldo Should Not Be Blamed for Loss
June 28, 2012

Martin Rose/Getty Images
Portugal star Cristiano Ronaldo will be criticized heavily for his team's heartbreaking penalty shootout loss to Spain in Wednesday's Euro 2012 semifinal, but he's not to blame for his squad's exit from the international tournament.
Although a 0-0 scoreline points to inefficiency on the offensive end for both teams, that was hardly the case in the fight for Iberian bragging rights.
The Portuguese attack boasted many more opportunities than they were expected to Wednesday. Their shots on goal (10) rivaled Spain's (11), and they got it going in spectacular fashion after a woeful first half that only featured one shot on target.
Ronaldo was hardly containable in the middle and attacking third and seemed to make something out of every Spanish turnover. We're still left scratching our heads at the decision to defer Ronaldo during the penalties until the fifth shooter, but it's unclear whether it was his decision or a coaching move.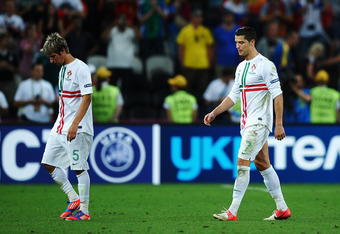 Laurence Griffiths/Getty Images
The Real Madrid phenom has been just about everything for Portugal throughout Euro 2012, as he's notched three goals in timely situations. He's proven his value and prowess in this summer's spectacle, whether they won or not.
For novices, a 57-43 advantage in possession for Spain would seem like a menacing advantage. However, it's worth praising that Portugal were able to control the ball as well as they did against a heavily dominant Spanish passing attack.
Portugal's game plan was clear. They were aiming to make every possession a valuable one against a Spanish side that wouldn't allow them the ball much, if at all. 
Ronaldo fit right in to the game plan and played his part, attacking the stout Spain defense and just missing wide on a slew of attempts.
He was given his chances from free-kick territory, and nearly capitalized on a few from more than 30 yards out. 
Spain's troubles weren't hard to notice, as the winners of the last two major championships were unable to get a goal in a full 120 minutes and severely missed the impact of injured David Villa and rested striker Fernando Torres, who was deferred in preference of Pedro Rodriguez. 
Pedro's speed dominated late in the game and through extra time, but he was unable to make the final move to put Spain on top. It would've been fascinating to see what Torres did with such chances, and from the look of some of them, you'd like him to at least convert one.
Portugal has work to do before the next World Cup in 2014. Can Ronaldo win with his supporting cast? Does he even need a group of stars around him to succeed like he has in Madrid? 
We do know one thing, though.
It's not Ronaldo's fault if they continue their major international championship-less streak.