Wimbledon 2012: Path for Roger Federer to Play Rafael Nadal in the Finals
June 28, 2012

Paul Gilham/Getty Images
While there is another name on the scene in men's tennis, Roger Federer and Rafael Nadal have provided some amazing championship matches since 2006. Perhaps the most notable was Nadal's win in the 2008 Wimbledon finals, a match many consider to be the best ever.
Their rivalry leaves nostalgic fans hoping for a rematch in the 2012 Wimbledon finals.
Federer has won his opening two matches in straight sets, while No. 6 Tomas Berdych lost his opening-round match to Ernests Gulbis. 
It should be smooth sailing for Federer to reach the semifinals. His likely opponent would be the No. 1-ranked player in the world, Novak Djokovic.
While Federer holds a 14-12 overall record in head-to-head matches, Djokovic has won six of their last seven matches. Federer's win during that span came in the semifinals of the 2011 French Open.
The two have never met at Wimbledon.
Federer will take on Frenchman Julien Benneteau (29th seed) in his next match. The two last met in the finals of the 2009 BNP Paribas Masters, with Benneteau prevailing.
Federer came out on top in the 2008 French Open and the 2007 Western & Southern Financial Group Masters.
Nadal faces Lukas Rosol on Centre Court on Thursday.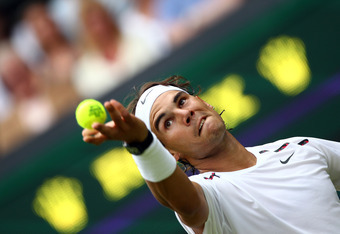 Clive Brunskill/Getty Images
Rafa's first real test should come in the semifinals, where he would likely face the top player from England, No. 4 seed Andy Murray. David Ferrer is seeded seventh and could push his way past Murray for the opportunity to face Nadal.
Djokovic has met Nadal just twice at Wimbledon, beating him in the finals last year.
Federer and Nadal have met just three times at Wimbledon. But all three matches were in the finals, lending to the mystique of the matchup.
They last met here in 2008, Nadal's only win.
Federer has looked quite strong and fluid in his opening matches, giving his fans hope he can get by Djokovic this year. 
A Federer-Nadal Wimbledon final would certainly be nostalgic, and 2012 could be the last opportunity to make it happen. Djokovic is 25 years old and has become a dominant force in men's tennis.
The 31-year-old Federer won't get many more opportunities at the All England Club, but he could surprise the tennis world here in 2012.