Examining the Unwritten Rules of Baseball
June 27, 2012

Joe Robbins/Getty Images
More so than any other sport, baseball has a collection of unwritten rules, codes of behavior and acceptable interactions that have existed as long as the game has been played.
What are they? Why do they exist?
If you ever wanted a prime example of how a player crosses an unwritten rule in baseball, look no further than Aroldis Chapman's ridiculous somersault celebration after earning a save on Tuesday evening.
I can't embed the clip here, but you can check it out over at MLB.com. Nobody would begrudge Chapman for a bit of celebration after earning the save in a 4-3 win for the Cincinnati Reds over the Milwaukee Brewers.
But, for anyone who has spent time around the game or been a fan for quite some time, it likely rubbed you the wrong way. It certainly bothered manager Dusty Baker, pitching coach Bryan Price and teammates Jay Bruce and Joey Votto, who spoke with him after the game, according to Jon Morosi of FOX Sports.
Why is everyone all hot and bothered over this?
Kevin Kaduk of Big League Stew asked that very question:
Why Chapman's routine was different from the postgame hip bump or Jose Valverde or Jonathan Papelbon-style closer dance is hard to say. Maybe it has something to do with falling to the ground in front of the just defeated opponent or with its individual nature.

Whatever the case, Chapman crossed a line to the point where his teammates seemed more irked than the opponents across the field.
We can excuse the emotion of a fist pump or a quick, routine closer dance. But tumbling on the ground twice like a clown?
That simply draws too much attention to yourself and seems to mock the opposition. It also feels a bit predetermined, and that's definitely not cool.
The line between what you can and can't do in baseball is subtle. You can flip your bat and gaze toward the stands after you hit a home run if you are Albert Pujols. You've earned the right after an accomplished career. You can't do it if you are a rookie who or young player still make a name for yourself.
That's being brash. Again, there are ways of bringing attention to yourself, and there there is being a showboat.
Showboats don't play in baseball.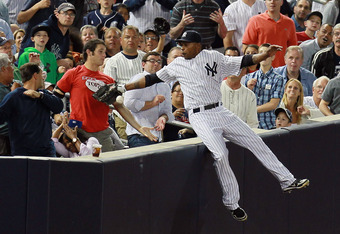 Mike Stobe/Getty Images
You can get caught spitting on or digging grooves into a baseball, stealing signs, using too much pine tar or pretend to catch a ball to fool an umpire, and nobody will ever suggest your legacy is that of a cheater.
That's just gamesmanship.
But use steroids, and you'll be immortalized as a cheater. It's one thing to try and gain small—albeit illegal—advantages in the game. It's quite another to gain a competitive advantage through an illegal substance.
You can plunk an opponent as payback for one of your guys getting plunked in that game. Hell, you can plunk him months later to settle an old on-diamond dispute.
You can certainly plunk the young guy for staring at his home run for too long, or for players on the other team doing things to run up the score and embarrass you in a rout.
You shouldn't plunk a guy if you're Cole Hamels—hardly known as a tough guy—and you want to randomly "send a message" to a young pup like Bryce Harper, and then tell everyone about why you did it.
I'm a Philadelphia Phillies fan, but that was just dumb.
Plunking is meant as a means to police the game or protect your teammates. It shouldn't be abused, and it should never randomly be employed on a whim. It's dangerous to the point that it should be eradicated from the game altogether.
As things stand now, there is a time and place when it is deemed appropriate.
Speaking of running up the score, there are certain things you can do if your team is blowing out the opposition. Namely, you can keep playing. If the opposing pitchers are throwing the ball right down the middle of the plate, feel free to smack the ball around.
But if you've got a 10-run lead, you shouldn't steal bases or hit-and-run. You shouldn't swing at 3-0 pitches. You shouldn't celebrate profusely when you score a run. Give a fist bump, keep your head down and get back in the dugout.
Play the game. But don't show anyone up.
There are certain unwritten rules that have long been debated. For example, is it okay to bunt for a single against a pitcher going for a no-hitter or perfect game?
Some say yes, some no.
My feeling: if it is late in the game and your team is trailing 5-0 while the opposing pitcher has a no-no, it's lame to bunt your way on. But if the game is 1-0 late and you're trying to get the win, bunt away.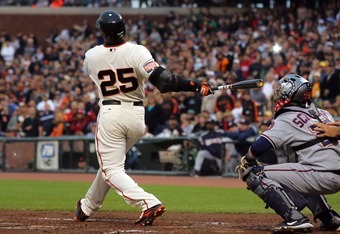 Lisa Blumenfeld/Getty Images
Okay, we get it. Baseball players don't like being shown up and they don't like being brushed back without a good reason. Raw emotion is acceptable, but predetermined celebration isn't. A little gamesmanship never hurt anyone, but steroids take it too far.
Why this code of rules? Why play the game with a strange sense of baseball-specific honor?
Because baseball is a game of failure, that's why.
Psychologically, all players understand what it is like to fail in front of thousands of people and know how crappy that feels. The last thing most guys want to do is make someone else who has failed feel worse by showing them up.
Those players who are allowed to flip their bats after a home run have battled long and hard to hit each and every one, while failing to get a hit seven out of every 10 at-bats—if they're lucky.
But some young pup?
Nah, he doesn't get to show up the pitcher. Not yet.
Because baseball is essentially the same game it has always been. It holds its records and traditions in an esteemed light. Stealing some signs or nicking a ball doesn't make a show of competitive advantages.
But, juicing up and breaking home run records does—and it tarnishes the game forever.
I love baseball's unwritten—well, not so unwritten in this article—rules. I love that the players still believe in respecting one another on the diamond. I love that a traditional code remains in the game.
I'm glad the Reds reminded Aroldis Chapman that they exist. I hope they always do.
Hit me up on Twitter—my tweets hit the mark more often than Spain's passing.