2012 NBA Draft Order: Michael Kidd-Gilchrist and Prospects Who Will Be Steals
June 28, 2012

Andy Lyons/Getty Images
With a draft class as loaded as the one we will see during the 2012 NBA draft, there will undoubtedly be prospects who end up being huge steals.
When the NBA draft finally rolls around on Thursday night, we will see how things turn out, but we know that there will be a few players who will be considered steals in this year's draft.
These are those players.
Kendall Marshall, North Carolina
Kendall Marshall is the best pure point guard in the draft class. Period.
He is an assist-machine who averaged an incredible 9.7 assists per game during his last year of college. He is a great floor general and team leader who showed off just how clutch he is against North Carolina State in the ACC tournament, knocking them out with a jumper in the final seconds of the game.
In such a deep class, Marshall is not expected to go during the lottery, making him a huge steal.
Marshall is the type of player that can run a team—he's like having an extra coach on the floor. This makes him an invaluable leader, and he should be a lottery pick in almost any other class.
Andre Drummond, UConn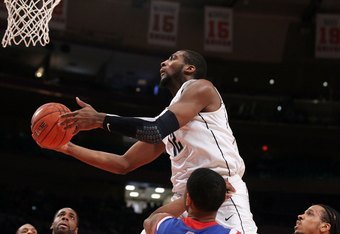 Jim McIsaac/Getty Images
While Andre Drummond has the potential to be one of the biggest busts of the draft, I expect him to emerge as a star.
No team is going to draft Drummond unless they are absolutely sure that they have a coach who can mold him into a great player who reaches his potential. The question mark on his resume about his work ethic will be answered by the right team, making him a stud.
However, Drummond will still be drafted later in the lottery than expected because of his question, making him a steal.
Michael Kidd-Gilchrist, Kentucky
Even though he is one of only four players who have the potential to be true stars (Anthony Davis, Brad Beal and Drummond are the others), MKG won't be drafted until the fifth pick.
With Beal presumably going second and then Thomas Robinson, he clearly won't be taken before the fourth pick. The Bobcats will most likely own the fourth pick after a trade with the Cavaliers and they probably won't take MKG either, drafting hometown hero Harrison Barnes instead.
MKG is going to fall down draft boards despite being worthy of the third pick in the draft, and he will end up being a steal because of it.
2012 NBA Draft First-Round Order
1. New Orleans Hornets
2. Charlotte Bobcats
3. Washington Wizards
4. Cleveland Cavaliers
5. Sacramento Kings
6. Portland Trail Blazers (from Brooklyn Nets)
7. Golden State Warriors
8. Toronto Raptors
9. Detroit Pistons
10. New Orleans Hornets (from Minnesota Timberwolves)
11. Portland Trail Blazers
12. Houston Rockets

13. Phoenix Suns
14. Milwaukee Bucks
15. Philadelphia 76ers
16. Houston Rockets (from New York Knicks)
17. Dallas Mavericks
18. Houston Rockets (from Minnesota, via Utah Jazz)

19. Orlando Magic
20. Denver Nuggets
21. Boston Celtics
22. Boston Celtics (from Los Angeles Clippers)
23. Atlanta Hawks
24. Cleveland Cavaliers (from Los Angeles Lakers)
25. Memphis Grizzlies
26. Indiana Pacers
27. Miami Heat
28. Oklahoma City Thunder
29. Chicago Bulls
30. Golden State Warriors (from San Antonio Spurs)