Roger Federer: Updated Draw for Fed's Wimbledon Run
June 28, 2012

Paul Gilham/Getty Images
Coming into this year's Wimbledon campaign, Roger Federer and his fans were as hopeful as ever for a 17th Slam title. The reasoning behind that is perfectly practical—if Fed captures this title, he will return to the spot of World No. 1, where he reigned for so long earlier in his career.
When the draw was released, it looked as though he had a clear path to the semifinals, as usual for the Top Three in recent years. Now that play in London has commenced, it is looking even better for the Swiss Maestro.
One of the most dangerous threats entering the year's third Slam in Fed's draw was 11-seeded John Isner. The big serving American is the kind of player who experiences drastic swings between the highs and lows of his game fairly suddenly.
We have certainly seen examples of this in 2012; he experienced a third-round departure at the hands of Feliciano Lopez in the Australian Open, then later took down Federer in the Davis Cup and Novak Djokovic at Indian Wells and then lost in the second round at Roland Garros to Paul-Henri Mathieu.
Unfortunately for American fans, the first round of Wimbledon saw the weaker part of his game, as he lost to Alejandro Falla in five sets. And with that, Fed is in even better shape in London.
It isn't necessarily going to be easy for Federer, though. He would have had to play Isner in the quarterfinals, and Janko Tipsarevic still looms as a likely opponent there.
As solid a player as the eight-seeded Serb is, though, it seems as though he is not quite at the top of his game. In what should have been an easy second round match, Tipsarevic was pushed to four sets by American qualifier Ryan Sweeting.
Tipsarevic is still a threat to Federer, but it is certainly possible that he will be worn out or even defeated by the time the quarterfinals come around (although the only danger to him up to that point is 26-seeded Mikhail Youzhny).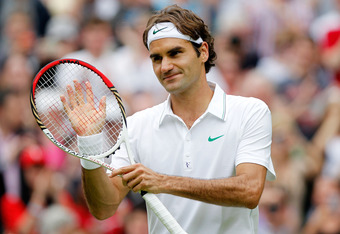 Paul Gilham/Getty Images
Tipsarevic is really the only ominous competition remaining in Fed's draw. Unless players like Julien Benneteau, Fernando Verdasco or Gilles Simon can pull off an upset, he should have a pretty clear shot to the semifinals.
That's where it will really get interesting. The likely opponent there will be defending champ and current World No. 1 Novak Djokovic, who is always tough to take down when at the top of his game (which he seemingly is). Should Federer manage to win that probable encounter, we can expect to see a Fed-Nadal final, which will undoubtedly be a treat for the entire tennis world.
At this point, it is pretty safe to say that we should be seeing Federer when only four remain. From there, what happens is anyone's guess, but his chances of winning the grass court Slam are certainly looking as good as ever.