Stephen Dunn/Getty Images
November 4, 2016
According to a report by Mike Bresnahan in the Los Angeles Times, the Los Angeles Lakers appear set on trading star power forward Pau Gasol for a top-10 pick. The Lakers are also asking for an established NBA player according to another report by ESPN in the deal.
The Lakers are very high on small forward Michael Kidd Gilchrist and want to trade into the top five in an attempt to draft him.
As you can see the Raptors do not have a top five pick, but the Sacremento Kings do and have been open to trading their fifth pick and have had as many as six or seven teams inquire about the pick.
Tyreke Evans, according to that report, could be on the trade block as well in an attempt for the Kings to acquire a point guard. Recent rumors had them looking at Rockets point guard Kyle Lowry.
The Raptors have two components that both teams would have an interest in, Jose Calderon as a point guard and Andrea Bargnani as a power forward replacement for Gasol, as well as their own eighth pick overall.
The Atlanta Hawks have been the more serious suitor for Gasol lately, as the LA Times report was quoted stating the Hawks were looking at Gasol and offering the likes of Josh Smith in an attempt to get a deal done.
Picks aside, on the surface though, a Gasol for Bargnani and Calderon makes way too much sense for both sides, if the Raptors are able to sign Steve Nash to a two or three-year deal.
Bargnani gives the Lakers another solid big player who plays the game outside-inside—meaning Andrew Bynum could thrive playing with him. Calderon finally would give the Lakers a point guard who could facilitate the offense in Los Angeles.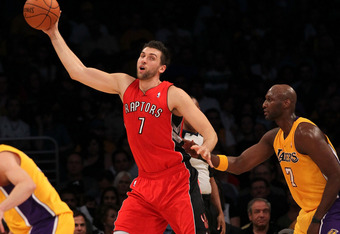 Stephen Dunn/Getty Images
Gasol gives the Raptors a big player who rebounds, defends, has championship experience and is an all-star. Having him and Nash work the pick-and-roll in Toronto would instantly make the Raptors a player in the Eastern Conference. The best part of the trade proposal, the Raptors keep their pick.
That's all well and good, but it gets the Lakers nowhere because they wanted a top five pick to try and grab Kidd-Gilchrist in the top five.
The Raptors in the end do have the pieces to acquire Gasol and could still manage to keep their pick. But in the grand scheme of things it may be a tad too optimistic to think the Lakers would trade their all-star power forward for a decent package, but not exactly what they wanted.
In the end, if Gasol is moved, it will likely not include the Raptors, as I think the Hawks and Kings might be better trading partners for the Lakers.
The NBA Draft is set to begin Thursday Night, live from Madison Square Garden at 7:00 PM Eastern.
Like the new article format? Send us feedback!