Liverpool Transfer Rumors: Reds Should Give Up Pursuit of Gylfi Sigurdsson
June 27, 2012

Ian Walton/Getty Images
Even though Liverpool has been heavily involved in the Gylfi Sigurdsson sweepstakes ever since new manager Brendan Rodgers took over, it's time for the team to start looking in a different direction.
David Maddock of the Daily Mirror reports the Reds are still hoping to land the attacking midfielder before Tottenham can complete a deal. They would have to significantly improve the offer to make that happen, though.
In reality, it's just not worth it. Rodgers should play things more conservative early in his first transfer window with the club. Getting locked into too many contracts right away will cause him headaches later on as the team's ownership group keeps looking to trim costs.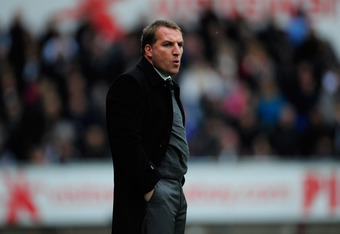 Stu Forster/Getty Images
The window doesn't even officially open for a couple more days, anyway. It's a long process, making it impossible to know what players might come available before summer ends. There will likely be several that would provide more overall value than Sigurdsson.
He gained the attention of Premier League squads during his loan stint with Rodgers' old club, Swansea City. The 22-year-old Iceland international scored seven goals in 19 games, even earning a Player of the Month Award along the way.
Although it was an impressive debut in one of Europe's top leagues, by no means can he be counted on to fix all of Liverpool's offensive problems from last season. The team only scored 47 goals, which was actually one less than Blackburn, a team that was relegated.
As Andy Carroll has proven, going from a lower-level EPL side to Liverpool and maintaining the same type of efficiency isn't any easy task. He scored 11 goals in 19 league matches for Newcastle United, but has netted just six in 42 for the Reds.
It's a high-profile move that Liverpool probably regrets right about now. While Sigurdsson wouldn't demand the same type of major deal, the reported £8 million is still a hefty price to pay for someone with limited Premiership experience.
That's not even counting his wage demands, which the Liverpool Echo have described as "wild." The higher they are, the most risk is associated with a potential move.
When you put it all together, it adds up to a situation the Reds are better off avoiding. Let Tottenham worry about paying the hefty price to land Sigurdsson and save the resources for other potential deals in the coming months.
In other words, Liverpool has stayed in the hand long enough, it's time to fold.