NBA Draft Predictions: Projecting Where Top First-Round Sleepers Will Land
June 28, 2012

Mike Ehrmann/Getty Images
As with the first round of any draft, Thursday night's NBA draft will have its share of busts and sleepers sprinkled throughout the first round.
A real sleeper doesn't have to be someone drafted towards the end of the first round, just simply a guy that will initially out-produce all early expectations coming into the season or exceed expectations of the slot they're drafted in.
With that being said, here's a look at where the top sleepers in this year's class will land.
Will Barton, Memphis
Barton, who averaged 18.0 points and 8.0 rebounds while shooting 50.9 percent from the floor on the season, could turn out to be one of the real sleepers of this draft class.
Had Minnesota, who needs a shooter, not dealt their pick to Houston, I wouldn't have been surprised to see Barton shoot all the way up to No. 18.
While Barton is only a 35 percent shooter from behind the arc, he's has the chance to be a legit NBA scorer and could really help teams like Boston, Atlanta, Memphis and Chicago, who all pick late in the first round.
Prediction: Chicago Bulls at No. 29
Terrence Ross, Washington
Among the guards expected to be lottery picks, keep your eye on Ross.
Guys like Bradley Beal, Austin Rivers, Jeremy Lamb and Dion Waiters are garnering all of the attention, but Ross could turn out to be as good as, if not better than, any of them.
He does everything well on the floor.
Ross can score inside or outside, defends well and is one of the best rebounding guards in the draft (6.4 RPG).
I liked Milwaukee to possibly take a shot at him at No. 12 even though they have a solid backcourt. But now that they've traded down to No. 14, I don't think Ross will be there.
Prediction: Phoenix Suns at No. 13
Andrew Nicholson, St. Bonaventure
I have been high on Nicholson all season, so why jump off the bandwagon now.
He has size and does everything well, averaging 18.5 points per game, shooting 57 percent from the floor and 43 percent from behind the arc. He has the ability to stretch the defense and is also a very good rebounder and shot-blocker.
He could sneak his way higher up the draft, and Denver could be a real option at No. 20, but I think Nicholson will look good in Celtics green.
Prediction: Boston Celtics at No. 21
Moe Harkless, St. John's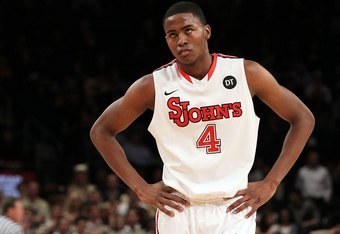 Jim McIsaac/Getty Images
Harkless has the tools to be a very special player in the NBA. He has great size for the wing and can become a defensive stopper.
In addition he has the ability to get to the rim and is a very good rebounder, posting averages of 15.5 points and 8.6 rebounds per game as a freshman.
Harkless has a bright future ahead of him and has top-10 talent.
He could go anywhere between 12 and 22, but while I like him at No. 19 to Orlando, I have a feeling a trade will be made involving the Rockets and Harkless will be wearing a Kings uniform in 2013.
Prediction: Sacramento Kings (after trade with Rockets) at No. 16
Tyler Zeller, North Carolina
Zeller won't be an All-Star, but I think he can be a very productive NBA big man.
He's a legit seven-footer with outstanding fundamentals. The North Carolina product is athletic enough to run the floor well and also has very good leaping skills.
Zeller won't average the 16.3 points per game and 9.6 rebounds per game he did en route to winning ACC Player of the Year in 2012, but he has a chance to be surprisingly productive.
Illinois' Meyers Leonard is getting a lot of attention at the moment, but Zeller will be surprisingly productive.
Prediction: Milwaukee Bucks at No. 14