Olympics Basketball 2012: Predictions and Analysis for Team USA in London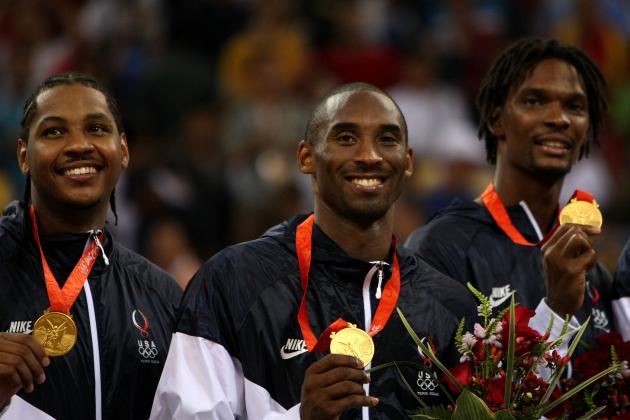 Jed Jacobsohn/Getty Images

With NBA Commissioner David Stern's recent proposal that the United States adopt an under-23 approach in how it fields the quadrennial Olympic basketball team, 2012 could be Team USA's last Olympics with a combined roster of East and West All-Stars.
Well, better make the most of it.
The American men have won a world-leading 13 gold medals at the Olympics dating back to Team USA's 1936 Berlin gold-bearing campaign against adversity in Nazi Germany.
The '36 squad featured UCLA standouts Sam Balter and Frank Lubin, AAU national champion Joe Fortenberry and two-time AAU All-American Carl Knowles, who was also a UCLA grad.
Now that the future of U.S. basketball prominence in the Olympics is in serious jeopardy, it is time to consider Team USA's chances in London.
Could another gold be in the cards?
Begin Slideshow

»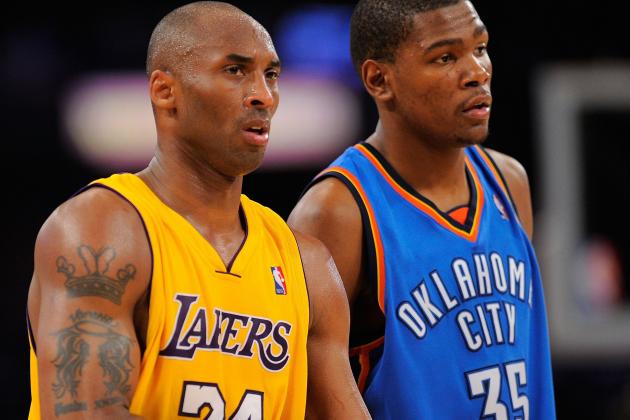 Kevork Djansezian/Getty Images
Kobe Bryant will hand the West keys to Kevin Durant for the 2012-13 NBA Season
Miami's big three—LeBron James, Chris Bosh and Dwyane Wade—plus Oklahoma's Kevin Durant and Los Angeles' Kobe Bryant are all but guaranteed Olympians.
And with Blake Griffin, potential No. 1 draft pick Anthony Davis and Tyson Chandler projected to join the squad, what kind of performances can we expect from the individual players?
If the success of 2008's "Redeem Team" is any guide, the 2012 Olympics will be a tale of shared roles.
For instance, Wade, Bryant, Bosh, James, Dwight Howard and Carmelo Anthony all took turns leading the team in points—Wade was the high performer with 27 points in the final vs. Spain—while Bosh, James, Howard and Anthony shared top rebound stats.
James, Chris Paul, Wade, Deron Williams, Jason Kidd and Bryant took turns with assist leads.
Indeed, the August 20 contest vs. Australia saw four different players tied for the game-specific lead in assists or, in other words, a new hero every day.
Expect a similar pattern of individual performances in 2012.
With Team USA defeating every last foe they faced by at least 10 points in Beijing, the Americans truly had fun, putting on a real-life international All-Star Game.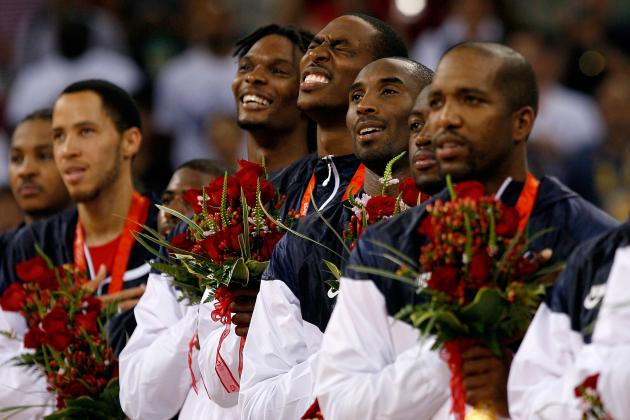 Harry How/Getty Images

As in any team sport, chemistry is huge.
Fortunately for Team USA, they'll have it heading into London with veterans James and Bryant set to lead the way for what looks to be one final time.
If all parties make the team, such as youngsters and Olympic rookie Blake Griffin and Kevin Love, look to the veterans—including Griffin's Clippers teammate Chris Paul—to rally the troops and set the tone.
Leadership is the name of the game and ironically enough, the precise quality of veteran guidance that Stern's proposed U-23 team would eliminate is what will steer Team USA through the tournament.
Same as in 2008, the United States men's basketball team is on a mission: to win it all.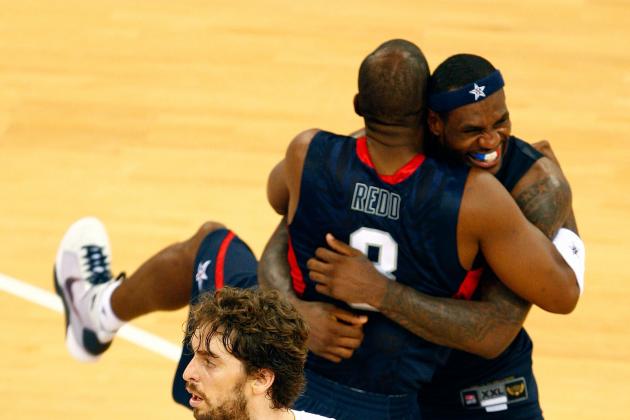 Jamie Squire/Getty Images

Don't show this photograph to Lakers star and Spanish native Pau Gasol or you may awaken a sleeping giant.
Uh oh—too late.
Still feeling that bitter taste in his mouth from Beijing's silver medal performance, the elder Gasol firmly believes Spain can do a little redeeming of their own and seize gold this summer in London:
"My expectations are high... My teammates and I will fight for the gold medal. I think we can win the tournament," Gasol told FIBA.com.
If all goes according to plan, Spain and Team USA will once again meet in the gold medal game in a rematch of the United States' 11-point victory in 2008. Only this time, Spain will be playing with a chip on its collective shoulder.
At the very least, Gasol is looking forward to a rematch.
Other notable teams include France (Tony Parker) and Argentina (Manu Ginobili, Luis Scola).
Barring an epic meltdown, however, expect scores on the realm of America's 116-85 defeat over Australia in the 2008 quarterfinals or Team USA's 106-57 bombardment of Germany in pool play.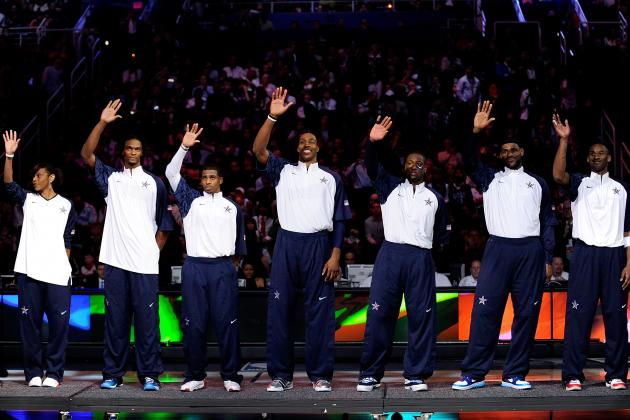 Kevork Djansezian/Getty Images

In all likelihood, Team USA will have no problem advancing to the gold medal game this summer.
With several weathered and future NBA champions on the Olympic squad, not earning a medal would be a tremendous disappointment.
If Las Vegas hosted betting on the Olympics, no medal might lead fans to accuse the Americans of deliberately throwing the tournament a la Chicago in the 1919 World Series Black Sox fiasco.
At the very least, the United States will add a silver to America's mantle.
At the very most—well...
The final question surrounds Dwyane Wade and whether he will actually play or sit these games out with a left knee injury.
If he sits, a very capable backup will take his place, so if Wade does decide to play, he'll need to ensure he is in top form.
Fortunately, Team USA is deep enough to overcome any possible injuries scenarios such as Wade's.
Look for Spain vs. USA in the final with the Americans once again coming out on top.