2013 NBA Mock Draft: Freshman Phenoms Who Will Go in 1st Round
June 27, 2012

Joe Robbins/Getty Images
The 2012 NBA draft is the main story right now, but it's never too early to start looking ahead to what will happen in the association next summer. 
As has been the case in recent years, some of the top players in next year's draft will be freshmen, like Anthony Davis was this year. They would have come straight out of high school this year a la LaBron James, if not for the silly rule about needing to play on year in college. 
With that in mind, I give you my first 2013 NBA mock draft. 
1. Cleveland Cavaliers: Nerlens Noel, PF/C, Kentucky 
Kentucky will be represented for the second straight year at the top of the draft. In fact, by the time Noel is finished with his freshman season for the Wildcats, he'll be favorably compared to Davis.
Noel is an outstanding shot-blocker. He excels on the defensive side of the court, but his offensive game is limited due to his youth. He'll need to get stronger before he can start banging around in the post on offense, but he'll make his bones early on in clean-up duties on the offensive glass.
Noel will be another cornerstone to pair with Kyrie Irving, and the Cavaliers will be a dangerous team to deal with in another few years.
2. New Orleans Hornets: Cody Zeller, PF/C, Indiana
When I watch Zeller, I'm reminded of Brad Miller, the former Sacramento King and Indiana Pacer. He isn't going to dominate the paint, but he's scrappy on the boards, has a quick first step and can hit the mid-range jumper at the top of the key and at the elbow.  
3. Charlotte Bobcats: James McAdoo, SF/PF, North Carolina
McAdoo has the makings of a star player in the NBA. With a little more strength and weight, he'll be a big-time threat in the post as a power forward, but his shooting touch from the outside makes him a dual threat that can burn opponents on the offensive end. 
Pair that with his exceptional defense and shot-blocking, and McAdoo could end up being the best player to come out in 2013.
4. Golden State Warriors: Alex Len, C, Maryland
The Warriors have had trouble nailing down a solid rotation in their front court. Len is a natural athlete and legitimate seven-footer, and his offensive abilities are highly underrated.
He is definitely more of a finesse player than a power guy, but he'll be tough for bigger defenders to guard due to his quickness off the dribble.
5. Washington Wizards: Shabazz Muhammad, SG, UCLA 
Muhammad is the next freshman phenom on our list. He's a left-handed shooting guard with mad athleticism, speed and skills, and he is my pick to be the Rookie of the Year in the NBA in the 2013-14 season. 
At this time, Muhammad is more of a slasher than a pure shooter, but that's to be expected from a man as young as he is. His jump shot is developing, and he's capable of knocking down NBA threes with little difficulty. But given time to develop, his shooting touch will end up making him one of the most dangerous shooting guards in the NBA.
6. Toronto Raptors: Rodney Hood, SF, Mississippi State
Hood is a highly-skilled scorer who has the ability to completely take over a game on offense. He's just as deadly from behind the arc as he is around the basket, and his only weaknesses are correctable.
He needs to get stronger to fully maximize his abilities, but Hood is still a young man, at 19, and he'll have no problems doing so.
7. Portland Trail Blazers: Kentavious Caldwell-Pope, SG, Georgia
If you're looking for raw explosiveness and athleticism, look no further. Caldwell has many a highlight on YouTube, as he is known for throwing down rim-rattling dunks.
The area of his game that needs improvement is his shooting touch. Caldwell-Pope needs to become a more consistent shooter if he's going to make an immediate impact as a starter in his rookie year, but he's got all the physical tools to do the job. 
8. Sacramento Kings: Alex Poythress, SF, Kentucky 
Poythress is one of those athletes that has all the tools to become great. The sky is the limit with this kid, as his offensive game is diverse and explosive. 
He can take the ball strong to the rack and finish with authority, and he can light it up from outside. He's also a strong rebounder, excellent shot-blocker and has the ability to develop into a shutdown defender. 
The biggest question mark surrounding this talented youngster is whether or not he has the self control and discipline to play within himself under pressure. 
9. Detroit Pistons: Tony Mitchell, SF, North Texas
Mitchell is just the right player to inject life into the Pistons offense. He is an explosive athlete with good speed and agility, and he has the range to be an effective shooter from beyond the arc at the next level. 
10. Milwaukee Bucks: Alec Brown, C, Wisconsin Green Bay
Brown is a lanky seven-footer with the ability to dominate the paint on the defensive end of the court as a shot-blocker. His offensive game still leaves much to be desired, but he has improved dramatically since entering college in 2010. 
11. Minnesota Timberwolves: B.J. Young, SG, Arkansas
Young is a speedy guard with the ability to be a thorn in the side of some of the best shooting guards in the NBA on defense. He isn't an offensive juggernaut, but he will get plenty of opportunities to cash in on the fast breaks that he'll help create.
12. Brooklyn Nets: Steven Adams, C, Pittsburgh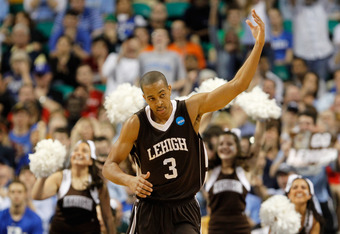 Streeter Lecka/Getty Images
Adams is the final freshman phenom I'm featuring in this mock. He hails from Wellington, New Zealand and is not used to the limelight most of the players in this mock have been exposed to. He is fully 7'1" and 245 pounds, and the best part is that he's only a pup at 19 years old. 
Athletic and strong for his age, Adams has the frame and skills to become an elite center in the NBA. He can score, defend, block shots and run the floor, and if he has a big-time year for Pittsburgh in 2012, he'll go much higher than this.
The biggest challenge Adams faces is that he hasn't played against high-level competition to this point in his career. It will be fascinating to see how he handles the big stage next year.
13. Houston Rockets: Trevor Mbakwe, PF, Minnesota
Mbakwe is one of the nastiest players that is coming out in 2013. He's an excellent rebounder, and many of his points come from cleaning up the misses of his teammates on the offensive glass. 
14. Phoenix Suns: Otto Porter, SF, Georgetown
Porter is a defensive specialist, and he'll fit in perfectly with the offense-happy Suns. He is a lanky forward with a massive wingspan, and his ability to create turnovers on defense will make him a valuable player early on in his rookie year.
15. New York Knicks: Andre Roberson, SF, Colorado
Roberson is another defensive specialist and rebounder that reminds people of Shawn Marion. He won't need to handle the ball much on offense to make a big impact. 
Roberson is the perfect kind of player to pair with Carmelo Anthony in a small lineup because his offensive game is predicated off of other people's misses.
16. Orlando Magic: Adonis Thomas, SF, Memphis
Thomas reminds me of Luol Deng. He is only 6'5" tall, but his wingspan looks to be about seven feet. His athleticism is off the charts, and his ability to snag offensive rebounds makes him an attractive option for any team that already has players capable of scoring points.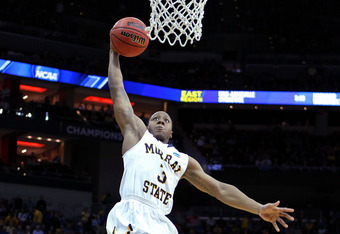 Andy Lyons/Getty Images
17. Boston Celtics: C.J. McCollum, PG/SG, Lehigh
Nobody knew about McCollum outside his small circle until he lit up Duke in the 2012 NCAA tournament. He's a solid all-around guard who deserves to be known, though, as he has the game to become a solid starting point guard in the NBA.
18. Philadelphia 76ers: C.J. Aiken, SF, St. Joseph's
Aiken is almost a Kevin Durant lookalike out on the court. He's nowhere near the offensive talent that Durant is, but his ability to block shots and knock down mid-range jumpers is going to garner him early playing time in the NBA.
19. Dallas Mavericks: Ryan Harrow, PG, Kentucky
Harrow follows the recent trend of point guards coming into the NBA that can plain light up the scoreboard. He is the perfect player to carry the Mavericks' high-powered offense to the next generation, and he'll be fun to watch.
20. Los Angeles Clippers: Reggie Bullock, SG, North Carolina
Bullock is an all-around excellent player who missed the end of last season due to a knee injury. He'll need to stay healthy this year to end up in the first round of the 2013 NBA draft, but if he does, the Clippers will jump at the chance to land him.
21. Utah Jazz: Myck Kabongo, PG, Texas
Kabongo is more of a pure floor general than Harrow. He looks to set up his teammates more than he looks for his own shot, and that fits the mold of the Jazz to perfection. He's an elite playmaker on offense who will electrify the crowds in Utah.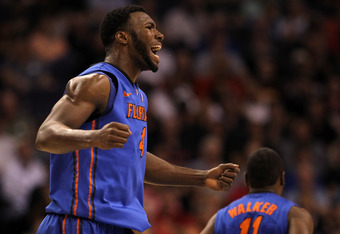 Jamie Squire/Getty Images
22. Atlanta Hawks: Isaiah Canaan, PG, Murray State
Canaan is a strong player who excels as a true point guard. He is much like Kabongo in that way, except his play is much more plodding and methodical. He can knock down threes with regularity, though, and is an excellent leader. 
23. Memphis Grizzlies: Dario Saric, SF, Croatia
Saric is a tall, lanky wingman, at 6'10" and 223 pounds. He is highly skilled, like many foreign players, and can handle just about anything you can throw at him on the offensive side of the ball. He's a decent rebounder, but he'll need to become a better defender before he sees much time on the floor.
24. Indiana Pacers: Ian Miller, PG, Florida State
Miller is an extremely athletic point guard who reminds me a bit of Russell Westbrook. His ability to get through traffic and score is amazing, and he'll be a pain in the butt for NBA point guards to defend. His penetrate-and-dish skills are also stellar, which will be a boon for the Pacers' shooters.
25. Denver Nuggets: Lorenzo Brown, PG, North Carolina State
Brown is an excellent distributor on offense running the point, but he's also capable of lighting up the scoreboard. He needs to work on his defense, but he has the ability to become a solid backup right away.
26. Los Angeles Lakers: Patric Young, PF, Florida
Young is a physical specimen who is a powerful, athletic presence in the post for Florida. He is a bit undersized, at 6'8", but his strength is more than enough to overcome any discrepancies in height he may face in the NBA. 
27. San Antonio Spurs: Mason Plumlee, PF, Duke
Plumlee is a gifted athlete who is developing a complete game that translates well at the next level. He is dangerous in pick-and-rolls due to his ability to both slip inside for easy buckets and his ability to knock down mid-range jumpers. 
28. Oklahoma City Thunder: C.J. Leslie, SF/PF, North Carolina State
Leslie is a big, quick guy at 6'9" and 207 pounds. He is an active defender and is effective on the offensive glass. At this time, his game is relegated to the outside on offense, as he has yet to develop the strength and skills to post up.
29. Chicago Bulls: Jeff Withey, C, Kansas
Withey is a defensive specialist who specializes in blocking shots. He is also a good rebounder, but his limited skills on offense make him less appealing than some of the big-time shot-blockers who went higher in the draft. 
That shouldn't be a problem in Chicago, though.
30. Miami Heat, Jamaal Franklin, SG, San Diego State
Franklin is like lightning in a bottle. He is an exciting player to watch on offense who already has an elite shooting touch. 
Franklin is strong and athletic, and he can get to the rack whenever he pleases, but the best part of his game as it pertains to the Heat is that he's also a willing and able distributor. Combined with his ability to hit threes with regularity, he'll fit in perfectly in King James' court.