Stats That DON'T Matter: 3 Overblown Dallas Cowboys Stats to Ignore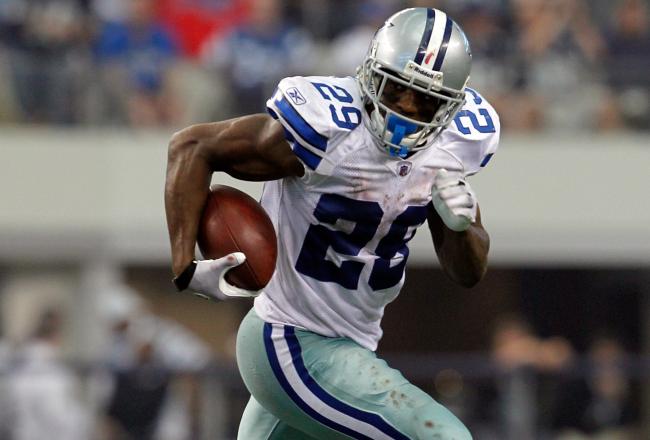 Tom Pennington/Getty Images
Sometimes statistics can tell a story. Other times, they tell only part of a story. And on some occasions, they're absolutely useless. While the majority of football statistics carry at least some meaning, here are three particular stats from 2011 that Dallas Cowboys fans can safely ignore heading into 2012:
Yards Per Carry
I'm not saying the Cowboys shouldn't be happy that their team averaged 4.4 yards per attempt on the ground, which ranked below only eight other teams last year, but that number isn't indicative of the broad level of production they got from their backs last year.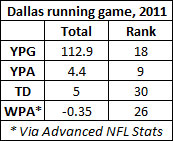 As I mentioned last month, the Cowboys really struggled on the ground when it mattered most, scoring just four touchdowns inside the red zone. That was the main reason why their Advanced NFL Stats win probability was negative when running the football, and also why they ranked significantly lower in points per game than they did in yards per game (teams would ideally prefer the opposite).
There's also a happy reason why this stat is useless. DeMarco Murray was lights out as a rookie, averaging 5.5 yards per attempt, yet he started only seven games. In 2012, Murray will enter training camp as the starter. It'll be a whole new ballgame.
Opponent Passer Rating

This is the go-to stat to reveal how poorly Dallas' secondary performed in 2011. The Cowboys allowed opposing quarterbacks to do some serious damage; their combined passer rating of 88.4 was the eighth worst in football.
But in the Cowboys' defense, the Redskins (87.4), Giants (86.1) and Eagles (85.7) all fared just as poorly, with all four NFC East teams ranking in the bottom half of the league in this category.
Not only did the secondary get considerably stronger with the addition of Brandon Carr and Morris Claiborne, Rob Ryan will have his first full offseason to whip this defense into shape. Last year's numbers across the division indicate that it was just a tough year for pass defenses in the NFC East.
We should also consider progress. The Cowboys allowed opposing quarterbacks to post a 92.8 passer rating in 2010. The pass defense actually improved dramatically across the board in 2011, and that trend should continue in 2012.
Sacks Allowed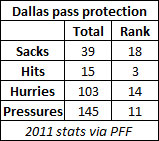 The Cowboys surrendered 39 sacks last year—a number that is a little high. I have two reasons why this doesn't matter as much as some believe. One is good, one could be good or bad, depending on how you feel about change.
The first reason why you shouldn't sweat giving up 39 sacks: the line was actually much, much better in terms of giving up pressure. Thirty-nine sacks is worse than the league average, but only 10 teams gave up less pressure than Dallas in 2011, according to Pro Football Focus.
In fact, sacks notwithstanding, only Houston and New Orleans allowed their quarterbacks to be hit less often than Dallas.
That's the good news.
The good and/or bad news is that they're shaking things up this year by moving Tyron Smith to the left side and bringing Doug Free back over to the right. Smith could emerge as a monster right off the bat, improving the pass protection in every way. But he could also be slow to adjust, exposing Romo to more sacks, hits and hurries.
Either way, disregard that 39 number.
RELATED: Dallas Cowboys stats that DO matter
This article is
What is the duplicate article?
Why is this article offensive?
Where is this article plagiarized from?
Why is this article poorly edited?