US Olympic Swimming Trials 2012: Michael Phelps Just Needs to Qualify for London
June 27, 2012

Al Bello/Getty Images
Michael Phelps simply has to get through the U.S. Olympic Swimming Trials and make the cut for London 2012.
Regardless of whether Phelps outlasts Ryan Lochte or gets beat, it's all about competing in London. Times are basically meaningless because finishing in the top-two is what gets Phelps that opportunity in the Olympics.
We've seen what he can do on the biggest and most notable of stages, so Phelps will find his zone once the Games begin. And, after taking second place to Lochte in the 400-meter individual medley, Phelps solidified a spot to compete in his fourth Olympics.
Here, let's take a look at why competing in London this summer is all that matters right now.
Success and Experience from the Olympics Games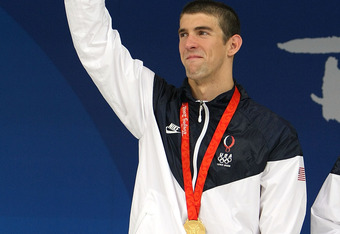 Al Bello/Getty Images
Twelve years ago, Phelps competed in the 2000 Olympic Games in Sydney, Australia. He was just 15 years old.
Still, Phelps managed to make the 200-meter butterfly final and take fifth place. Considering his inexperience at the time, Phelps laid the foundation for an excellent future.
Then the 2004 Athens and 2008 Beijing Games happened, and 14 gold medals later, Phelps holds numerous world records. Turning 27 years old before the 2012 Games, Phelps is more than just a seasoned veteran, and his experience, if anything, will benefit over the younger/inexperienced competitors.
His consistent success cannot be replaced, and it provides Phelps with a distinct advantage to dominate the water once again.
Not Nearly as Much Pressure in 2012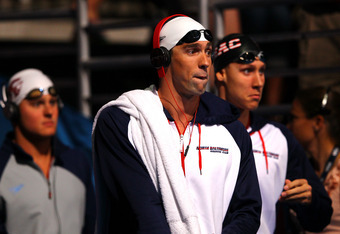 Al Bello/Getty Images
After everything that Phelps has accomplished, there will not be any additional pressure to race for gold in London.
Although he has nothing left to prove and his Olympic legacy is already among the elite few, that is what makes him such a dangerous competitor this time around.
With so many other swimmers having to prove themselves and trying to reach goals, Phelps has already been there and done that on a whole other level. The 2012 U.S. Olympic Trials are just a prequel to London because against the best from every country is where the ultimate challenge begins.
To that end, an underachieving performance in London will certainly be disappointing. With his entire body of work, Phelps and mostly everyone in America expect him to win. So, when the Summer Games roll around, we have to anticipate another awe-inspiring performance from Phelps.
Opportunities Will Decrease with Age
Phelps isn't getting any younger, and as he ages, opportunities to compete at such a high level will become fewer and fewer.
When the next Summer Olympics come around in 2016, Phelps will be 31 years old and well past his prime. Therefore, the 2012 U.S. Olympic Swimming Trials must be taken even more seriously than the London Games.
Obviously anyone hoping to compete in the Olympics cannot do so without the trial period, so to some extent, the real pressure is making Team USA. Fortunately for Phelps, he has already qualified in the 400-meter individual medley, and London is now a real opportunity.
Looking ahead to 2016, there are no guarantees that Phelps will qualify then. So taking full advantage of his current opportunities must happen to set up for more successful opportunities in London.
Along the same lines as the NCAA basketball tournament, just getting to the big dance is all that matters right now. Then, performing well becomes the next challenge.
Follow John Rozum on Twitter.