NBA Draft 2012 Schedule: Where to Catch Every Pick of This Year's Action
June 27, 2012

Pool/Getty Images
We're just one day away from the much-anticipated NBA Draft on June 28, and tensions are mounting as many storylines continue to brew heading into the event.
Very soon, we'll know where college basketball's biggest stars will be playing and what jersey they'll be sporting throughout the opening moments of their careers.
It will even likely be a big day for some NBA players who could change teams through bigtime draft-day deals with the deep level of talent coming out this year as opposed to most years. 
Here's everything you need to know for Thursday night's draft.
Where: Prudential Center, Newark, New Jersey
When: 7 p.m. EDT, June 28, 2012
Watch: ESPN
Live Stream: ESPN3.com
Best Players on the Board
Anthony Davis, PF, Kentucky
No matter what mock draft you read, one thing should be clear: Anthony Davis will be the first overall pick.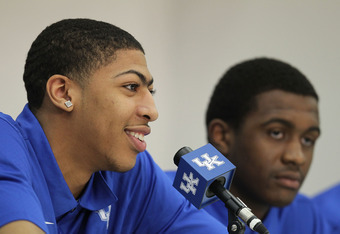 Andy Lyons/Getty Images
There's been not one bit of speculation about this since the early moments of the college season, when Davis began to tear up the sport on both sides of the ball.
Although the winner of the draft lottery wasn't determined until recently, a king's ransom could've been offered for the top pick if Davis didn't fit the mold of whichever team won his rights.
It just so happens that he fills a huge hole on the lottery winning New Orleans Hornets squad and will mesh perfectly there.
Thomas Robinson, PF, Kansas
The Kansas phenom came literally out of nowhere last season and captivated the Big 12 en route to a championship runner-up season.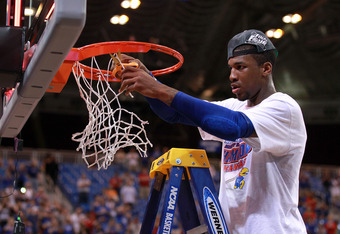 Andy Lyons/Getty Images
Robinson averaged a double-double in his 2011-12 campaign and was steadily regarded as the top force in basketball behind Davis.
Although, Robinson may possess a more impressive offensive game than the freshman Davis for whatever team decides to draft him. No one can rival Davis on the glass or match his presence defensively, but Robinson will be a franchise player in the NBA. 
Michael Kidd-Gilchrist, SF, Kentucky
A vital part of Kentucky's national championship team, Michael Kidd-Gilchrist has the all-around game to become a dominant wing man in the NBA.
His range extends all over the floor. He can play off the dribble and shoot long range similar to Kevin Durant, or he can use his 6'7", 235-pound frame to drive the lane like LeBron James.
Pair that up with a formidable defensive skill and you have yourself one of the must-haves of this draft class. But he has himself some fierce competition for the No. 2 overall pick.