WWE: Why Mick Foley Should Be Next GM of WWE's RAW and Smackdown
June 27, 2012

Who should be the next general manager of both RAW and Smackdown?
After firing John Laurinaitis, the WWE needs to fill up the gap with an authority figure to run both shows. 
There are many candidates who are capable of assuming this role.  However, you can't stick someone in this position without considering the intangibles.  In this TV-PG era, you need someone who will not overshadow the wrestlers.  You need the right on-air personality who can bond with not just the WWE Superstars, but also with the WWE fans. 
Quite obviously, the right person for the job is Mick Foley.
Talent Potential
Foley can work with today's talent effectively, if done right.  He can make today's big stars better and recruit new superstars by just interacting with them.  From a creative standpoint, Foley is regarded as one of the best minds in wrestling.  What Foley can offer with his potential promos with other superstars could enhance their game and the shows themselves. 
The same Mick Foley who has elevated many superstars to higher levels of success. 
His wrestling wars with Stone Cold Steve Austin and the Undertaker in 1998 resulted in their names becoming household personalities.  Since 1999, Foley helped turn main-eventers The Rock, Triple H, Randy Orton and Edge into wrestling's stars. These elite four became headliners for pay-per-views and legends to the wrestling world. 
Imagine the confrontations Foley could have with CM Punk and John Cena.  He could also work with heels in promos and/or matches, with contenders such as Daniel Bryan, Cody Rhodes and Dolph Ziggler.  Foley could form a budding alliance with fellow Long Islander Zack Ryder, like he did with Edge and Christian.  The possibilities are endless.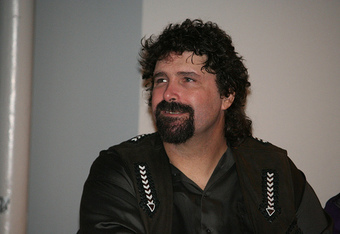 Experience
Foley also has experience being in charge.  Many adult fans remember him for his run as WWE commissioner in 2000.  Foley was also a co-general manager of RAW in late 2003 with Eric Bischoff.  His involvement in wrestling continued as the first general manager to fill in for Laurinaitis, in which Foley did a decent job.  
Foley is used to being the head honcho, and putting him in charge again would provide that much-needed experience for running both shows.  
TV-PG Universe
A concern some might have would be Foley fitting into the TV-PG world.  He is revered as being a hardcore legend during the "Attitude Era."  No worries here, as Foley is just as well known for his comedy as he is for his hardcore wars.  This is the same man who came up with Mr. Socko, hardly offensive to anyone.  He's also written three children's books that achieved moderate success.  Foley is capable of appealing to the TV-PG world as well as the adult fanbase.
As mentioned earlier, others with experience could perform in this role, though some issues might occur if the following personalities take over as GM.  Here are some of these problems.
Stephanie McMahon
The billion-dollar princess was the inaugural general manager of Smackdown and ran the show for 18 months. Her involvement would provide both shows experience in the role and promote the popularity of the wrestlers.
However, her availability is in question.
McMahon is currently the executive vice president of the creative department.  The demanding position requires her to oversee storylines. 
Plus, she also has three daughters with Triple H.  She divides her time with her job in the WWE and her responsibility as a mother. 
Her job and raising children might be the main reasons McMahon isn't right for the GM position. 
Ric Flair
The Nature Boy became the on-air co-owner of WWE after 2001's Survivor Series and ran RAW for three months following WrestleMania 18.  It was a brief but strong run for Flair.
Flair can provide experience and can help make other superstars better, whether through promos or ring work.
A concern would be his "wild" persona.  Can he fit in this PG world?  Flair is known for being a player, and his racy style might not go over well with parents.
Vickie Guerrero
Guerrero orchestrated one of the most successful heel runs in Smackdown history.  As Smackdown GM, she joined forces with Edge and created the faction "La Familia."  During that run, Edge became World Champion, and Chavo Guerrero the ECW Champion.
Guerrero is still one of the most hated heels today, managing Dolph Ziggler.  If the WWE wants another heel GM, Vickie Guerrero is their woman.
However, it might be the same thing with Laurinaitis' run and her previous runs as GM: "We've seen it already."  Maybe the WWE shouldn't go the heel route, yet.  
Stone Cold Steve Austin
Austin, the most widely known of this list, has covered every facet in the wrestling business.
He became the WWE CEO for a month in 1999.  Austin's strongest run as the boss was in 2003, when he became co-general manager with Eric Bischoff.   
Austin would work great with talent and make both shows better.  Unfortunately, his presence would overshadow many of the wrestlers.  Only main-event wrestlers would shine with Austin.
Another issue is the storyline.  Austin would have his own storylines and revert to the show being solely about Austin.
Hiring Mick Foley as GM would eliminate these problems and concerns.  In other words, he is the perfect man for the job.
Whether he's available remains to be seen.