NBA Free Agency Rumors: Why Ray Allen Would Ensure Heat a Repeat
June 27, 2012

J. Meric/Getty Images
Imagine the "Big Three" adding a future Hall of Famer to the mix.
Well the notion may not be as crazy as it originally sounds.
According to a tweet by Alex Kennedy, the Miami Heat are likely to add future Hall of Famer Ray Allen via free agency.
Brian Windhorst of ESPN took the rumor one step further by speculating the Heat could add Allen for approximately $3 million a season.
The $3 million would represent a significant pay cut for Allen who made $10 million last season with the Boston Celtics, but that is the power the Miami Heat now have. Established veterans of Ray Allen's caliber will be willing to take less money and playing time to play for a championship quality team that possesses three of the best players in the NBA.   
On paper, Ray Allen and the Miami Heat are a match made in heaven. Adding a Hall of Famer with the caliber of Ray Allen to the Miami Heat would possibly bring the Heat back-to-back NBA championships. 
Allen looked like a shell of his former self during the 2011 NBA playoffs. Allen was dealing with bone spurs and the pain connected to them. This is the real true genius behind the Heat signing Allen. Allen will never be again what he once was, but in 2012 he will be healthier than how he ended 2011. 
But, no one will expect Allen to be the player he was five years ago. He would be relegated to a bench role with the Heat, which would allow him to stay healthier longer and play less minutes every game.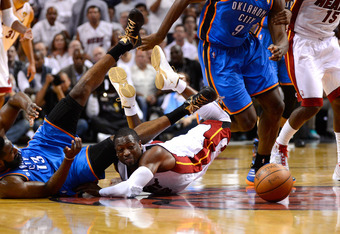 Ronald Martinez/Getty Images
This is the best case scenario for both Allen and Dwyane Wade. Wade has had injuries problems of his own. He already missed 17 games during the 2011 regular season and has had lingering knee issues. Wade clearly needs to be playing less minutes during the regular season and that is what Allen would offer this Heat team. 
Last season, Wade's age and injuries had already begun catching up with the gritty superstar. Wade averaged a career low 33.2 minutes per game. The fact remains as Wade continues to punish his body and get older, his minutes will have to continue to decrease moving forward.
The signing of Allen would allow the Heat to have a proven scorer off their bench. Not allowing defenses to rest, once Wade leaves the floor. 
Throughout his career, Allen has averaged 20 points per game on a .452 field goal percentage. Having that production spelling the deteriorating Wade will only help the Heat become even more potent. 
The biggest factor people might be overlooking with the signing of Allen, is that Allen brings playoff and championship experience to the Miami Heat's roster. Allen is a veteran and a proven winner. 
The Heat have their first NBA championship under their belt, but many saw the flaws in the Heat's mantra before LeBron decided to take over. Allen would help the Heat improve on their noticeable lackluster performances. As a veteran with his proven track record, Allen would be able to get into the faces of James, Wade and Bosh and make sure the "Big Three" are not deciding to take a night off.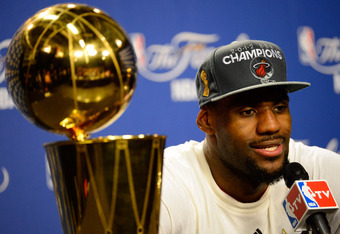 Ronald Martinez/Getty Images
In addition to that aspect of the leadership role, Allen can also positively affect the younger players on the Miami roster. Nine players on the Heat roster are 29-years-old or younger. Four of those nine players are 26-years-old or younger. 
So Miami is in need of a role model for these individuals. A player like Mario Chalmers whose game resembles the elder Allen would undoubtedly help from the mentor-ship and secrets Allen could give him. 
Miami's true success is predicated on the "Big Three" playing at an elite level together. But, the role players in Miami (Mike Miller, Shane Battier and Mario Chalmers) have already proven they are what takes this team to an unbeatable status. 
No matter how you try to defend LeBron James and Wade, they command too much attention.  In turn, individuals like Miller, Battier, Chalmers and Allen have easy three-point attempts when defenses collapse on the two megastars. 
Allen is the perfect complement to what Pat Riley and Erik Spoelstra's offensive system dictates. Allen is a career 40 percent three point shooter. 
James, Wade and Bosh are clearly always going to be the main offense in the half-court set. This plays directly into the hands of what Spoelstra and company are trying to accomplish. Any defense is going to collapse down on James, Wade and Bosh. In turn, the Heat's shooters are constantly open from behind the arc.    
The same can be said of Allen's influence on the play of "Big Three". Teams are far more likely to continue to respect the talents of Ray Allen opposed to someone the caliber of Shane Battier or Mario Chalmers. So when Allen has the ball in his hands, there is no question defenses will make every attempt to defend the shooter. When teams pay Allen in this respect, it will once again free up the talented combination of James, Wade and Bosh to work within the paint. 
If they choose to leave Allen open, he is still a career 45 percent field goal shooter and a career 40 percent three point shooter. It is an absolute no-lose situation for the Miami Heat and Ray Allen. 
Not to mention, Allen is a career 89 percent shooter from the free throw line. Why is that important? At the end of the game when teams are trying to foul to keep the ball out of the hands of LeBron, Wade and Bosh, Allen will steal points for the Heat by his ability to just knock down a free throw.
Having a deadly threat three-point shooter like Ray Allen will only continue to help the Miami Heat grow and improve. The Miami Heat are already an overwhelming favorite to reach the NBA finals in 2013.  Upgrading their bench with a player of Allen's status will only make this team even more deadly and unstoppable.