Luka Modric Would Guarantee Real Madrid 33rd La Liga Title
June 27, 2012

Shaun Botterill/Getty Images
After winning their 32nd La Liga title this year by nine points over Barcelona, Real Madrid would guarantee themselves a 33rd title by adding Luka Modric.
According to the Mail Online, Modric wants to join Los Blancos, ahead of Chelsea and Manchester United, and Real is going to great lengths to secure him, offering Tottenham Nuri Sahin in a € 30 million package.
The Croatian midfielder clearly wants to go to a bigger club than Tottenham, and while the Spurs value him at € 40 million, the offer of Sahin is one that they should not pass up. This deal benefits both sides, and if it is accepted, Real will surely win La Liga in back-to-back seasons.
Real needs another great midfielder in order to complete the team, as seen in their loss to Bayern Munich.
Real ended up seeing their season end at the hands of Bayern in the Champions League, but Modric could be the missing piece that pushes this team over the top and allows them to win the Champions League as well.
Modric wants to win, and he would have the best opportunity to do so with Real. By completing their roster with the midfielder, Real would widen the gap between themselves and Barcelona in La Liga.
Real won the league by nine points over Barca this year, which is a substantial margin. With 100 points, and a record 121 goals scored with a differential of plus-89, Real completely dominated last season. The team will look to do so again next season, this time with Modric at mid.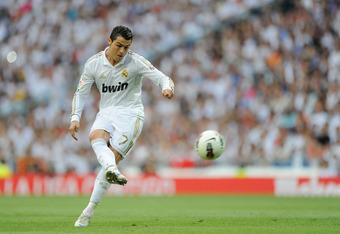 Denis Doyle/Getty Images
By welcoming such a talented midfielder, Los Blancos will continue to impress and set records in La Liga. He is the type of player that will come into the system and mesh instantly, and should have great chemistry with the rest of the team.
He will be able to come in and work well with the rest of the team, including star goal scorer Cristiano Ronaldo.
Modric would make Real next to unstoppable, and he would surely bring them yet another La Liga title.