DeWayne Wise Fools Umpire in Greatest Baseball Magic Trick of All Time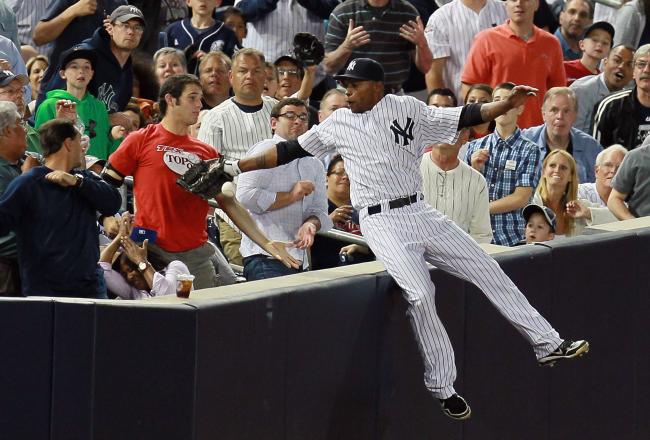 Mike Stobe/Getty Images
DeWayne Wise pulled off the greatest grift in all of hardball. He bamboozled, swindled and flim-flamed his way to an out, and I love it.
Deadspin brings us up to speed on the greatest play of the night.
On Tuesday night, with two outs in the seventh inning, the Indians' Jack Hannahan hit a pop fly toward left. That's when the Yankees' DeWayne Wise went into the crowd for the foul ball and came out with a glove full of nothing.
Only umpire Mike DiMuro didn't see it that way. The ump called the out as Wise lived up to his name and sauntered off the stands and towards his dugout with the swagger of a man who just recorded an amazing out.
Instead, the ball actually kicked out to a fan who proudly held it up while Wise got his bearings. The Yankees' fortune really took a turn when DiMuro failed to even ask to see the ball.
You can see the video at Deadspin.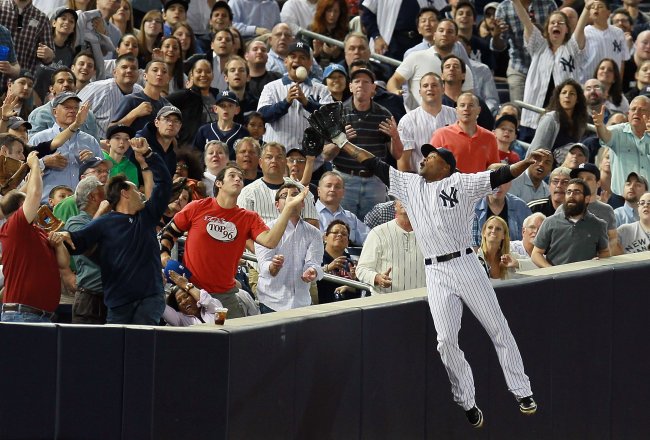 Mike Stobe/Getty Images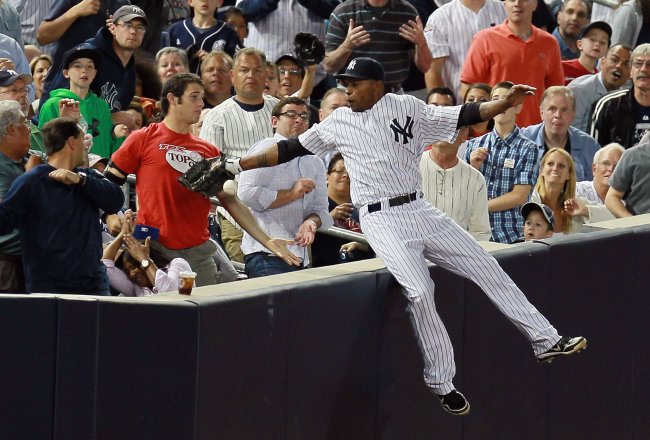 Mike Stobe/Getty Images
Before I ride my giddy horse into haha land, let me say DiMuro should be reprimanded in some fashion for the simple fact he never asked to see the ball.
That is the no duh issue at hand and something every umpire should do, especially when a player goes into the crowd.
Many will call for instant replay and using technology to make sure this stuff never happens. Yawn.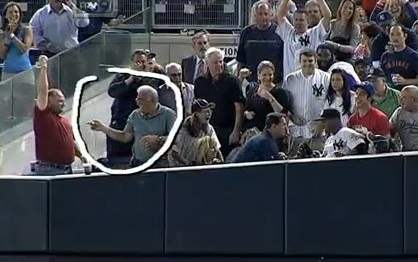 Photo Credit: NBC Sports
I have no time for such trivialities because this grand game has always featured cheating in many forms, and gamesmanship is as a part of its history as the spitball, curve and pine tar.
Don't come with the argument that it wasn't an out, because it is. Like a ghost tag at second, the umpire was fooled and called the out.
The job of any defensive player is to act like you recorded an out, especially if you know you didn't. It's a game within a game, and it's lovely.
Wise got away with an egregious crime. Let's just sit back and have a chuckle, because it's all just a game really.
Follow me on Twitter and we can fight about it.
This article is
What is the duplicate article?
Why is this article offensive?
Where is this article plagiarized from?
Why is this article poorly edited?