MLB: Follow Up to 5 Ways Cleveland Indians Can Increase Attendance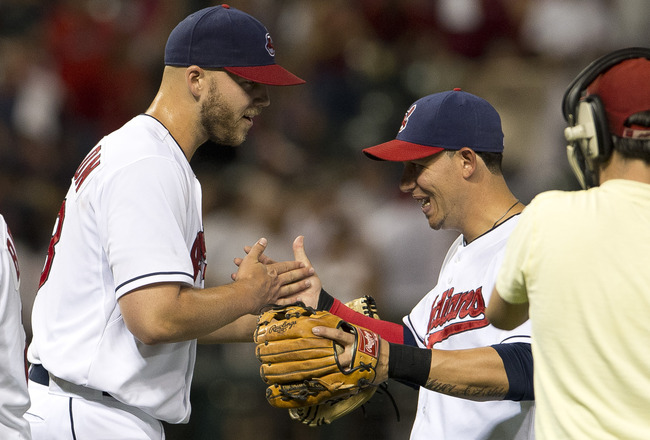 Jason Miller/Getty Images
On June 19, we published a story that focused on five ways that the Cleveland Indians could increase attendance at Progressive Field.
When working on the story, I had contacted the organization for some input and to see what it was doing to increase attendance right now.
I am happy to say that the organization responded to my questions and I wanted to share those responses with you through this slideshow.
Feel free to agree, mock or vent about their responses in the comments section. I'd love to see the fans' perspective here, and, who knows, the Indians may read it and run with it!
Why Do You Feel the Indians Are Struggling with Attendance This Season?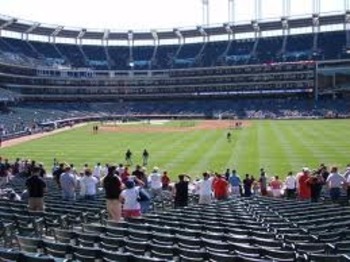 Courtesy: baseball-fever.com
Team's Reaction
"It's too early in the season to read into any of the results to date and fully understand what it means. While the weather early in the season always creates an understanding challenge, we remain confident that the club's on-field play in addition to our commitment to providing the best entertainment product and the best value in our region will result in attendance increasing as the season progresses. The last homestand against Pittsburgh and Cincinnati is an indication of that, as it produced some of the largest crowds of the season."
My Reaction
With all due respect to the crazy weather in Northern Ohio, the crowds against the Cincinnati Reds and Pittsburgh Pirates still averaged 25,070, which is only an average of 18,275 empty seats per game. The product is affordable, which was stated in the original piece.
Add in the fact that you've had 38 home games—47 percent of your team's home games—and have averaged over 1,500 fewer fans per game than the next closest team. Also, it isn't "too early" anymore. It wasn't early when May hit and now that July is just a few days away, it is nearly halfway over.
That isn't early.
Are There Any Specials on Ticket Pricing, Outside of Season Tickets, Which Have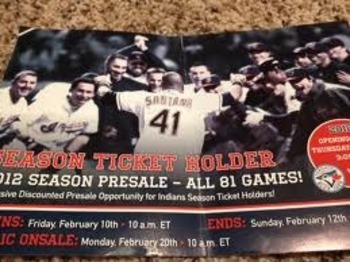 countingbaseballs.mlblogs.com
Team Reaction
"You hit on the Grand Slam Four Pack and Perfect 10 in your article. There are a few other worth mentioning:
Bleachers are $10 for every game giving fans a low price option for EVERY game.
Student ID: for select games, high school and college students can get half price lower reserved and mezzanine seats with their student ID.
Social Media discount: for select games, social media users can receive $2 off a ticket in lower reserved and mezzanine. Share it with their social media followers and the discount increases to 50 percent.
Indians Social Media Suite: the Indians have dedicated a suite to social media users, inviting approximately 15 fans per game to enjoy the wi-fi enabled suite and share their experience with their followers. It was the first of its kind in professional sports. Fans can fill out an application on Indians.com/connect, and if selected by the Indians to participate, they will receive two free tickets to a game."
My Reaction
Bleachers are a great value, but it can be a little crazy to take your family out there due to the party-like atmosphere.
The Social Media Suite is a great idea, as well. Discounting tickets to allow people to stare at their phones the entire game has benefits, too. When someone takes a foul ball off the face, the person watching the game gets a free ball! It really is a great idea, though, as technology needs to find a place within the ballpark...cough...instant replay...cough.
Getting young fans involved at a discount with student IDs is also a great way to attract and keep young viewers.
What Ways Have the Indians Tried to Boost Attendance This Season? Marketing?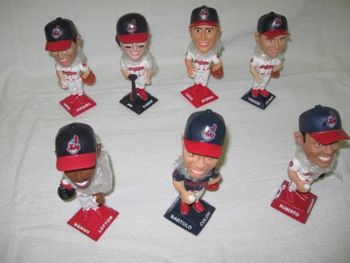 Courtesy: youngwood.pennsylvania.yourlist.com
Team Reaction
"We have a number of promotions and giveaways throughout the season including Rally Alley, fireworks, five bobble head giveaways, four replica jersey giveaways and dollar dog nights. In addition, the Kids Clubhouse is open for every game and is free of charge with a game ticket. KeyBank Kids Fun day is every Sunday, which includes an opportunity for kids to run the bases after the game."
My Reaction
Giveaways and promotions are the backbone to the Tribe's attendance.
The only problem is that most giveaways are limited to 15,000 fans. If everyone who buys a ticket gets a bobble head, maybe it would increase the gate flow. The Indians are only getting about 3,400 fans per game more than the 15,000 giveaway guarantee, so while free stuff is great (the ticket, concessions, parking, etc.,) is still necessary.
The Kids Clubhouse is an awesome addition, as moms can take the kids away so that we can actually watch the game...am I right? Fellas? (chirp, chirp, chirp).
Have There Been or Will There Be Any Other Changes at Progressive Field?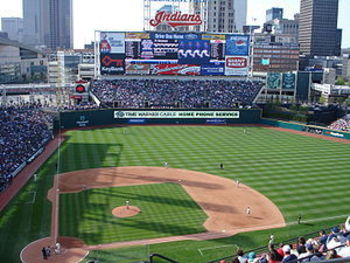 Courtesy: Wikipedia
Team Reaction
"We are always listening to our fans and using their feedback to create an entertainment experience that is unlike any other in Northeast Ohio. The Kids Clubhouse was a direct result of fan feedback, and we also implemented two new fan-friendly policies at the ballpark this season.
Fans can now leave and reenter Progressive Field through Gate A.
Fans can now bring in one 20 oz factory-sealed water bottle per person.
Also, and this isn't a new policy, but fans can bring in their own food and juice boxes, as long as they are in a soft-sided cooler that fits within MLB's 16"x16"x8" guidelines.
Down the road, preserving and enhancing Progressive Field is a guiding commitment of the organization, and we will continue to listen to fan feedback as we plan for the future of the ballpark."
My Reaction
Soft-sided coolers being allowed into the ballpark are a blessing. You are limited in what you can take in to drink, but if you are getting to the park hungry, and you don't want a second mortgage, you can pack your dinner/lunch in there.
Reentry is huge for smokers with the Ohio public smoking bans but also great because you can run out and buy a soft-sided cooler when you see concession prices and still get back into the game!
Conclusion
Courtesy: parkwhiz.com
I want to thank the Indians Communication and Public Relations staffs for taking time to get back to a lowlife like me. There was a lot of valuable information here that readers could take in and share—or just roll their eyes at.
Either way, what do you think? Tell me in the comments or let me know via Twitter, where you can follow me @EvanVogelTweets for obnoxious re-tweets and updates on new articles found on Bleacher Report.
You can also follow the Indians (@Indians) for tweets about the Tribe, tickets and happenings.
Keep Reading

Cleveland Indians: Like this team?