WWE Monday Night Raw: Top 10 Vince McMahon Moments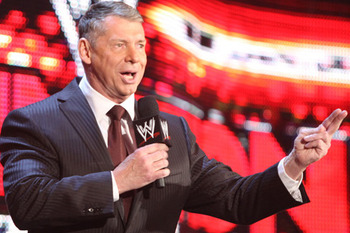 Photo from madaboutwrestling.net
Vince McMahon is the mastermind who created WWE Monday Night Raw, and along the way, he has had some memorable moments on his own creation.
Vince originally appeared onscreen as one of the ringside announcers but never said that he owned the WWE. As the company entered the Attitude Era, Vince would finally acknowledge this matter.
It coincided with the time he turned himself into a character known as Mr. McMahon. He started out as a ruthless heel and would switch between that and a face.
Since then, he has had some of the most memorable moments in the show's history that could be viewed as positive, negative or just plain bizarre.
Here, in order, are the top 10 Vince McMahon moments in the history of WWE Monday Night Raw.
Punted in the Head by Randy Orton

Video uploaded to YouTube by WWEFanNation

Randy Orton was on the hottest streak of his career when he assaulted Vince McMahon inside the ring and proceeded to punt him in the head. Vince had been assaulted several times prior, but not like this.
Orton smacked him across the face, dropping the mid-60-year-old owner of the WWE to the mat and followed it up with a stiff kick to the head. The moment was replayed many times over, and it appeared that he hit him.
Over the next few weeks, this would eventually allow the WWE to acknowledge that Vince's daughter was married to Triple H.
Becomes the Sole Owner of WWE by Defeating Ric Flair

Video uploaded to YouTube by assfan44

After The Invasion storyline finished, it was revealed that Ric Flair owned half of the WWE, with Vince McMahon controlling the other half.
The two would feud for several months, until on a random Raw Vince challenged Flair to a match with the winner becoming the sole owner of the WWE.
With the help of Brock Lesnar, Vince was able to gain back control of the company. He had done whatever it took to keep his creation all for himself.
Of course, this was all storyline based.
Is 'Blown Up and Killed'

Video uploaded to YouTube by jared2183

After losing the ECW Championship, Vince McMahon had gone into a trance-like state. For a week, he just walked around with no emotion on TV.
At the conclusion of Raw, Vince walked past the entire WWE roster backstage as he headed towards his limousine. The moment had an odd feel to it already. Then Vince slammed the door of the limousine shut, and it burst into flames as the show closed.
Fans rushed to WWE.com, where it was announced that Vince was presumed dead.
Drops His Death Storyline After Chris Benoit and Family Are Found Dead

Video uploaded to YouTube by attera98

The storyline death of Vince McMahon only lasted two weeks due to the Chris Benoit double murder-suicide. It's not often that Vince breaks character, but he had no choice in this matter, and it was the right thing to do.
Vince announced in an empty arena, as the show had been cancelled for the first time ever, that his death was a storyline and explained the situation with Benoit. As he spoke about what was known at the time, which was very little, Vince seemed to choke back tears.
Long-Lost Illegitimate Child Hornswoggle Revealed

Video uploaded to YouTube by xBabyxStephaniex

One of the strangest angles Vince McMahon was a part of was figuring out who was his illegitimate child. The only clue was that it was someone on the current roster.
As the show closed, the entire roster surrounded the ring as clues were slowly given as to who it might be.
Then Triple H was the only wrestler left that the clues pointed to, or so it seemed. With a disgusted look on both their faces, it was revealed that it was Hornswoggle.
Later, this would turn out to be one giant trick played on McMahon, and Hornswoggle was not his son.
Turns on Bret Hart After Burying the Hatchet

Video uploaded to YouTube by Adsterc95

Bret Hart had returned to Raw after 13 years to bury the hatchet with Vince McMahon over the Montreal Screwjob.
It was truly historic to see two men, who went from having a great business relationship to bitter enemies, standing in the same ring together.
It was time to call a truce and settle the 13 years of anger. As Vince raised Bret's arm in celebration, he kicked him in the groin to a chorus of boos. The feud wasn't over, yet.
That would come at WrestleMania 26 when the two would finally fight.
Relieved of His Duties of Running Raw and Smackdown

Video uploaded to YouTube by xBookerT

Triple H returned after not being seen for almost six months to inform Vince McMahon that he was relieved of his duties of running Raw and SmackDown. The moment seemed legitimate, and many thought that Vince was retiring and this was how it would be explained.
That wasn't the case as it was just another storyline, but it felt real. With Triple H holding back tears and Vince crying in the ring, it seemed like it was the end for Vince.
It was actually a perfectly executed performance by both men.
Receives First Stone Cold Stunner

Video uploaded to YouTube by Zunigaistheman

There are moments when most people would love to strike their boss, and Stone Cold Steve Austin did just that when he gave Vince McMahon his first stunner.
Vince had been berated countless times by several wrestlers, but Austin was the first to physically knock the boss out. Madison Square Garden exploded as Vince laid flat on his back, while Austin was taken away in handcuffs.
It was a moment that ignited the Vince-and-Austin feud, which would last for many years and bring the WWE some of its best memories.
Bret Screwed Bret Interview

Video uploaded to YouTube by BDWJ1982

One of the most famous lines Vince McMahon ever uttered was "Bret screwed Bret" during an interview with Jim Ross. The seed had been planted for Vince to be one of the greatest heels in the company's history after turning on one of his most loyal wrestlers.
After all the controversy and gossip that followed the Montreal Screwjob, Vince had to address the issue, and in doing so, the audience witnessed the birth of his character, Mr. McMahon.
Announces He Purchased WCW

Video uploaded to YouTube by iramruiz1996

Vince McMahon had waged war with WCW for years, and at times it looked like the WWE was going to lose. Then arrived the Attitude Era, and WCW would be out of business a few years later.
Vince had literally purchased WCW to put them out of business for good. Watching as he appeared on Raw and Nitro simultaneously was a sight to see and one that is still hard to forget. He was flaunting to the world that he held the future of WCW in his hands.
The wrestling war was over, with Vince as the winner.
Keep Reading