NBA Draft Rumors: Is Austin Rivers Really Worth a Top-10 Pick?
June 27, 2012

Streeter Lecka/Getty Images
Austin Rivers' scoring ability and proficiency in the clutch could have the shooting guard in the top-10 in the 2012 NBA Draft.
According to Mercury News' sports columnist Tim Kawakami, an NBA source said Rivers could go No. 6 to Portland.
NBA source said yesterday that it's possible Austin Rivers goes to Portland at 6 and likely Barnes goes to GSWs at 7 or to Toronto at 8.

— Tim Kawakami (@timkawakami) June 27, 2012
To some, Rivers jumping up to the top-six may be unrealistic, yet the top-notch guard boasts a level of skill that most in the draft class outright lack. When it comes to scoring the basketball, making plays in crunch time, and dominating a game, there is no better guard out there.
Last season with Duke, Rivers was as lethal a scoring threat as any in the ACC. His 15.4 points per game ranked No. 8 in the conference. However, playing alongside Seth Curry and Ryan Kelly took plenty away from his point totals. There is no question Rivers is in the 20-23 point range without the 25.2 points per game from Curry and Kelly.
Not to mention, Rivers was on a tear to close out the season, scoring at least 17 points in each of the team's last three games (17.7 per contest). He also had a 29-point season-high, which came in the first meeting against the UNC Tar Heels.
The other key to Rivers' success in the league will be his will to win basketball games. When there's a big shot to be taken or a play to be made in the game's final seconds, Rivers is the guy who wants the basketball in his hands.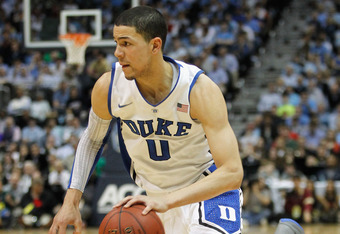 Streeter Lecka/Getty Images
His last-second game-winner against North Carolina was the defining moment of his freshman season, hitting a three-pointer to take the 85-84 victory. It's his ability to take shots like that one and will to win games that separate him from the rest of the pack.
The interest the Trail Blazers are said to have in Rivers could be for that very factor, as that is the exact quality Brandon Roy brought to the team. Much like Roy, Rivers can beat you in many ways offensively and wants the ball down the stretch.
The versatility in his scoring makes him a dominant force on the hardwood as well. He is able to pull up for three, take a mid-range jumper, or beat a defender off the dribble. When it comes to scoring the ball, his ridiculous arsenal makes it difficult to shut this talent down.
Given his knack for putting up points, will to win, and ability to take control of a basketball game offensively, Rivers is more than deserving of top-10 honors.