Predicting the Baltimore Ravens' Future Hall of Famers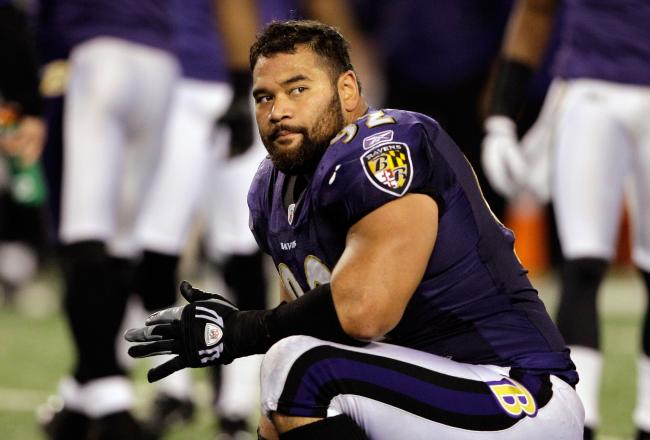 The Ravens' defense is rife with playmakers like DT Haloti Ngata and others who could someday be enshrined in the Pro Football Hall of Fame.
Rob Carr/Getty Images
The Baltimore Ravens have quite a few future Pro Football Hall of Famers on their roster, primarily on the defensive side of the ball. There's a reason why the Ravens have consistently fielded one of the best defenses in the league—and it's not just coaching; it's personnel.
Unlike practically any other team in the NFL, the Ravens are able to scout and amass some of the best defensive talent almost instinctively. As a result, a number of these players will end up someday enshrined in Canton even if they never possess a Super Bowl ring.
Let's take a look at some of these players and why they're likely to earn themselves a gold jacket in the future.
LB Ray Lewis
Larry French/Getty Images
There are a handful of players currently on NFL rosters who are considered a lock to be first-ballot Hall of Famers in the future, and Ravens linebacker Ray Lewis is among them.
In the 16 seasons he's played, Lewis has amassed over 2,000 tackles, had 40.5 sacks, 31 interceptions (with three touchdowns), forced 18 fumbles and recovered 19 total fumbles (with three more scores). His list of awards is astounding—two time Defensive Player of the Year, 2000 Super Bowl MVP, 13 Pro Bowl selections and eight All-Pro honors.
He's the unquestioned leader not just of the Ravens defense, but of the entire team, mentoring players whether they think they need it or not.
Lewis' passion for the game is infectious and is a major reason as to why all the other defenders around him perform to such a high level. There isn't even an alternate universe in which Lewis wouldn't eventually become a member of the Hall.
FS Ed Reed
Just like the Pittsburgh Steelers' Troy Polamalu, Ravens safety Ed Reed has helped re-define what it means to play the position, which is practically the definition of a Hall of Fame player. As it stands, Reed is almost certain to be inducted into the Hall on the first ballot.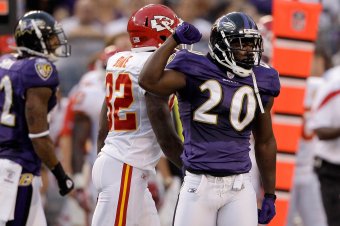 Rob Carr/Getty Images
In 10 seasons, Reed has made 554 tackles and notched six sacks, had a whopping 57 interceptions (including six returned for a score), forced 11 fumbles and recovered 10, including two for touchdowns. He's made the Pro Bowl eight times (including each of the past six years), is a five-time All-Pro and won the 2004 NFL Defensive Player of the Year award. Reed's mainly a threat in pass coverage, but the versatility he's displayed in covering receivers has resulted in almost unprecedented success.
Reed will be 34 in September and underwent hip surgery in 2010, which certainly affects his on-field performance and retirement may come as soon as the 2012 season wraps. That only makes him one step closer to getting his bust in the Hall of Fame; there's little question that he'll get in.
DT Haloti Ngata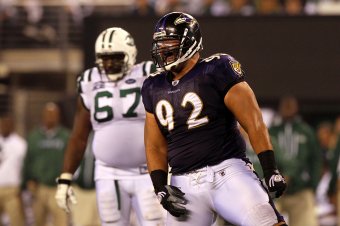 Jim McIsaac/Getty Images
There are 13 defensive tackles currently enshrined in the Pro Football Hall of Fame. Whether Haloti Ngata ends up being the 14th or the 23rd, it's almost certain he'll someday join them.
Ngata hasn't always been the Ravens' nose tackle—he's played both right and left defensive end as well. He may switch positions again before his career is up, a testament to both his effectiveness and versatility, and yet another reason why he's worthy of Hall consideration.
In his six seasons in Baltimore, Ngata has 316 tackles, 17 sacks, three interceptions, four forced fumbles and five recoveries, one for a touchdown. He's made the Pro Bowl for the past three seasons and is a two-time first team All-Pro. If he keeps it up, he'll join Reed and Lewis in the Hall without question.
LB/DE Terrell Suggs
If Terrell Suggs can keep up this pace, there's no question he's a Hall of Famer.
Terrell Suggs is one of the only true hybrid linebacker/defensive ends to currently play in the NFL. Suggs' Hall of Fame chances depend heavily on him returning for his torn Achilles' tendon without hampering his ability to play the game, but if he comes back and returns the form we've seen him play at for the last nine seasons, he'll certainly be in consideration.
So far, Suggs has made 579 tackles, has 82.5 sacks to his name, intercepted seven passes (two for touchdowns), forced 25 fumbles and recovered 11 fumbles. He was the 2003 AP Defensive Rookie of the Year, has made the Pro Bowl five times and received his first All-Pro honors last season.
Again, Suggs' legacy will depend on how he bounces back from injury. If he does so without missing a beat, the Hall of Fame yellow jacket will someday be his.
With all the talent on the Ravens roster, there are certainly more players who can be added to this list. Which current Ravens do you think will someday end up in the Pro Football Hall of Fame? Let me know in the comments below.
This article is
What is the duplicate article?
Why is this article offensive?
Where is this article plagiarized from?
Why is this article poorly edited?

Baltimore Ravens: Like this team?