Germany vs. Italy Euro 2012: One-on-One Battles That Will Decide Semifinal
June 28, 2012

Joern Pollex/Getty Images
Germany came into Euro 2012 as one of the heavy favorites aside from reigning champ Spain, but they'll face their toughest test yet against Italy.
The best asset to Germany's success so far has been lighting up the scoreboard as they've gone for nine goals in just four games. However, Italy themselves have only given up two goals all tournament and their experienced defensive line should prove to be nearly impossible to break.
Both teams have the raw talent and skill to pull out a victory and become one win away from hoisting the Euro 2012 trophy, but who will make it happen?
Let's take a look at the one-on-one matchups that will decide the match.
Gianluigi Buffon vs. Manuel Neuer
It's a scintillating matchup between one of the world's up-and-coming netminders and yesterday's greatest force between the posts.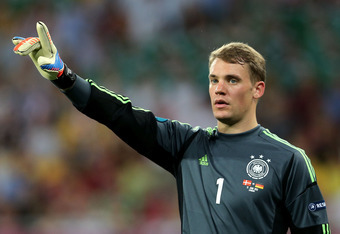 Joern Pollex/Getty Images
Italian goalkeeper Gianluigi Buffon already etched his legacy behind an improbable 2006 World Cup penalty shootout victory over France in "Headbutt Gate," but Buffon has shown in Euro 2012 that his passion still rivals anyone on the pitch. The 34-year-old Juventus footballer is still arguably the world's best point-blank goal stopper. 
The 26-year-old Manuel Neuer has proven his worth as a goalkeeper with Bayern Munich and with a German squad that is hitting their prime. Neuer came from being the third option in 2009 to being a cog in their semifinal run in the 2010 World Cup, and he's quickly become a leader on this German team.
Neuer's ability to create counterattacks and scoring chances could be a huge difference in this game, and Buffon will be tested early and often against a menacing Germany frontline. 
Bastian Schweinsteiger vs. Andrea Pirlo
Germany's hub for years has been the Bayern Munich midfielder Bastian Schweinsteiger, and although things have changed a bit in recent years, his impact on the game is still far reaching.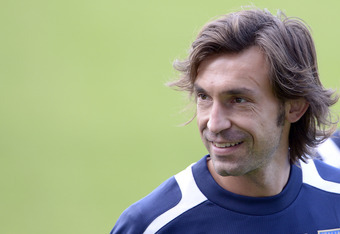 Claudio Villa/Getty Images
However, he'll have his hands full in the defensive midfield with Andrea Pirlo, who is one of the more creative playmakers and facilitators in the sport. Pirlo has become a troublemaker to opposing teams with his free-kick accuracy. He put the 2012 tournament's first free kick in the net from range in a 1-1 draw against Croatia, a goal that proved to be huge. 
Schweinsteiger looked beat up in Germany's quarterfinal win over Greece after taking a bad slide tackle to the ankle, but he's fit to play in Thursday's showdown. With Sami Khedira often playing more of an offensive role in the defensive midfield, Schweinsteiger's biggest impact will have to be making tackles.
Germany could be in trouble if a sore ankle is holding him back from nagging Pirlo. 
Mario Gomez vs. Leonardo Bonucci
Arguably the biggest question mark heading into Euro 2012 was the effectiveness of Mario Gomez as Germany's striker and whether or not he could lead one of the tournament's favorites to glory.
So far, Gomez has proven to be a nearly unstoppable force through the European Championship with three goals. However, Italy is most well known for their defensive prowess, and scoring a goal against the 2006 World Cup champions won't be a simple task.
Bonucci is an experienced defender and one of Italy's leaders. At center back, he'll have the toughest job of staying with Gomez and keeping his huge frame from being a German target.