NBA Draft 2012: Why Harrison Barnes Would Be Perfect for Bulls Starting
June 27, 2012

Streeter Lecka/Getty Images
On Thursday night, the lockout-shortened 2011-12 NBA season becomes a thing of the past as a fresh new crop of young talent are inducted into the league via the 2012 NBA Draft.
While every team is assessing the talents of the best college basketball has to offer, the Chicago Bulls should have their eyes fixated on UNC product Harrison Barnes.
The Bulls have virtually no chance of drafting Barnes at their current position in the draft order (No. 29).  So if Chicago wants a chance to draft the small forward out of North Carolina, they will have to trade up.
Rumors have circulated about trading players such as small forward Luol Deng, but so far those rumors appear to be a far cry from the truth (via the Chicago Sun-Times).  However, it would not be unwise for the Bulls explore their options in order to pick up a player as talented as Barnes.
Barnes scored over 1,200 points in his two seasons with the Tar Heels and averaged 17.1 points per game as a sophomore in 2011-12 (via ESPN.com).  He is an efficient shooter who can score from anywhere in the offensive zone. 
As a sophomore, Barnes posted a .440 field-goal percentage.  His average did not drop off when shooting from beyond the arc.  Barnes had a .358 three-point shooting percentage in 2011-12.
While that sort of offensive output should have the Bulls licking their chops, what makes Barnes such an impressive talent is his versatility on both ends of the court.
ESPN's player evaluation by Chad Ford points out that Barnes brings more to the game than just scoring.  Barnes is also a standout defender and his athleticism gives him the ability to lock down an opponent's top player.  He can also be a presence beneath the net, as he averaged over five rebounds per game in both his freshman and sophomore seasons at UNC.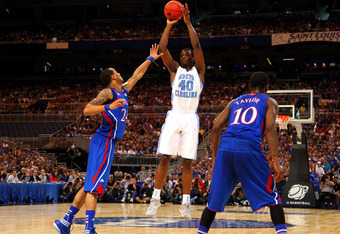 Dilip Vishwanat/Getty Images
Ford also points out in his player evaluation that Barnes has "great fundamentals and basketball IQ" in addition to being "smart, well-mannered."  Those are qualitative characteristics that NBA teams like to see when assessing draft prospects.  His knowledge on and off the basketball court should help Barnes develop into a superstar at the professional level.
As great a player Barnes already appears to be, Chicago must be intrigued by the 20-year-old's potential.
Barnes is still very young and has a lot to learn about the game.  At 6'8", he has good height, but at 215 lbs, he could stand to add muscle to increase his size.  By gaining strength, he would be able to compete physically with some of the biggest bodies in the NBA.
In his player evaluation, Ford also pointed out a few of Barnes' weaknesses.  According to Ford, Barnes "can be passive at times" and is "a bit one-dimensional."
Those are two flaws that can be ironed out with good coaching at the professional level.  Chicago head coach Tom Thibodeau should be very interested in Barnes' upside.
As Chicago found out the hard way, injury can strike at any moment.
In the Eastern Conference quarterfinals, the Bulls' top player and 2010-11 MVP Derrick Rose tore his ACL.  Without their top scorer, the Bulls fell apart and were defeated by the Philadelphia 76ers, becoming the fifth-ever No. 1 seed to fall to a No. 8 seed.
In a time when all the top NBA teams have a "Big Three," the Bulls have yet to follow suit.  The Heat have LeBron James, Dwyane Wade and Chris Bosh.  The Thunder have Kevin Durant, Russell Westbrook and James Harden.  The Celtics have Paul Pierce, Rajon Rondo and Kevin Garnett.
As the Bulls proved in their first-round exit, outside of Rose, their offensive firepower is limited.
The injury to Rose complicates things for the 2012-13 season.  He is expected to be out for eight to 12 months, which means he could potentially not see the court at all next season.
While the Bulls depend on Rose for points, it's best not to rush back from knee injuries.  In his absence, Barnes could thrive and help the Bulls reach the playoffs for a fifth straight year.
Adding a player like Barnes would spread out the Bulls offense and provide another scoring threat to a team ranked No. 18 in points per game last season (via ESPN.com).  Barnes is one of the top small forwards in this year's draft class and could fit right into the Bulls' plans if they do end up trading up for him.