Cristiano Ronaldo: How Soccer Icon Can Help Portugal to Mount Improbable Upset
June 27, 2012

Alex Grimm/Getty Images
Cristiano Ronaldo has quickly become a worldwide sensation over the last few seasons with Real Madrid and Portugal, but it will take an epic performance against international giant Spain to build an ever-living legacy with his native country.
If the Portuguese striker wasn't a worldwide sensation before this tournament behind the goal-scoring tear he's launched in La Liga, he is now, after dominating the pitch in nearly every Euro 2012 game he's been featured in. In Portugal's last two matches, Ronaldo has three goals, including a game-winner in the late stages of the quarterfinal against Czech Republic.
Portugal's Iberian foes are no pushovers. In fact, Spain has dominated the international level since 2008, winning the Euro that year and the 2010 World Cup, just for good measure. They've welcomed their fair share of critics in this tournament with a "boring" level of play that features a business-like approach in 1-0 and 2-0 scorelines. But the results speak for themselves. They're currently enjoying a 300-minute streak of a clean sheet. 
The "Ronaldo vs. (Lionel) Messi" storyline has become one of the biggest arguments in sports. After a record-setting goal campaign in the 2012 season, Messi will be rooting for many of his Barcelona teammates on the Spanish side to win convincingly. If Ronaldo takes over the game and scores a game-winner, Messi could be taking a back seat as the second-best player in the world. 
So, what must Ronaldo do to top the world's most efficient team and cement his glory?
Ronaldo Must Use Familiarity to His Advantage
These teams know each other very well. Most of the foes are either teammates on Real Madrid or fierce rivals with Barcelona.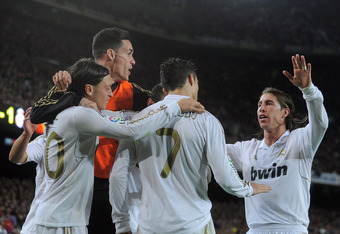 Denis Doyle/Getty Images
When Ronaldo looks across the pitch in midfield Wednesday, he'll be welcomed by some familiar faces. Real Madrid teammates Xabi Alonso and Sergio Ramos, not to mention goalkeeper Iker Casillas.
Ronaldo, as well as his teammates Fabio Coentrao and Pepe, know their club teammates arguably more than their own Portuguese teammates. And with Spain enjoying a hefty half of Barcelona's starting 11, it won't be the first time (or the dozenth time) that Ronaldo has faced off against these players.
But with Portugal titleless in major international tournaments, it's inching closer and closer to being the biggest moment of Ronaldo's career. If he can dominate Alonso and Ramos, two of Spain's most efficient defensive players, it'll be a first step toward notching one or two goals.
Ronaldo Must Execute on Every Chance
We've all seen it by now: Spain's possessive style of play that leaves opponents chasing the ball for much of the game and increases the chance of you enjoying an afternoon nap rather than an exciting soccer game.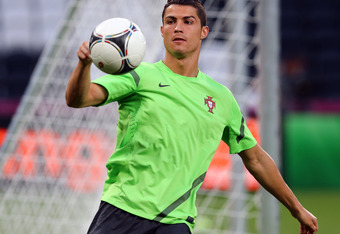 Martin Rose/Getty Images
Portugal likely won't be able to keep Spain from lighting up possession numbers to the tune of 60-40, but they absolutely have the firepower to execute when given the chance. Ronaldo and Manchester United star Nani have been brilliant off one another in this tournament, and counterattacks will be affordable. 
Portugal's starting striker through early stages of the tournament, Helder Postiga, will be sidelined after being taken off the pitch in a stretcher in their 1-0 win against Czech Republic. Ronaldo was already undoubtedly the focal point of their attack, but this will only put more weight on his shoulders.
The chances may be at a premium, but they'll be given. Ronaldo cannot afford to whisk too many of them past the unforgiving post. 
Ronaldo Must Become the Best Player in the World Before Our Very Eyes
Being the best player on the pitch is, in itself, a royal compliment to a player who's facing off against a team of Spain's caliber. But Ronaldo will need to be much more than that Wednesday.
These Spanish players, many of whom play on Barcelona beside Messi, are no strangers to the level of play that Ronaldo is capable of and usually achieves. If he doesn't top that in this semifinal showdown, his side may be doomed.
With Spain's suffocating defense that has allowed only one goal in this tournament in their opener against Italy, Ronaldo will be sifting through a seemingly impossible task of scoring a single goal. He'll need to be unselfish (by his standards) with the ball and allow his teammates to aide him in finding a seam.
But when it's Ronaldo's chance to fire a shot, there's no one more qualified to put his laces through the ball. And it's that swift bend of the ball mid-strike that will likely decide Portugal's—and Ronaldo's—fate.