2012 NBA Mock Draft: Updated Destinations for Every Projected Top Pick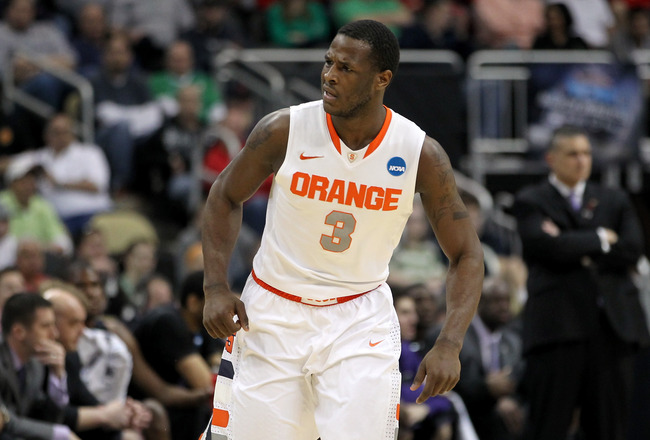 Gregory Shamus/Getty Images
The 2012 NBA draft is almost upon us, and that means it's time to update the projections on where every projected top pick will land.
From the certain lottery picks like Anthony Davis and Bradley Beal to the late first-round steals like John Jenkins and Will Barton, there are a number of first-round prospects who have what it takes to make an immediate impact in the NBA.
Ahead is a first-round mock draft with updated destinations for every projected top pick.
1. New Orleans Hornets: Anthony Davis, PF, Kentucky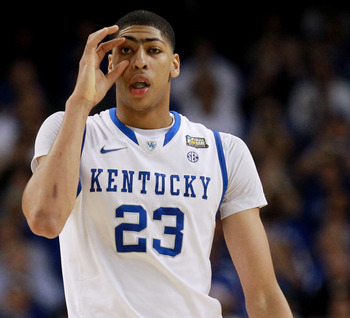 Ronald Martinez/Getty Images
It doesn't take a rocket scientist to figure out who the New orleans Hornets are taking with the No. 1 overall pick.
Anthony Davis is their man, and he's certainly one of a few players in this year's draft who have franchise potential.
Davis is one of the most athletic prospects in recent memory and he's also an absolute monster on the defensive side of the ball. He's the best player in this draft hands down, and he'll be the cornerstone of the Hornets' franchise for years to come.
2. Charlotte Bobcats: Bradley Beal, SG, Florida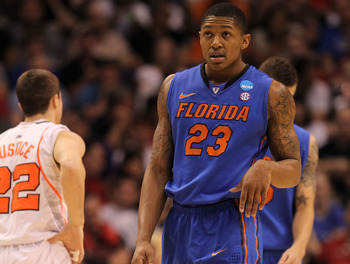 Jamie Squire/Getty Images
This pick could very well end up in the hands of the Cleveland Cavaliers, as John Telich of Fox Sports Cleveland is reporting the Cavs could give up three picks for the No 2. spot.
No matter who's drafting at this spot, the most likely player to be selected is Florida guard Bradley Beal.
Beal could end up being the real star of this year's draft. He's even been compared to the NBA's all-time three-point leader Ray Allen. If the Bobcats keep this pick, Beal will be able to team with Kemba Walker and create an exciting and dangerous backcourt duo.
3. Washington Wizards: Thomas Robinson, PF, Kansas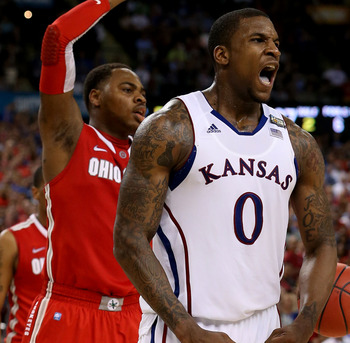 Jeff Gross/Getty Images
Thomas Robinson is the second-best power forward in the 2012 NBA draft and he'll be the second one to come off the board.
After trading away Rashard Lewis for Emeka Okafor and Trevor Ariza, the Wizards have a great opportunity to continue to upgrade their frontcourt by drafting Robinson.
The versatility that exists in Robinson's offensive game, mixed with his strength and physicality on the defensive side of the ball, is something the Wizards desperately need. Drafting Robinson makes way too much sense for the Wizards.
4. Cleveland Cavaliers: Michael Kidd-Gilchrist, SF, Kentucky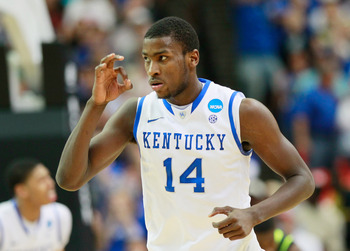 Kevin C. Cox/Getty Images
If the Cleveland Cavaliers fail to move into the No. 2 spot and draft Bradley Beal, they'll be focused on finding a small forward who can add athleticism on the wing.
While Harrison Barnes could also be in the mix here, Michael Kidd-Gilchrist is the more exciting of the two players. He's a bit more athletic and he's also a more complete defender than Barnes.
While not getting Beal would be a failure for the Cavs, drafting a young and athletic wing-man like Kidd-Gilchrist could all but make up for it.
Kidd-Gilchrist is NBA ready and he's also a player who will come in and humbly learn from those around him and the coaching in place.
5. Sacramento Kings: Andre Drummond, C, Connecticut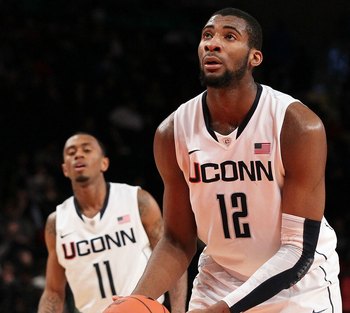 Jim McIsaac/Getty Images
While the Sacramento Kings could benefit from drafting a player like Harrison Barnes at this spot, finding an athletic small forward isn't their biggest need.
The Kings' biggest need is to find a center who can help DeMarcus Cousins make a move back to the power forward spot.
While Andre Drummond isn't the most complete and NBA-ready center prospect in the draft, he has the most upside. That's something that will certainly entice the Kings.
If the Kings pass on a center at this spot, they won't be able to grab one until the No. 36 pick and they won't be able to get a player like Drummond at that spot.
6. Portland Trail Blazers (Via Brooklyn): Dion Waiters, G, Syracuse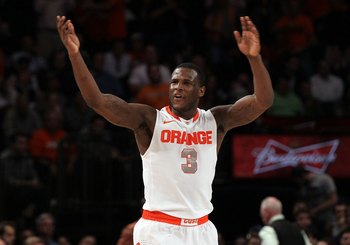 Jim McIsaac/Getty Images
Dion Waiters has seen his draft stock take a meteoric rise, and that means he'll certainly be selected in the lottery. It's just a question of how high he will be taken.
The Portland Trail Blazers would be a perfect landing spot for Waiters. He's versatile enough to run the point, but he also has the capacity to be an elite scorer when his team needs him to be one.
Drafting Waiters would help make not having Brandon Roy that much easier. He would also help the Blazers create an exciting backcourt duo with Wesley Mathews.
If Waiters doesn't get drafted here, he'll certainly be off the board before the Blazers pick again at No. 11. That's why Waiters needs to be picked here.
7. Golden State Warriors: Harrison Barnes, SF, North Carolina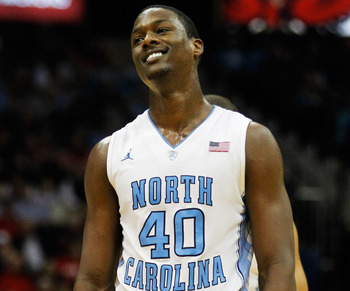 Streeter Lecka/Getty Images
The Golden State Warriors could be a very dangerous team next year with Stephen Curry, Andew Bogut, David Lee and Klay Thompson.
If the Warriors draft an NBA-ready player like Harrison Barnes with the No. 7 pick, they'll be that much more dangerous and ready to compete for a playoff spot in the West.
Barnes is one of the most mature, complete and fundamental players in the draft and getting him at this spot will be a steal for the Warriors, who need an athletic wing-man to help run their fast-paced offense while also bringing some defensive stability to the court.
8. Toronto Raptors: Damian Lillard, PG, Weber State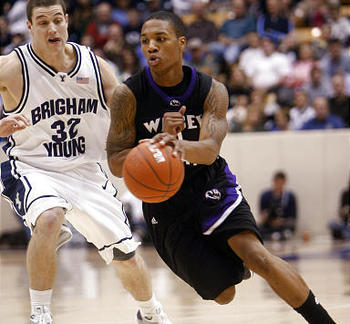 Courtesy of www.roundballdaily.com
The purest scorer in this year's draft will come off the board here when the Toronto Raptors pull the trigger on Damian Lillard.
Lillard knows how to score, he can run the point and he can facilitate offense to those around him among the best in this year's draft.
With Lillard moving between the point and the shooting guard spots, the Raptors will add a much needed level of versatility and explosive offensive production to their roster.
While it might not make them an immediate playoff contender in the East, it will give them flexibility with Jose Calderon and trying to trade him this offseason.
9. Detroit Pistons: John Henson, PF, North Carolina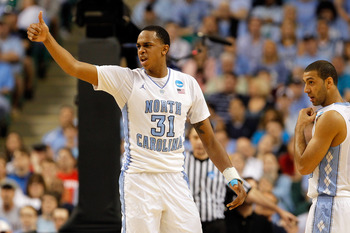 Streeter Lecka/Getty Images
John Henson is fundamentally sound, he's an excellent defender and he has a nice touch on his mid-range jumper.
That's exactly the kind of player the Pistons need in their frontcourt aside franchise center Greg Monroe.
With Henson and Monroe controlling the paint, the Pistons will certainly be a more competitive team next year than they were this past season.
Henson needs to bulk up a bit, but that doesn't change the fact that he's ready for the NBA when it comes pure fundamental talent.
10. New Orleans Hornets (Via Minnesota): Austin Rivers, SG/PG, Duke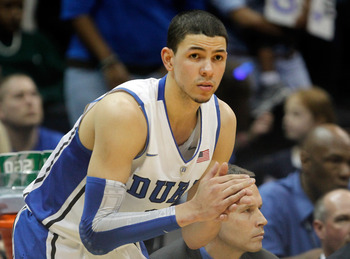 Streeter Lecka/Getty Images
After drafting Anthony Davis with the No. 1 overall pick, the New Orleans Hornets will look to find a versatile combo guard who can make an immediate impact in their backcourt.
The Hornets need to look no further than Duke guard, and son of Celtics' coach Doc Rivers, Austin Rivers.
Rivers needs to add some polish and efficiency to his offensive skill set, but that doesn't take away the potential that exists in his pure ability to score the ball and be a truly elite scorer.
Rivers didn't reach his full potential at Duke, but with the right coaching and veteran mentoring around him, he can certainly reach that potential in the NBA.
11. Portland Trail Blazers: Tyler Zeller, C, North Carolina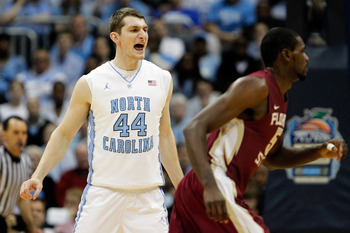 Streeter Lecka/Getty Images
After grabbing Dion Waiters with their No. 6 pick, the Trail Blazers will shift their focus to finding a center who can work alongside LaMarcus Aldridge and help create a dominant frontcourt.
Tyler Zeller is the man for that job. He's as NBA-ready as any other center prospect in this draft, and he runs the floor as well as most small forwards do.
Zeller has a nice touch on his mid-range game, and that would be a nice addition to the range that the Blazers already have in their frontcourt with Aldridge. The Blazers could go after Meyers Leonard here, but Zeller is certainly the surer bet when it comes to NBA potential.
12. Milwaukee Bucks: Meyers Leonard, C, Illinois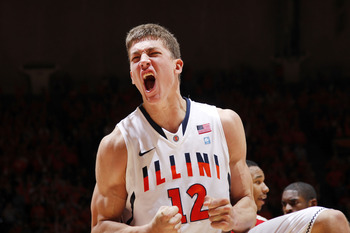 Joe Robbins/Getty Images
After trading away Andrew Bogut this past season, the Milwaukee Bucks will be looking to find his replacement with the No. 12 pick.
While Meyers Leonard might not be the most NBA-ready prospect in this year's draft class, he has a ridiculously high upside. That's why the Bucks will pull the trigger on him here.
Leonard will need time to develop, but the Bucks can afford that time because they already have a little bit of depth in their frontcourt.
The Bucks were also relatively well off without a legitimate center this past season with Monta Ellis and Brandon Jennings holding things down. Once Leonard is ready to play though he'll be an absolute monster in the paint.
13. Phoenix Suns: Jeremy Lamb, SG, Connecticut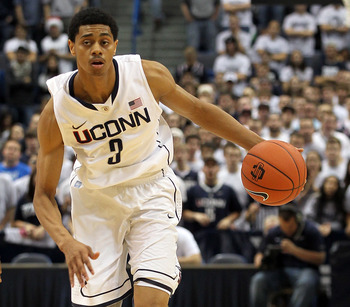 Jim Rogash/Getty Images
The Phoenix Suns certainly need to add offensive production at the shooting guard spot and they also need to find a point guard they can build around.
With guys like Damian Lillard and Dion Waiters off the board, their next best option is to draft Jeremy Lamb.
Lamb won't be able to run the point for the Suns but he will certainly be able to add offensive production and athleticism to a team that desperately needs it.
If Lamb can harness his athletic abilities and pure scoring skill, he'll certainly be a productive member of whichever team takes a chance on him.
14. Houston Rockets: Terrence Jones, PF, Kentucky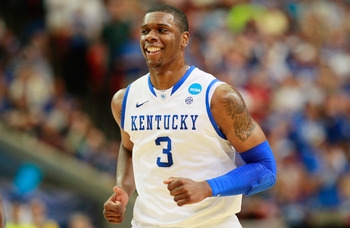 Kevin C. Cox/Getty Images
The Houston Rockets are stockpiling first-round draft picks like they're going extinct. While the rumored purpose is to try and reel in Dwight Howard, they might not be able to do that.
If they can't lure in Howard, they'll still be able to make major upgrades with their three first-round picks, and it will start off by drafting one of the most versatile power forwards in the draft, Terrence Jones.
Jones can come in and add immediate production off the bench and he can do so in a number of ways. Jones knows how to score on the perimeter and he's also physical enough to bang down in the paint. Behind Luis Scola, Jones could be a very productive member of the Rockets' second unit.
15. Philadelphia 76ers: Perry Jones III, PF, Baylor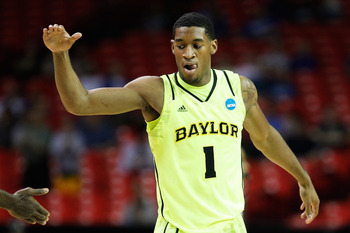 Streeter Lecka/Getty Images
The Philadelphia 76ers, who could potentially amnesty Elton Brand this summer, will need to find his replacement in the draft this year.
Perry Jones III, at this point in the draft, could be just that guy. Jones is an athletic power forward who's capable of scoring in a number of ways.
Jones and his versatile offensive skills would fit extremely well within the 76ers' offense, and he would continue to help the 76ers add depth on their already deep bench.
16. Houston Rockets (Via New York): Arnett Moultrie, PF, Mississippi State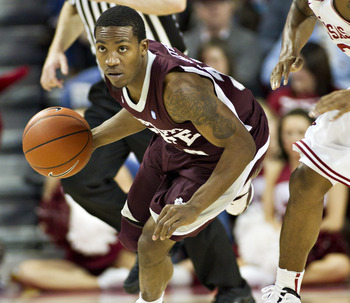 Wesley Hitt/Getty Images
Adding depth is a major need for the Rockets in the draft. While they have a solid starting crew, they need to add depth coming off the bench
After drafting Terrence Jones with their No. 14 pick, they can add more depth to their frontcourt by drafting Arnett Moultrie.
Moultrie is versatile enough to play at the center or power forward position, while also being able to take his game to the perimeter of the court. It might seem odd to draft two power forwards in the first round, but having depth in the frontcourt is never a bad thing.
17. Dallas Mavericks: Kendall Marshall, PG, North Carolina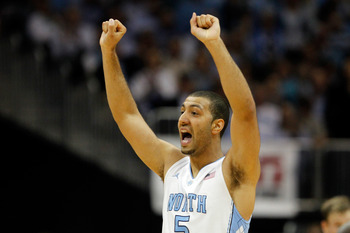 Streeter Lecka/Getty Images
If Kendall Marshall makes it to the Dallas Mavericks at the No. 17 spot, there's no way that they can pass him up.
With Jason Kidd reaching the end of his career, the Mavericks need a legitimate point guard who they can continue to build around.
While Marshall isn't the most explosive point guard in the draft, he's the truest point guard. And that is the kind of player the Mavericks undoubtedly need.
Marshall could have a very long NBA career, similar to Kidd, and that's something the Mavs should be willing to take a risk on.
18. Houston Rockets (From Minnesota Via Utah): Moe Harkless, SF, St. Johns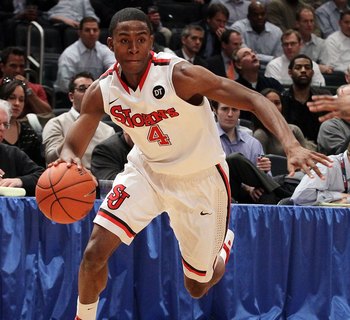 Jim McIsaac/Getty Images
After trading Chase Budinger for the Timberwolves' No. 18 pick, there's a hole in the Rockets depth chart at the small forward position.
With their final pick of the first round, the Rockets would be wise to add depth at the small forward position, and they can do just that by taking a chance on Moe Harkless.
Harkless isn't the most complete or NBA-ready prospect, but he's the kind of player who can add athleticism to a Rockets team that needs just that. Harkless certainly is a raw talent, but with some time he'll be able to be a productive member of the Rockets' lineup.
19. Orlando Magic: Jared Sullinger, PF, Ohio State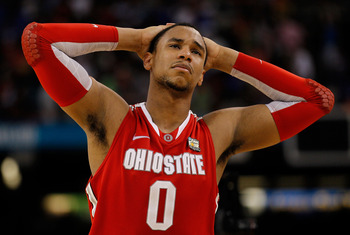 Chris Graythen/Getty Images
Jared Sullinger should be hearing his name called in the lottery portion of the draft, but after some questions about his health came up, his draft stock has taken a hit.
For the Magic to get an NBA-ready player like Sullinger this late in the draft would be an absolute steal.
Sullinger has an NBA frame and an incredible knack for dominating the glass. While the Magic don't necessarily need another power forward, this would certainly be a wise move to make as it would be an example of taking the best player available on the draft board.
20. Denver Nuggets: Terrence Ross, SG, Washington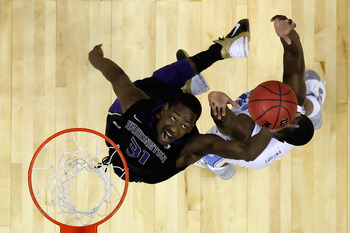 Kevin C. Cox/Getty Images
Terrence Ross could've increase his draft stock by staying in college for another season, but even with that being said, he's still an exciting prospect.
At this point, Ross is a scorer first and a team player second, but that kind of mindset would fit extremely well into the Nuggets' fast-paced and electrifying offense.
The good thing about Ross is that he's versatile enough to not only start at the shooting guard position, but he also is capable of running the point, which is something the Nuggets could benefit from seeing that Andre Miller might not be back next season.
21. Boston Celtics: Royce White, F, Iowa State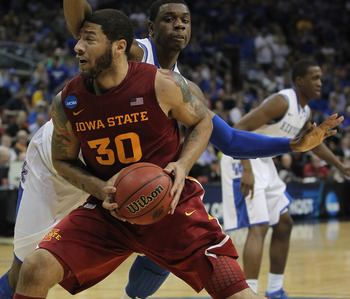 Jonathan Daniel/Getty Images
Next season could certainly be the beginning of the rebuilding process for the Boston Celtics, and what better way to start than drafting a high-risk player like Royce White.
While White is certainly a high-risk prospect, there's no doubt that his upside outweighs that risk, and that's why the Celtics will be willing to take a chance on White.
If Doc Rivers can accept the kind of player White is—a forward who loves to control the ball and put up a high-number of shots—then White can work for the Celtics. If not, White will be out of the mix before he gets in it.
22. Boston Celtics (Via Clippers): Andrew Nicholson, PF, St. Bonaventure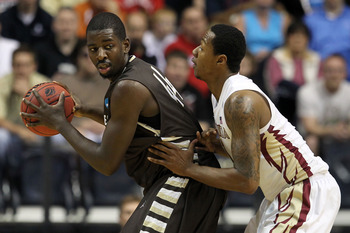 Jamie Squire/Getty Images
It might seem foolish to draft two power forwards with back-to-back picks, but Andrew Nicholson is the fundamentally sound power forward that Royce White isn't.
Drafting Nicholson not only adds depth to the Celtics frontcourt, it also allows their previous pick Royce White to not be tied down to the power forward spot, which is something that he will certainly benefit from.
Nicholson won't be the next Kevin Garnett, but he'll certainly be a productive power forward in the NBA, and the Celtics would be wise to add him to their rebuilding process this offseason.
23. Atlanta Hawks: Marquis Teague, PG, Kentucky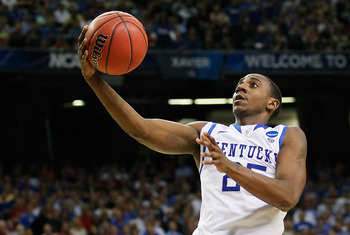 Kevin C. Cox/Getty Images
The one glaring need the Hawks have to fill in the draft is to add depth at the point guard position.
While the Hawks could take a chance at a player like Tony Wroten Jr., how could they pass on a chance to bring in Marquis Teague along side his brother Jeff Teague.
Not only would it create an interesting and compelling storyline, Teague is quite possibly better than his brother and the competition that them being on the same roster would bring about would certainly benefit the Hawks on the court and in the locker room.
24. Cleveland Cavaliers (Via Lakers): Fab Melo, C, Syracuse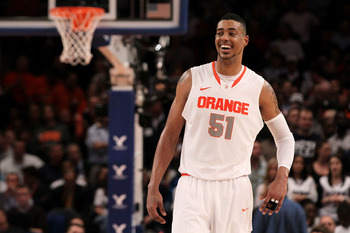 Jim McIsaac/Getty Images
If the Cavaliers are able to land a trade with the Charlotte Bobcats for the No. 2 pick, they will almost certainly not have this pick. If that falls through, adding frontcourt depth will be their focus here.
What better way to do that than bring in another Brazilian big-man in Fab Melo.
Melo might not be the most complete center in the draft, but his upside is through the roof.
To be a legitimate center in the NBA, Melo needs to develop post-moves and polish his hook/jump-shot. If he does that, he'll be one of the best players to come out of the 2012 NBA draft because of the defensive presence he already has.
25. Memphis Grizzlies: Tony Wroten Jr., PG, Washington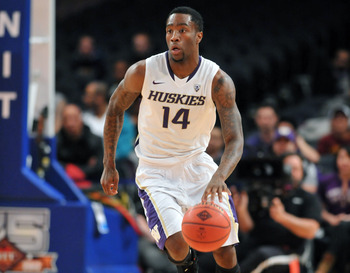 Jason Szenes/Getty Images
Tony Wroten Jr. is another player who could've benefited from returning to college, but he's in the draft and he'll certainly hear his name called late in the first round.
Drafting Wroten would add some depth to the Grizzlies backcourt, which is something they lacked last year and it's also the reason they failed to make it out of the first-round of the playoffs.
With Wroten filling in behind Mike Conley and whoever the Grizzlies have at the shooting guard position, the Grizzlies will have offensive production coming off the bench, which is what they need to get them over the hump in the Western Conference.
26. Indiana Pacers: Jeffery Taylor, SF, Vanderbilt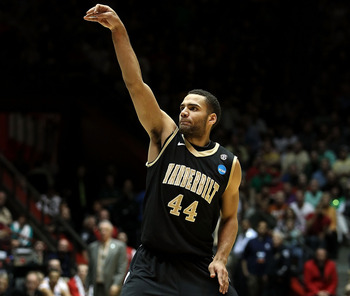 Christian Petersen/Getty Images
The Indiana Pacers could take a point guard here so that they could then use Darren Collison as trade bait this offseason, but adding depth behind Danny Granger is more important.
With Jeffery Taylor still on the board, the Pacers would be wise to draft him. Not only is he a versatile small forward, he's also one of the top five most athletic players in the draft.
Drafting Taylor could add depth to the wing for the Pacers that they haven't had in quite some time. It could also benefit them if they are thinking of trying to move Danny Granger in the next few years. Taylor is a safe bet to be a productive bench player in the NBA for years to come.
27. Miami Heat: Draymond Green, SF, Michigan State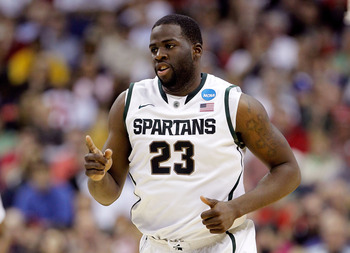 Rob Carr/Getty Images
With Mike Miller's future in doubt in Miami, the Heat would be wise to draft a player with similar features.
While Draymond Green looks nothing like Miller, he plays the game in a similar, unconventional way. Green leads with hard work, hustle and an impressive range to his game.
Green is a mature player who will certainly be a productive member of whichever NBA team ends up with him. What's most impressive about Green's game though is that he has range like Miller, and he can certainly spread the floor with his scoring ability.
28. Oklahoma City Thunder: Will Barton, SG, Memphis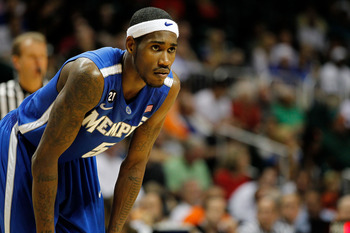 Mike Ehrmann/Getty Images
A lot of experts have the Oklahoma City Thunder drafting Evan Fournier of France for the purpose of being able to keep him over there for a year or two.
While that certainly makes sense, the Thunder can't afford to go another year without adding depth off their bench. We saw in the 2012 NBA Finals what happens when you don't have depth on the bench, and the Thunder certainly know that.
Drafting Will Barton is a great option because he's one of the purest scorers in the league, and he can play anywhere from the point to the small forward position. Versatility and depth on the bench is what the Thunder need, and Barton would be a perfect fit.
29. Chicago Bulls: John Jenkins, SG, Vanderbilt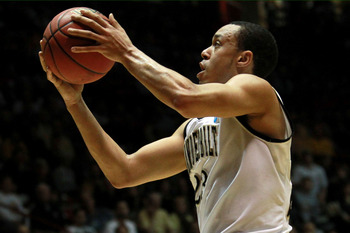 Ronald Martinez/Getty Images
The one need the Chicago Bulls must meet in the draft is to find a shooting guard who can step in immediately and add production to the court.
There may be no better shooter in the draft than John Jenkins, who averaged nearly 20 points a game while shooting 43.9 percent from beyond-the-arc on 8.7 three-point attempts per game.
Jenkins is the player the Bulls need, especially if Will Barton is off the board at this point.
30. Golden State Warriors (Via San Antonio): Kim English, SG, Missouri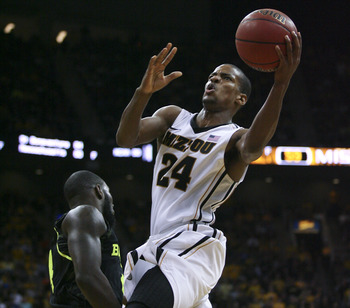 Ed Zurga/Getty Images
The Golden State Warriors need to add depth on their bench, especially at the shooting guard position behind Klay Thompson.
They can do just that, and continue drafting mature players, by going after Missouri's Kim English.
English can not only add offensive production off the bench, but he can add a legitimate defensive presence for the Warriors too—something they desperately need if they want to contend in the Western Conference.
Keep Reading