Euro 2012 Results: Semi Finals Scores and Highlights
June 27, 2012

Joern Pollex/Getty Images
UPDATE: Wednesday, June 27 at 8:14 p.m. ET by Austin Green
Spain snatched the first spot in Sunday's final by defeating Portugal on penalties 0-0 (4-2).
While it was a great game, the story of the day will undoubtedly be Cristiano Ronaldo's placement in the Portuguese penalty rotation. Ronaldo asked to be placed fifth in the lineup, but following two misses from Joao Moutinho and Bruno Alves, he had to watch helplessly as Cesc Fabregas put Spain through to the final.
It was a heartbreaking result for Portugal, who surpassed all expectations by emerging from the Group of Death and reaching the semifinal.
For Spain, it was the result that many expected, although it was probably a little closer than they hoped for.
Neither team had many good looks on goal in normal time, with both sides being a little tentative offensively. There were just 21 combined shots in the two hours of playing time, with only seven of those hitting the target.
Ronaldo did have a couple quality chances, including a breakaway in the 90th minute. Unfortunately, Raul Miereles was inaccurate with his pass, forcing Ronaldo to halt his run and drag the ball in front of him. The delay allowed the Spaniards to close in and Ronaldo fired the shot over the crossbar.
In extra time, it was all Spain.
They had a couple brilliant looks, including a shot from Andres Iniesta right in front of the net, which was just barely kept out by Rui Patricio. The save forced penalty kicks, where the goalkeepers shined early on.
Both Patricio and Iker Casillas made diving saves on their first attempts, putting immense pressure on the penalty takers. Spain handled their nerves better, though, particularly Sergio Ramos, who turned the momentum of the game with this cheeky chip shot right down the middle.
Immediately after that, Alves' shot deflected off the crossbar, Fabregas buried the winning kick, and the Spaniards celebrated their latest victory on the international stage.
Now, they will await the winner of Thursday's game between Germany and Italy.
-----------------End of Update------------------
Only four teams remain in pursuit of the 2012 European Championship. It's one of the most coveted trophies in the entire sport and players from Germany, Spain, Portugal and Italy still have a chance to take it home with them.
The quarterfinal round was filled with drama. Everything from Greece giving Germany a scare in the second half to Italy defeating England in penalty kicks kept fans on the edge of their seats. The level of play should rise once again in the semifinals.
Keep checking back throughout the round as this page will get updated with the latest results, highlights and analysis from the semis. By the end, we will know which teams will battle for the prestigious title.
Semifinals Schedule
| | | | |
| --- | --- | --- | --- |
| Date | Matchup | Start Time (ET) | Viewing Info |
| Wednesday, June 27 | Portugal vs. Spain | 2:45 p.m. | ESPN/ESPN3 |
| Thursday, June 28 | Germany vs. Italy | 2:45 p.m. | ESPN/ESPN3 |
Semifinal No. 1: Portugal vs. Spain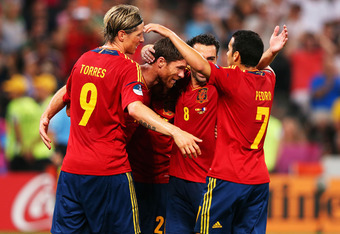 Alex Livesey/Getty Images
As has been the case for nearly a decade, Cristiano Ronaldo will be the focus of attention for Portugal when they take on rival Spain. He scored the game-winning goal against Czech Republic, allowing him to steer clear of all the critics for at least one more match.
Ronaldo won't be able to beat La Roja by himself, though. Secondary offensive weapons like Nani and Helder Postiga will need to elevate their games to avoid another major tournament disappointment. Portugal has never won a Euro or World Cup title.
Following a sluggish start against Italy, Spain has played a lot better in its last three matches. La Roja hasn't allowed a single goal over that span and it seems like the offense has finally started to develop some chemistry without top striker David Villa.
The Spaniards have dominated the football landscape over the past four years due to their tremendous depth. They have multiple players at every level that can step right in without causing a major drop off, and that has always been a huge advantage at the business end of these tournaments.
All told, this game will be decided in the midfield. Spain has more talent in that area and is going to attempt to dominate possession. Raul Meireles and Miguel Veloso have to make sure that doesn't happen or Portugal will come up short.
Semifinal No. 2: Germany vs. Italy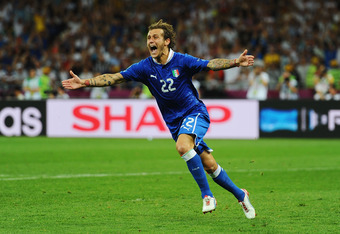 Laurence Griffiths/Getty Images
If forced to pick a favorite at this point of the tournament, it would have to be Germany. Die Mannschaft defeated Portugal, Netherlands and Denmark, all teams ranked inside the top 10 in the group stage before eliminating Greece in the quarterfinals.
Like Spain, Germany controls the game from the midfield. From veterans like Bastian Schweinsteiger and Lukas Podolski, to young stars such as Mesut Ozil and Thomas Muller, the Germans have every possible role filled with a terrific player.
Italy will have to combat that wide-ranging attack with strong defense. The Azzurri have only allowed two goals through four games. They were even able to keep a Wayne Rooney-led England offense off the scoreboard for 120 minutes.
It wouldn't have been possible without some great play between the pipes by Gianluigi Buffon. The 34-year-old goalkeeper has made several key saves during the team's run and must be on top of his game once again with Germany on the attack.
Although they face an uphill battle, the Azzurri can't be completely counted out due to their lock-down defense so far. The longer Germany allows them to hang around without scoring a goal, the more tense the favorites will become. It won't be easy.