New England Patriots and the Hall of Fame: How Close Are Key Players to Canton?
June 27, 2012

Rich Schultz/Getty Images
Debating for New England Patriots quarterback Tom Brady as a future Hall of Famer is not a difficult argument to make. 
His numbers are on par with some of the all-time greats, and his laundry list of accomplishments reads like a rap sheet of the best quarterbacks in the game:
three-time Super Bowl champion
two-time Super Bowl MVP
two-time AP regular season MVP
holds the record for single-season touchdown passes
only QB in NFL history to throw for more than 36 touchdown passes in a season three times
one of only four QBs in NFL history to throw for more than 5,000 yards in a season
There are more, but I think you get the point. No one will argue against Brady as a potential Hall of Famer, and at this point, the debate has extended to Brady as a potential greatest QB of all time.
But which other Patriots belong in the discussion?
I took an informal Twitter poll asking how many future Hall of Famers reside on the Patriots roster, and received answers ranging from two to nine (yeah...homers). This is a talent-laden roster, to be sure, but the Hall of Fame is reserved for the game's most special players, and guys who have changed the way we think about the game or have had a big impact on the game.
There are three fringe players who could and should be considered, but due to various circumstances, may not ultimately get there: nose tackle Vince Wilfork, and guards Logan Mankins and Brian Waters.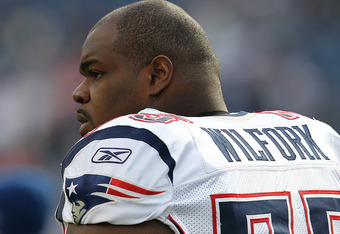 Jim Rogash/Getty Images
On Wilfork, consider this: there are no "true" nose tackles in the Hall of Fame. There just isn't enough glory to be had at the position, and the Hall of Fame is usually reserved for high-impact Defensive Player of the Year-type defensive linemen, and that just isn't Wilfork's game. 
He's without question one of the best nose tackles in the game, but that may not be enough, especially with just one Super Bowl ring and not a single first-team All Pro selection.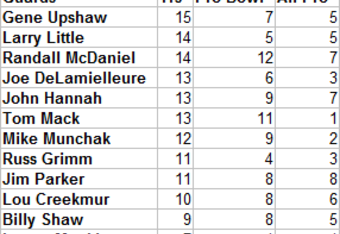 As for Mankins, it was stunning for me to find out that he had only been voted to the All Pro team once. It's also easy to forget that he hasn't won a Super Bowl yet. His dependability (missed just one game to injury in his career) will help him build on his accomplishments, but to earn a spot in the Hall of Fame as a guard, one has to have a decorated career to say the least.
Waters has been to two All Pro teams (side note: Really? Only two?) and six Pro Bowls, but will that be enough to measure up with the all-time greats? He's been one of the most solid guards in the league for years, but is that enough to earn him a spot in Canton?
Thus, the names in consideration are wide receiver Wes Welker and tight end Rob Gronkowski, and it's far from certain for either of them, as well.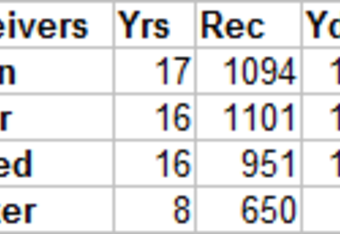 It will be tough for Welker to get in considering the laundry list of receivers waiting to have their name called. Welker holds the record for the most seasons with 110 or more receptions in NFL history (four), but with the likes of Cris Carter, Andre Reed, Tim Brown and so many more waiting to hear their name called, one has to wonder how long Welker will wait.
Welker has an advantage over those guys, though: he's not your average receiver. The fact that he sticks out from the group could play in his benefit. He has changed the way we think about slot receivers, but if Art Monk was finally inducted into the Hall of Fame just four years ago after the sterling career he enjoyed, Welker could be waiting awhile if he gets in at all.
He has twice been named a first-team All Pro, equaling Carter's number in that regard; neither Reed nor Brown were ever named to the All Pro squad. 
He will probably need at least three, if not five more years of similar production to put himself in the discussion, and at 31 years old, who knows if he has it in him. But one other way he can set himself apart would be to earn a Super Bowl ring: none of the above-mentioned receivers have that on their resumé.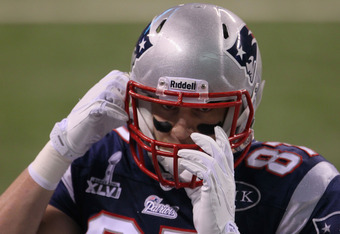 Jeff Gross/Getty Images
Gronkowski, on the other hand, has only just begun to scratch the surface of his Hall of Fame career. It's easy to say "if he keeps pace..." right now, because he's 23 years old and just set an NFL record for receiving touchdowns by a tight end in a single season.
There is also the lingering back issue, and the surgery he had before the draft to shave off a disk that was sticking out onto his spinal cord. If he stays healthy and continues to produce as he has the first two years of his career, he should end up with production worthy of consideration.
But it's far, far too early to predict anything.
Furthermore, it's not just about what you do one year or for a few years, but what you're able to do over a long period of time that earns a bust in Canton. For that reason, Welker and Gronkowski still have work to do. But both have the added benefit of catching passes from the surefire Hall-of-Famer Brady to help them along the way.
Erik Frenz is the AFC East lead blogger for Bleacher Report. Be sure to follow Erik on Twitter and "like" the AFC East blog on Facebook to keep up with all the updates.