USA vs. Puerto Rico Softball: Start Time, Date, Live Stream, Preview and More
June 27, 2012

Mike Ehrmann/Getty Images
The seventh World Cup of Softball is set to start on Thursday, and Team USA is the overwhelming favorite, as is always the case. The United States has won five of the six World Cups to this point, and with its closest competitor in Japan not even competing in the tournament, most expect the United States to run away with another world title.
Things will get started for the USA on Thursday night as it will take on Puerto Rico in a preliminary-round game. The United States is heavily favored for obvious reasons, but Puerto Rico promises to put up a fight. Much of Puerto Rico's roster is made up of Americans of Puerto Rican descent, so they may not be in awe of the United States like many teams tend to be.
Here is all the information you need to know about when and where to catch the United States' game against Puerto Rico on Thursday, as well as a complete preview for the opening tilt.
Where: American Hall of Fame Complex in Oklahoma City, Okla.
When: Thursday, June 28 at 7 p.m. ET
Watch: ESPN2
Live Stream: ESPN3.com
USA Player to Watch: Valerie Arioto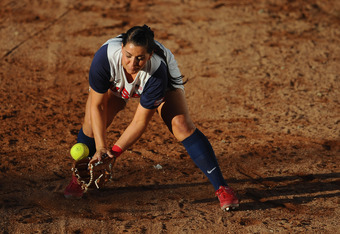 Dennis Grombkowski/Getty Images
Many of Team USA's players may not be familiar to casual fans as the squad is made up mostly of collegiate players or players who graduated recently, but Valerie Arioto is a rising star who seems to get better with each passing year.
The first baseman and pitcher, who just graduated from the University of California, is sort of a jack of all trades for the United States. 
She can be an ace on the mound when called upon, but she may be even more valuable with a bat in her hands. Arioto hit an incredible .438 with 11 RBI in the World Cup last year and figures to be the team's leading hitter once again this year.
Puerto Rico may find it difficult to keep the United States off the scoreboard more than anything, and Arioto will be a big obstacle for the Puerto Rican pitchers.
Puerto Rico Player to Watch: Charlise Castro
As previously mentioned, Puerto Rico has several American players on it roster, and one of them is infielder Charlise Castro. This past season, Castro was dominant at the University of Albany as she hit .461 with 13 home runs and 53 RBI.
The level of competition in the America East Conference obviously was nothing compared to what she'll be dealing with against Team USA, but I have to believe that those numbers will translate to some degree.
If Puerto Rico is somehow going to pull off a massive upset against the United States, then it will need at least one of its players to have a super-human performance at the plate. If anyone can do it for the Puerto Rican team, it is Castro, but it will be a tall order against the United States' plethora of dominant arms.
Prediction
The scrappy Puerto Rican team won't go quietly, but the United States simply has too much talent to overcome, and that will result in an 8-0 win for the Americans.
Follow @MikeChiari on Twitter