AFC South Time Machine: The Jaguars' Staff in Five Years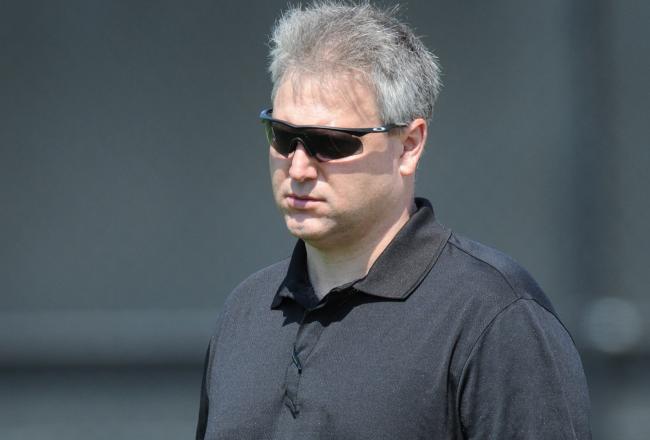 It's a mad world in Jacksonville.
Al Messerschmidt/Getty Images
Through the use of wormholes and whatnot, we've time traveled to find out if and when the world will end for the front office of the Jacksonville Jaguars.
All week, I'll be looking at what each front office/coaching staff has to accomplish over the next five years in order to keep its job. Expectations and standards are different in every city. Obviously, the short answer is "win," but there's more to it than that.
Will Gene Smith, Mike Mularkey and friends be gainfully employed in Jacksonville five years from now, or will a jet engine metaphorically land on the Jags?
Here's what has to happen for Smith and company to still be with the Jaguars in five years.
They Have to Survive 2012
I think everyone in Jacksonville knows that Smith is under a lot of pressure this season. He's had several years on the job, and it's time for the team to take a step forward. No one is going to be content with another five-win season.
This obviously makes things difficult for Mularkey as well. He's a good coach, and I have every confidence that if he gets a fair shot, he'll do well in Jacksonville. But the fact remains that he was hired by Smith.
If Smith gets the boot, Shad Khan will bring in a new GM. That GM may well want to bring in his own man. Mularkey could be out the door even if it's not fair.
I believe it will take at least an eight-win season for Smith to keep his job.
Do you believe in time travel?
Blaine Gabbert Has to Show Improvement
There is one big exception to the eight-win rule. If Gabbert takes a big step forward, Smith may be saved.
Imagine the Jaguars have another injury-plagued season and lose some tough ball games. But, in the process, Gabbert takes a big leap forward as a quarterback. While the 2012 season may be rough, Khan could potentially see enough good in the way things are going to keep Smith around.
Ultimately, Smith's job is tied to Gabbert. He traded up for him. He's Smith's guy. If he succeeds, Smith succeeds. It's fine for the team to be patient with a young quarterback, but by the end of year two, they'll have a good idea what they have.
If Gabbert turns out to be a good quarterback, Smith will deserve praise and a long extension.
They Have to Make the Playoffs by 2013
While I don't think the Jaguars are 'playoffs or bust' in 2012, I can't see any possible way Smith keeps his position if the team isn't in the playoffs by next year. A rebuilding job should never take five seasons.
At some point the excuses have to stop and the winning has to start. I can't imagine any world in which Smith keeps job without a playoff trip by next year.
Winning is the name of the game in NFL. Smith needs his team to start winning in January and soon.
Mularkey has to Win the Confidence of Khan
Let's assume for a moment that the Jaguars win seven games this year, and Khan decides he's seen enough of Smith.
Can Mularkey save his job if the GM who hired him is fired?
It's difficult, but there is a way. If the Jaguars struggle because Gabbert plays poorly, but the team looks good in other areas, Khan could become convinced that he has the right coach, but the wrong GM.
If Chad Henne were to take over and play well for Mularkey, Khan could decide that he doesn't want to blow up the system and start over, but that Smith has to be held accountable for Gabbert.
If Mularkey gets a fair chance in Jacksonville, he will make the team a winner. If the owner feels the same way, he could have a job in five years, even if the guy who hired him doesn't.
This article is
What is the duplicate article?
Why is this article offensive?
Where is this article plagiarized from?
Why is this article poorly edited?

Jacksonville Jaguars: Like this team?