2012 NBA Mock Draft: Whose Stock Is on Fire at Perfect Time?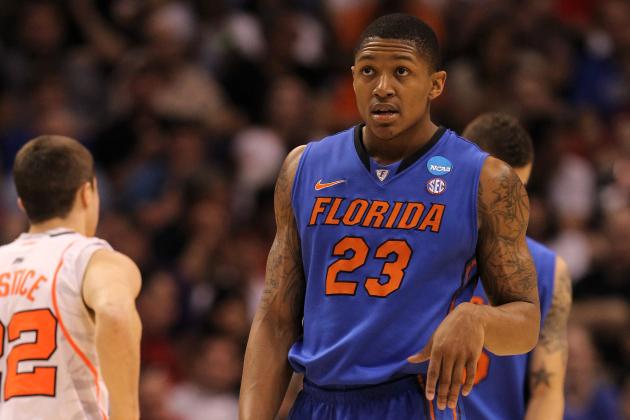 Jamie Squire/Getty Images

Talents continue to jump up the board prior to the 2012 NBA Draft, as their skills are being noticed at just the right time.
Florida guard Bradley Beal is one those in the draft class making a strong case for himself, as ESPN.com's Chad Ford argues he is the third best prospect in the entire class. Talk about a jump for freshman that was once projected to be taken outside the top-five.
Over the last several weeks, players have been hitting the team workouts and making their impressions, and those will be vital in moving up the board prior to draft day. Beal is one of several talents that is making himself noticed and now should be a sure-fire top-five selection.
This is an entire first-round NBA mock draft, highlighting those talents whose stocks have been red-hot.
Begin Slideshow

»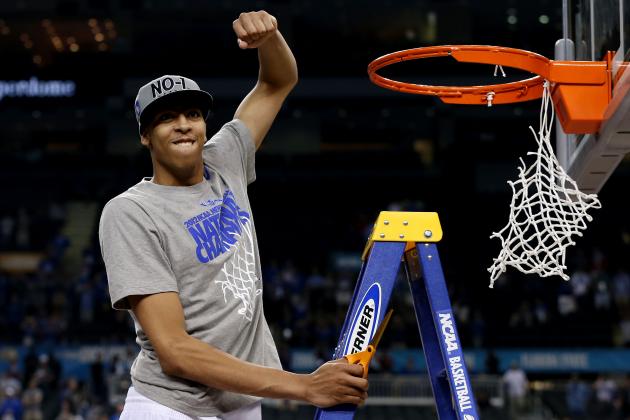 Jeff Gross/Getty Images

With arguably the most well-rounded No. 1 pick since LeBron James in 2003, Anthony Davis has the potential to take the NBA by storm. If there's a player with a red-hot stock, it's this guy.
Once a guard, Davis has shown he can handle the ball, shoot and even run a break. This combined with his overbearing defensive presence and scoring touch in the paint make him as enticing a No. 1 pick as any.
Last season with the Wildcats, Davis averaged 10.4 rebounds, 4.7 blocks and a solid 14.2 points per game. He is known for being a shot-blocking machine, totaling 186 blocks for the most all-time by a freshman. Make no mistake about it, this talent is the real deal.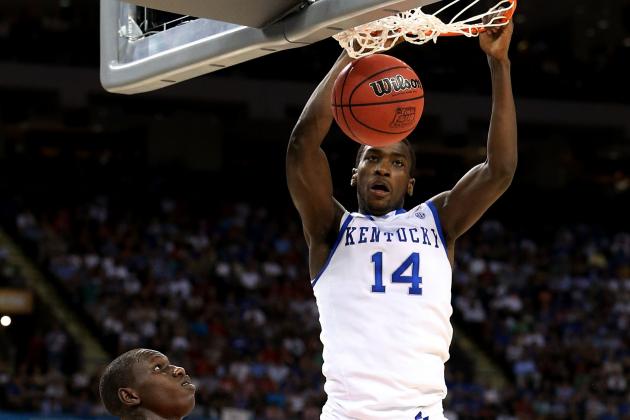 Ronald Martinez/Getty Images

Yes, Kentucky is just that talented.
What makes Michael Kidd-Gilchrist so special is that his game translates especially well to the NBA. He is an aggressive defensive player, can out-muscle others at the SF spot on the glass and scores well taking the ball to the cup.
There isn't much this player can't do, while also boasting extremely impressive athleticism at the position. One of John Calipari's finer talents, this is a player the Bobcats would be crazy to pass up on. His stock has been exceptional since winning the NCAA championship with Kentucky and has stayed that way since.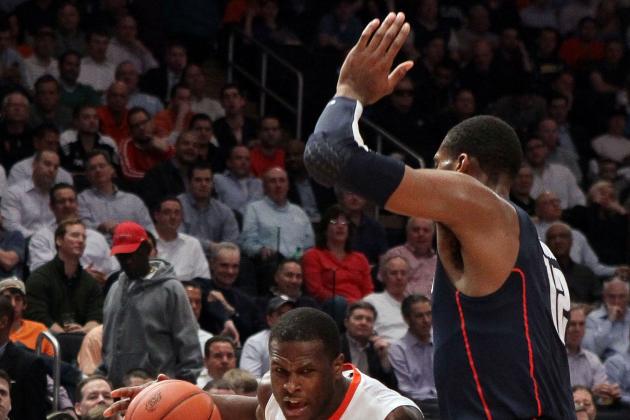 Jim McIsaac/Getty Images

Stock Rising
Potential Top-10 pick Jeremy Lamb's talent has had people overlooking Andre Drummond at times. But if there is a big man teams want, besides Anthony Davis, there is no doubt it's Drummond. As a result, this is a talent that had his stock rising exponentially prior to the draft.
The paint-hound for UConn was a major threat defensively, boasting 92 blocks his freshman season to lead the team. He has a 7'6'' wingspan and a 9'2'' reach, as there is no denying the athleticism he brings to the table. Drummond, 19, would give the Wizards a solid backup behind Emeka Okafor and Nene for years to come.
Not to mention he is also an impressive scorer as well. Drummond can both finish in the paint and shoot a mid-range jumper, an especially rare quality in a seven-footer.
Talented centers are hard to come by in this league, so the Wizards will undoubtedly snag Drummond with the No. 3 selection.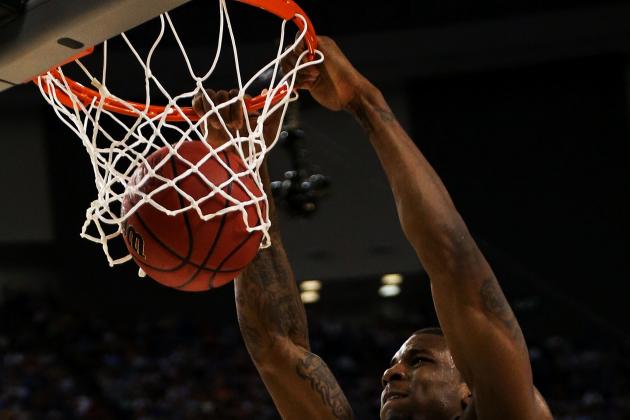 Ronald Martinez/Getty Images

Stock Rising
If there's one player with one heck of an attractive draft stock, it's former Kansas star Thomas Robinson.
Robinson is a big-time rebounder with as complete an offensive arsenal as any frontcourt player in the draft. He can take a 20-foot shot, put the ball on the floor and work an opposing defender in the post.
He is well undersized at just 6'9'', and even still Robinson's tremendous stock has him as a sure-fire top-five selection. The 21-year-old will surely be a positive addition for a Cavaliers team that has struggled mightily up front.
Not to mention, he knows how to win big games, and Cleveland has done little of that since the departure of LeBron James.
Robinson took his team to the NCAA championship game, in which Kansas fell to Kentucky. He averaged just over 18 points per game in his last four tournament games and grabbed 17 rebounds against a powerful Kentucky frontcourt. His play in the tourney was impressive to say the least.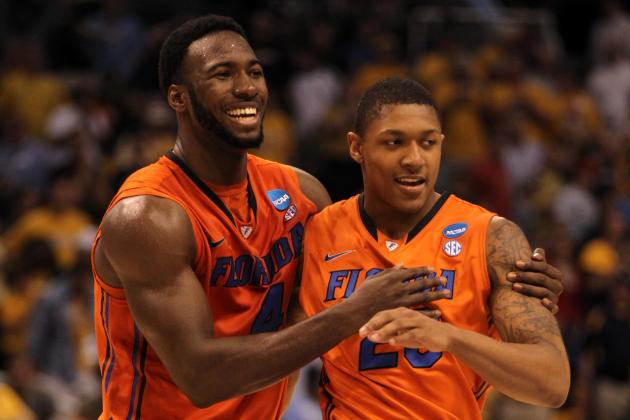 Jamie Squire/Getty Images

Stock Rising
After the 2011-12 NCAA season, Bradley Beal was a sure-fire lottery selection, but by no means a potential top-three pick.
According to ESPN.com's Chad Ford, Beal is currently the No. 3 player on Top 100 Draft Prospects and is projected to be taken by the Washington Wizards. He has reportedly worked out with the Washington Wizards, Charlotte Bobcats and Cleveland Cavaliers. He is a major scoring threat that can rebound the ball exceptionally well, and these factors have had him flying up the board.
Although he's No. 5 on my board, there is no question that this player has the potential to jump into the top three after putting forth impressive workouts with each team. A need for big men will push Beal down to the fifth selection.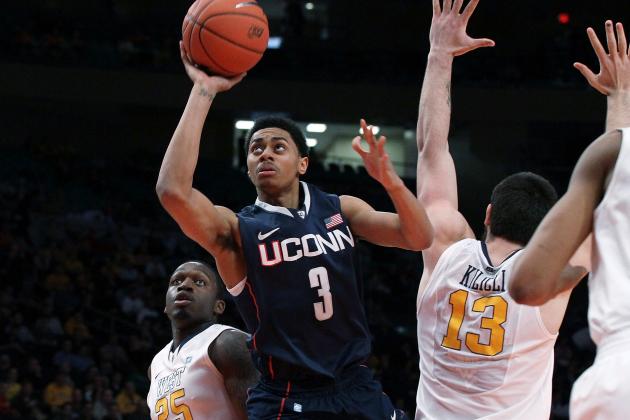 Jim McIsaac/Getty Images

Jeremy Lamb is an impressive scorer that will give the Trail Blazers the scoring boost they need.
At times Portland forward LaMarcus Aldridge seemed to be the only player who could score, posting a solid 21.7 points per game last season and 23.8 in the final month. However, what makes Aldridge so impressive is his defense, something he will be able to concentrate more on with Lamb in the rotation.
As soon as Kemba Walker went to the NBA, Lamb's points per game went up exponentially. He was scoring nearly 18 points per game his sophomore year, up roughly six points from his average his freshman season. The 6'5'' shooting guard is slightly undersized yet undoubtedly has the talent to succeed in the league.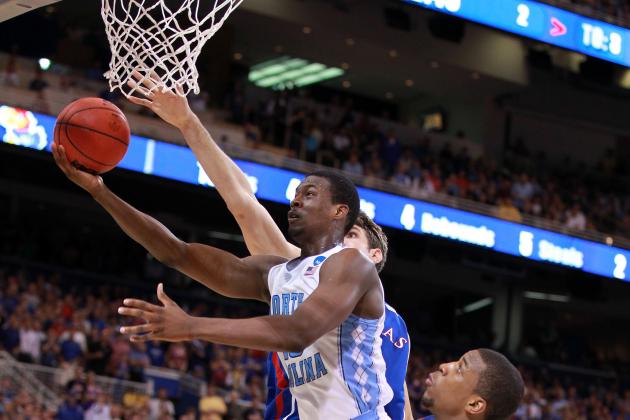 Andy Lyons/Getty Images

Stock Rising
At No. 7, Harrison Barnes could well be the biggest steal of the 2012 NBA Draft.
He is a long, lean and athletic defender that has a great understanding for the game. Coming from a strong program in North Carolina, Barnes is mentally prepared to be a star in the league.
The Warriors will be sure to snag Barnes with the pick, as he brings defense to a team that desperately needs it. From the day Marc Jackson took the position as head coach, his approach was defense, defense and more defense. In order to make that a reality, it will be integral to bring in a guy like Barnes who can do just that.
Barnes is also a proficient scoring threat that can hit the three with ease and take the ball to the rack with authority. He averaged 17.4 points per game last season with the team in spite of playing on a team with a load of scoring threats.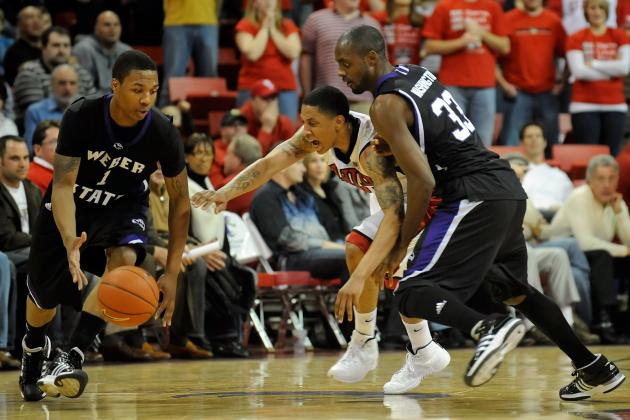 Ethan Miller/Getty Images

Damian Lillard is arguably the best point guard in the draft along with UNC talent Kendall Marshall.
Easily the top scoring threat in the draft, Lillard will be an especially solid addition to the Toronto Raptors. Last season Lillard was second in D-I basketball with 24.5 points per contest. He shot 46.7 percent and just over 40 percent from distance, numbers that make his scoring average all the more impressive.
The Raptors ranked No. 28 in points per game, as they undoubtedly need the scoring touch that score-first PG Lillard brings to the table.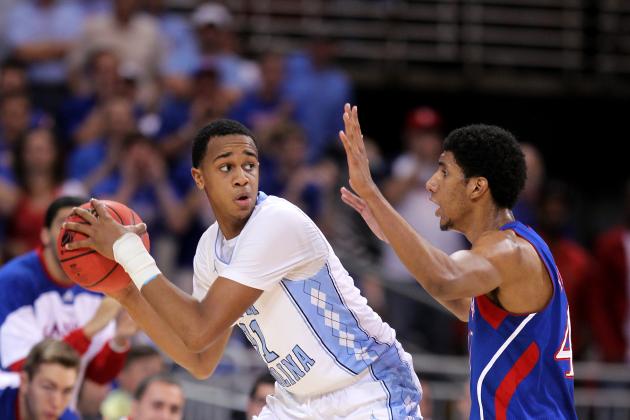 Andy Lyons/Getty Images

Getting rid of Ben Gordon prior to the draft means picking up a scoring threat is a must for the Pistons.
John Henson will be a primetime threat for Detroit when it comes to points in the paint, providing the perfect compliment for forward Greg Monroe. Monroe can surely score the basketball, yet Henson will provide a major boost by taking care of a good portion of the scoring load. In 29.1 minutes, Henson posted 13.7 points per game last season.
The 21-year old will also give the Pistons another solid rebounder outside of Monroe. Henson grabbed 9.9 rebounds per game last season.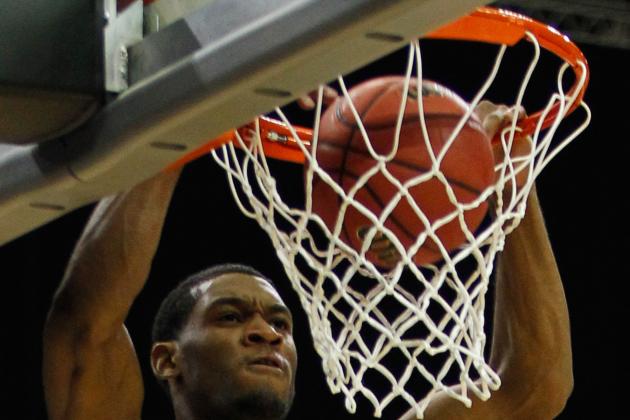 Streeter Lecka/Getty Images

Perry Jones III made a name for himself in the loss to Kentucky in the NCAA tournament. The talent had 17 points and eight rebounds in the Elite Eight matchup.
He is a scoring threat that boasts incredible length at 6'11''. Jones will be able to provide the Hornets with a big man that has the potential to be an All-Star in the league. His plethora of moves in the post and jump shot give Jones an incredibly complete scoring game.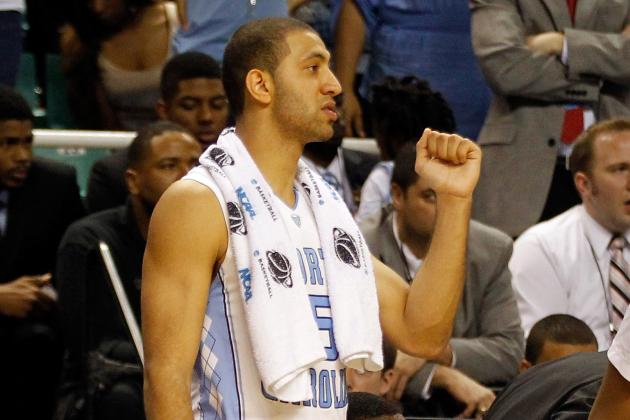 Streeter Lecka/Getty Images

Arguably the most overlooked point guard we have seen, there is no question Marshall has the potential to be one of the best in the league.
Marshall has as impressive a passing game as any PG in the draft and was a consistent scoring threat in the NCAA tournament last season. The top-notch guard averaged 9.7 assists per game and had five double-figure assist games in his last six.
In spite of averaging just 7.8 points for the season, Marshall finished the season with six consecutive games of 10-plus points, including an 18-point, 11-assist performance in the Elite Eight in a win over Creighton.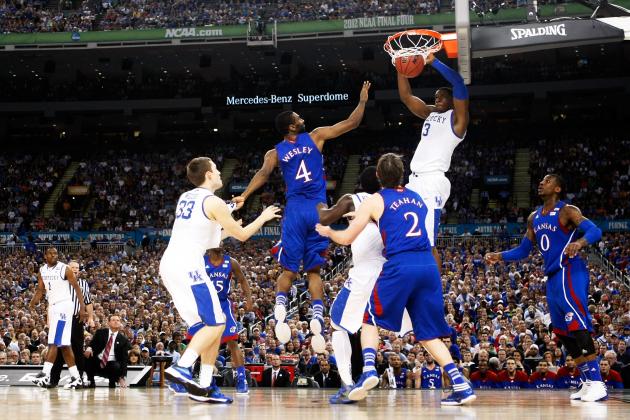 Jeff Gross/Getty Images

Stock Rising
Not only is Terrence Jones a dominant presence in the paint on offense, but he also boasts incredible defensive skill.
With Anthony Davis in the starting rotation for the Wildcats, it's difficult to notice any other player. Jones was a beast defensively for this team, adding 1.8 blocks for the team in spite of being a 6'9'' power forward with a swingman's game.
Much like Harrison Barnes, Jones will undoubtedly be a tough perimeter defender in the league and can take the ball to the rack. In fact, if not for an unreliable jump shot, Jones is an even more impressive prospect than Barnes.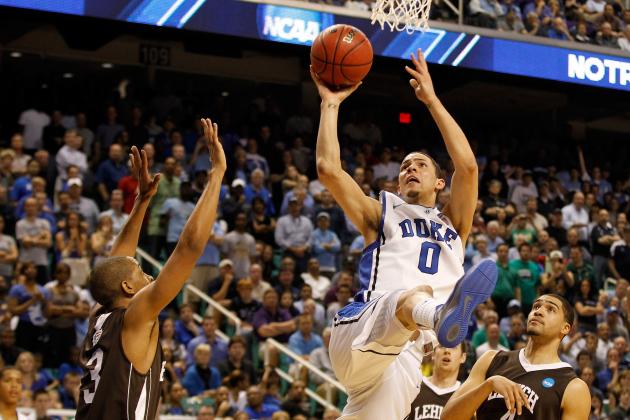 Streeter Lecka/Getty Images

The game-winning shot against North Carolina sums it up best: Austin Rivers wants the ball down the stretch.
This quality is essential in understanding why he is a sure-fire lottery pick. Rivers brings with him intangibles offensively that no other guard in the draft can match. He would join a Phoenix Suns team that could well be without Steve Nash next season, as there is a clear need for a guard to score the rock.
His scoring style is especially NBA-esque, and it will make his transition to the league all the more smooth. In his first and only year with Duke, Rivers averaged 15.4 points per game.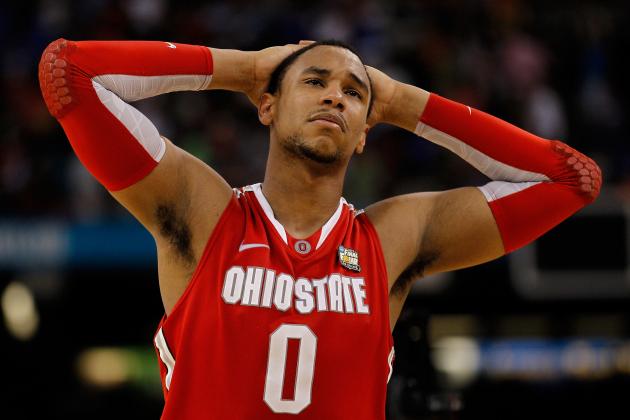 Chris Graythen/Getty Images

Jared Sullinger's draft stock has done anything but rise over the last few weeks.
According to ESPN.com's Chad Ford, his stock has plummeted exponentially following a red flag by NBA doctors because of his back injury. Some teams have reportedly considered Sullinger a player to bounce from the first round.
Yet if Houston knows what's good for them, they will take a shot at this impressive talent with their lottery selection. Sullinger is an impressive scorer that has proven he can win games throughout his college career. The Buckeyes were 31-8 last season and were bounced in the Final Four by just two points.
It's difficult to risk taking a player whose suffering from injury, but the reward will be undoubtedly well worth the gamble here.
Jonathan Daniel/Getty Images

Stock Rising
Easily the center with the most skill offensively in the draft, Meyers Leonard will be a force to reckon with in the league. Unlike most Anthony Davis, Leonard has a plethora of post moves and a significantly smoother touch around the rim. This will be key in Leonard moving up to a lottery selection on draft day.
A team like the 76ers will need Leonard's impressive post game next season, as last season Elton Brand and Spencer Hawes were far too inconsistent to depend on offensively.
Last season Leonard averaged 13.6 points and 8.2 rebounds per game with the Fighting Illini.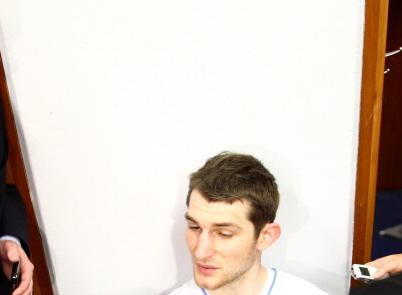 Dilip Vishwanat/Getty Images

Tyler Zeller is easily the best senior in the 2012 NBA draft, as the four years at UNC will pay dividends in the NBA.
He comes from a top-notch program under head coach Roy Williams that predicates itself on rebounding the basketball. Zeller was arguably the best rebounder in the ACC, averaging 9.6 rebounds per game last season for the Tar Heels.
The seven-foot center isn't the most massive, yet with the proper weight training and coaching in the league, this player has the makings to be an All-Star for years to come.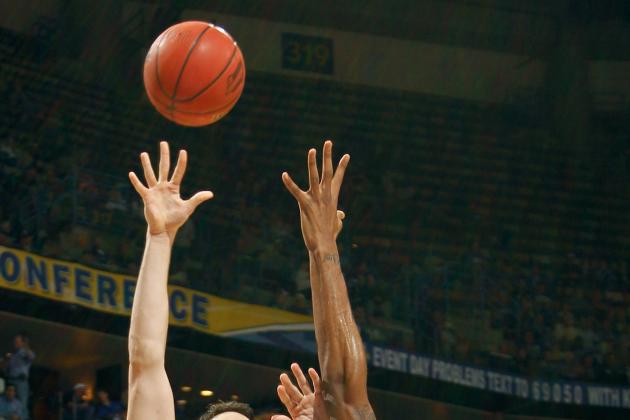 Chris Graythen/Getty Images

Mississippi State big Arnet Moultire is a 6'11'' power forward that had made a name for himself with his defense.
In his junior season with the team, Moultrie averaged 10.5 rebounds per contest and was relatively consistent in his production throughout the season. Also a tremendous scorer, Moultrie went out with a bang in the team's first-round NIT loss. The talent scored 34 points and grabbed six boards in the loss to Massachusetts.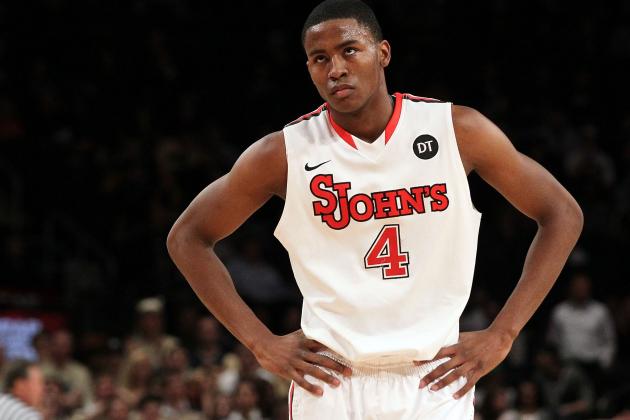 Jim McIsaac/Getty Images

No Chase Budinger for the Houston Rockets, no problem.
Moe Harkless is a talented swingman that will give the Rockets improved play at the position next season. He is a solid scoring threat, averaging 15.5 points per game last season. Give this player the ball offensively, and good things will happen.
Yet what makes him a standout at the position is his rebounding ability as well, after posting nearly nine rebounds per game last season.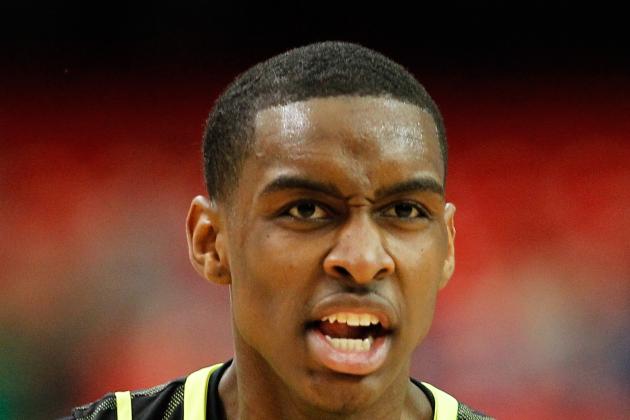 Streeter Lecka/Getty Images

Although some, like DraftExpress.com, have Miller as a second-round selection, his skills make him a sure-fire first-round pick.
Miller is a jump shooter with solid accuracy and can shoot free throws as well as any player in the draft. Last season, Miller averaged 10.6 points per game and shot 81.6 percent from the free-throw line.
He would give the Orlando Magic a solid SF threat by coming off the bench to score and give Hedo Turkoglu the rest he needs to be at his best.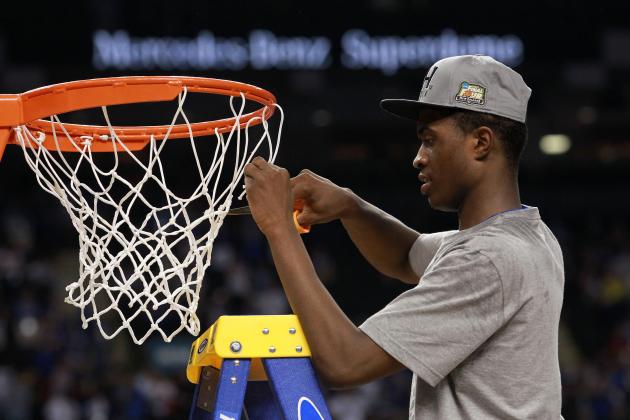 Ronald Martinez/Getty Images

Doron Lamb would be a steal for the Denver Nuggets at No. 20, as he is arguably the most underrated SG in this year's draft.
He was certainly the most talented scorer outside of Anthony Davis on the champion Kentucky Wildcats, posting 13.7 points per game in his 31.2 minutes per contest. He is a deadly three-point shooter at 46.8 percent and has the ability to put the ball on the floor and drive as well.
A pure scorer, Lamb would give Ty Lawson and his Nuggets a tremendous lift offensively.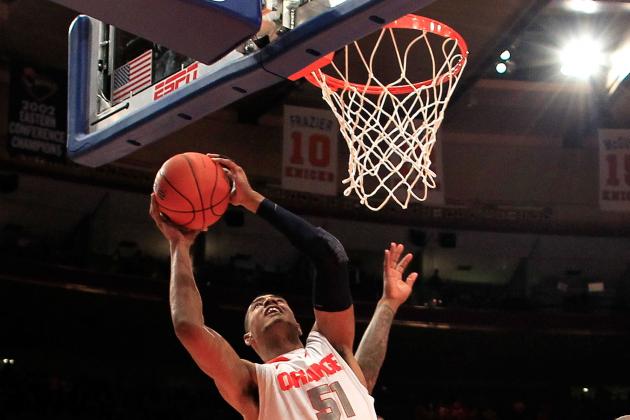 Chris Trotman/Getty Images

The Syracuse Orange were unstoppable , and arguably the top team in the country, when Fab Melo was on the court.
As the Boston Celtics need depth in the paint, Melo is the perfect pick up for the team. Kevin Garnett was able to produce significant numbers in the postseason, yet the problem was that many times he was the only frontcourt player producing.
Melo brings a tough scoring mentality and particular size defensively that make him as enticing a selection as any for the Celtics at No. 20.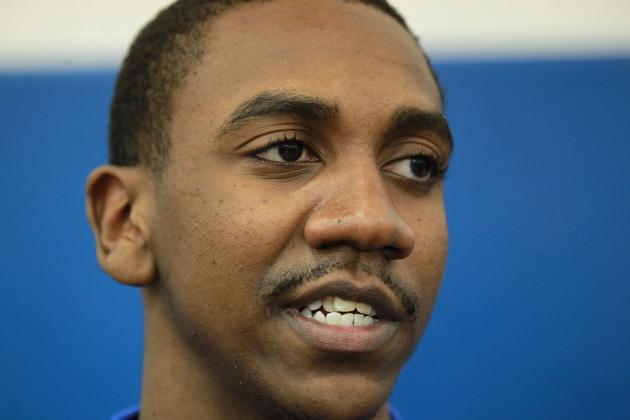 Andy Lyons/Getty Images

Avery Bradley and Rajon Rondo are both outstanding perimeter defenders, yet Teague is the type of player that will help compliment this backcourt on the offensive end.
Teague is a point guard that gets into the lane regularly with his quick first step. Rondo will need the rest after getting heavy minutes in the 2011-12 season, and Teague will bring just that. Not to mention, the second unit's scoring will undoubtedly improve with this guard in the rotation.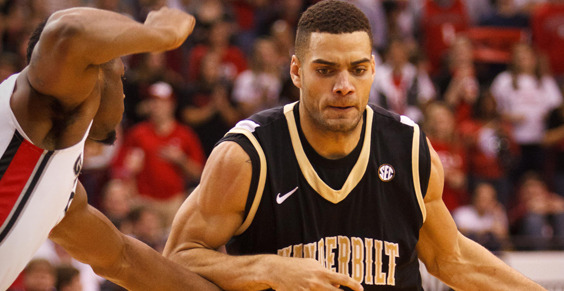 Photo Courtesy of NBADraftBlog.com
Vanderbilt's Jeff Taylor could well be one of the major sleepers in this year's draft. A top scoring threat for the team, Taylor averaged 16.1 points per game on an impressive 49.3 percent shooting from the field.
Given his impressive scoring ability, the Hawks could well benefit from this selection. When Josh Smith went down to injury in the playoff series against the Boston Celtics, the team was without the scoring they needed. Taylor gives this team just the boost they would need at the swingman spot with the prowess he boasts offensively.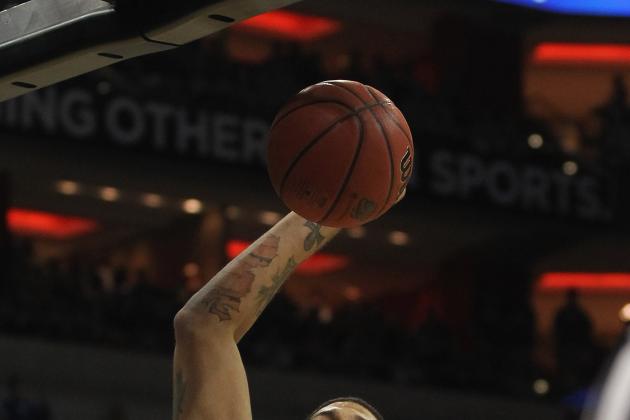 Jonathan Daniel/Getty Images

He can score, rebound and pass the rock, three things that a plethora of frontcourt players in this draft class don't boast.
Yet it is because he is undersized as a 6'8'' power forward that bumps him down to a late first-round selection. Royce White is an all-around beast, averaging 13.4 points, 9.3 rebounds and five assists per game last season.
This sophomore might not be the tallest of big men, but he is surely as talented a power forward as this draft has to offer.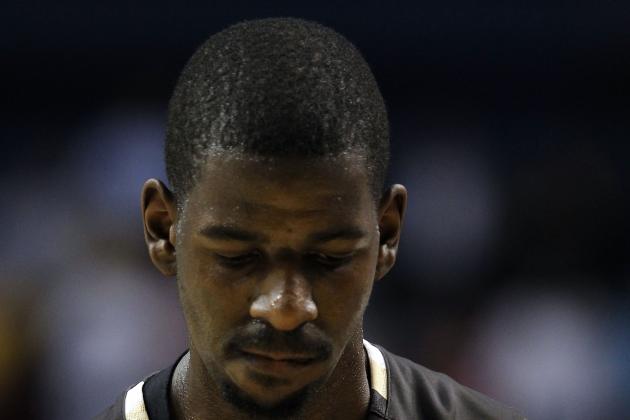 Jamie Squire/Getty Images

This mean, lean, athletic machine is one the talents with the most upside in the 2012 NBA draft.
The 6'9'' power forward put up impressive numbers for the Bonnies last season on both ends of the floor. Nicholson averaged 18.5 points, 8.4 rebounds and two blocks per game in what was an impressive campaign for the senior.
With four years of college ball under his belt, there is no question it has helped Nicholson to gradually develop a complete game.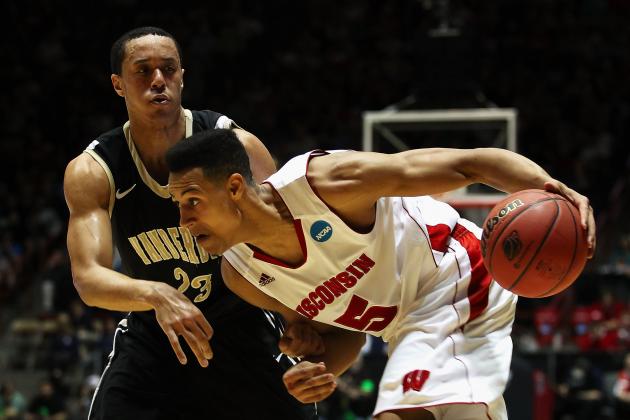 Christian Petersen/Getty Images

John Jenkins is exactly the missing piece for a surging Indiana Pacers team.
Although slightly undersized at 6'4'', he is a shooting guard with a nose for the basketball defensively that will give the Pacers the perimeter defense they need. Not to mention, with 13.1 shots attempted per game, he is certainly a confident scorer as well.
The Pacers are nearing championship contention and could well use Jenkins' game to help complete their team.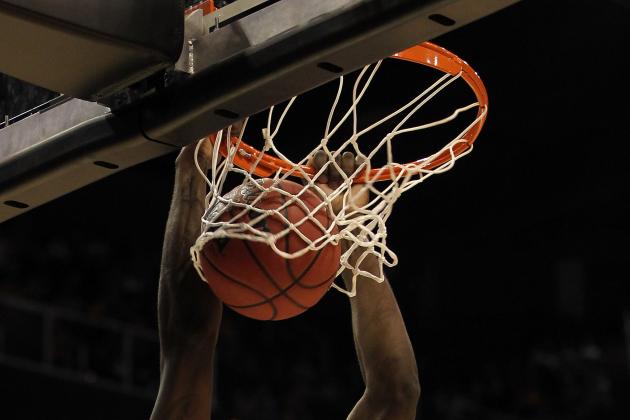 Jamie Squire/Getty Images

Draymond Green would work especially well with the Big Three in South Beach, providing them with a much-needed scoring threat in the frontcourt.
Chris Bosh has been especially consistent for the team offensively, yet he seems to be the only frontcourt presence in the scoring department. Green is a score-first forward that is quick, athletic and boasts somewhat solid handles.
Add Green to the mix in Miami, and the Heat will be that much more of a threat to win a title in 2013.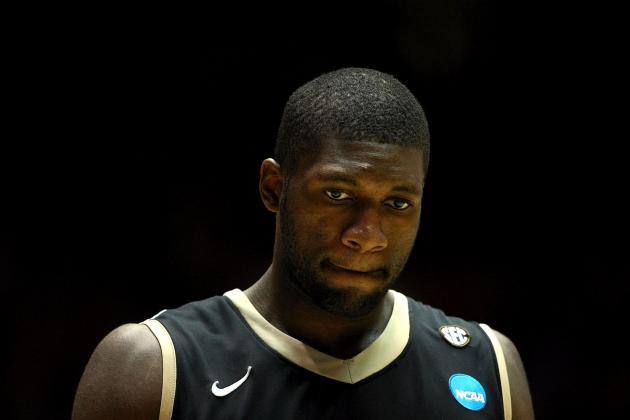 Christian Petersen/Getty Images

Festus Ezeli will be a key component for the Oklahoma City Thunder next season.
The championship contenders will use Ezeli to the fullest on the defensive end. Center Kendrick Perkins has proven to be much too slow to compete with teams like the Heat, which makes Ezeli an attractive selection for OKC.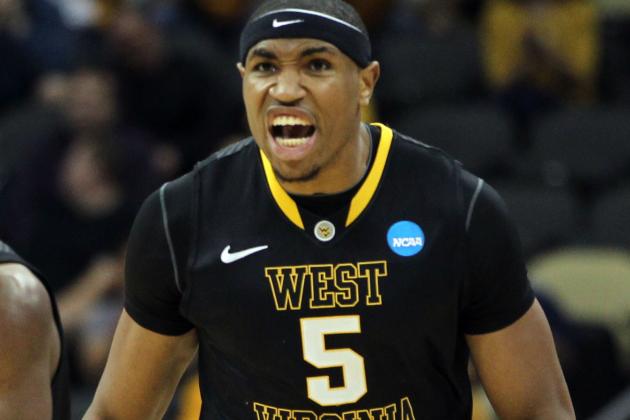 Gregory Shamus/Getty Images

The Chicago Bulls are in need of relieving the luxury tax that swingman Luol Deng brings with him, and Kevin Jones would be just the player that could replace him.
Throughout his tenure with West Virginia, Jones proved he is a solid passer and big-time scorer. Jones has put the team on the map as a basketball program and will bring that same passion with him to the league. The Bulls need scoring threats outside of Rose, and Jones could be a big help in this regard.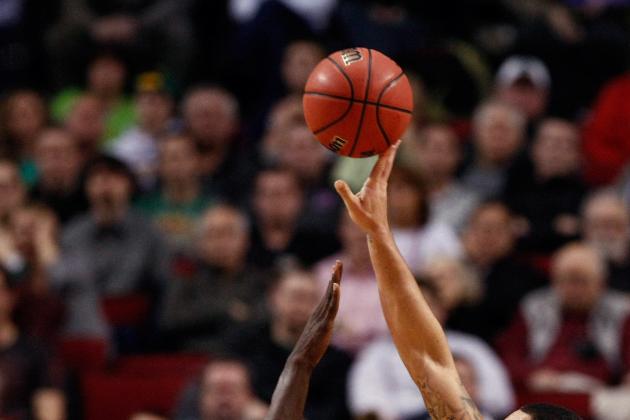 Jonathan Ferrey/Getty Images

Drew Gordon was as impressive as any power forward in the tournament this past season, and that is the very reason he just gets into the first round.
In his two tourney appearances against Long Beach State and Louisville, Gordon averaged 19.5 points and 13.5 rebounds per contest. Talk about some impressive figures.
The fact he is 6'9'' will hurt his draft stock, yet there is no questioning the talent this player possesses.