Power Ranking the Best Pac-12 Defenses Heading into 2012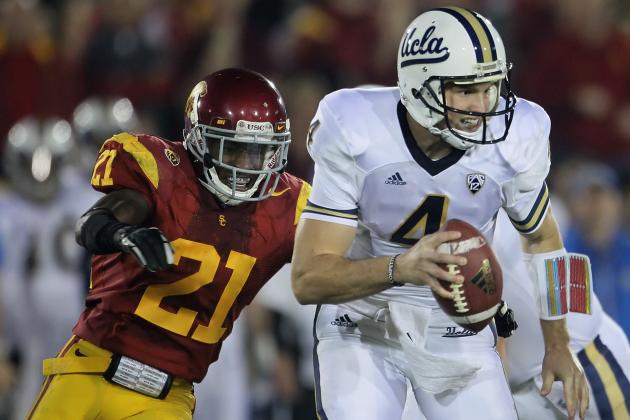 Jeff Gross/Getty Images

The Pac-12 is not known for its dominant defenses. With the addition of offense gurus in Mike Leach, Rich Rodriguez and Todd Graham to the conference's coaching ranks during the offseason, defensive-minded is not a reputation the Pac-12 will earn any time soon.
Still, a defensive stop can be the deciding factor late in a high-scoring thriller, or be the recipe to stopping a supposedly invincible offense (See 2011 National Championship).
That makes it no surprise that most of the squads expected to compete for Pac-12 supremacy also possess the best players and project the best on the defensive side of the ball. Here is a quick look into which defenses will reign supreme come fall, though the top four are incredibly close.
Begin Slideshow

»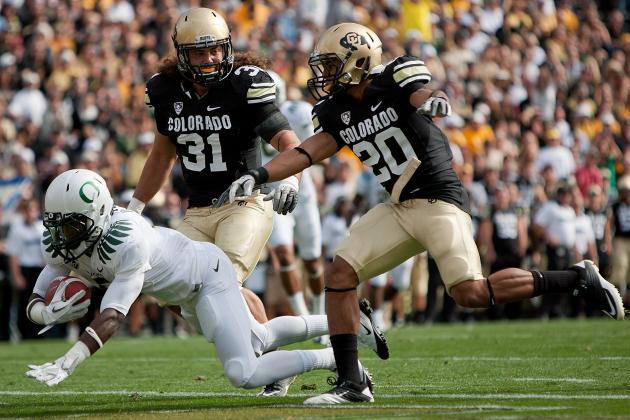 Justin Edmonds/Getty Images

Last year, the Buffaloes took a beating, bleeding yards and failing to create turnovers. The talent is there, but its cultivation remains to be seen.
Senior linebackers Jon Major and Doug Rippy both have had seasons cut in half due to injury, but if healthy, they can team up to take down any ball carrier in sight and support the defensive line in the running game.
The line will need all the help it can get in 2012. Senior tackle Will Pericak is a mauler, but outside of him there are question marks at every spot on the defensive front.
Same deal in the secondary, where the Buffs ranked sixth-to-last nationally in passing efficiency against. Sophomore cornerback Greg Henderson earned honorable mention All-Pac-12 honors as a freshman and the unit might need incoming four-star recruits Yuri Wright and Kenneth Crawley to provide the same impact as true freshman.
Despite their ranking, the defense is taking steps forward and will be ready to take a major step up in 2013.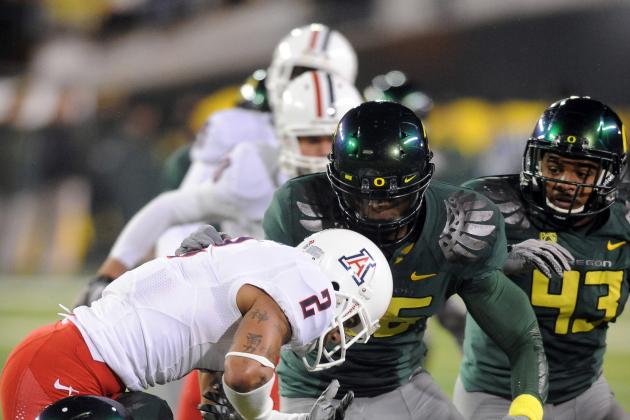 Steve Dykes/Getty Images

The Wildcats scored when they hired Rich Rodriguez and then scored again when he brought over his old defensive coordinator at West Virginia in Jeff Casteel in the same position.
The pass rush mustered a pathetic ten sacks in 2011 and the Wildcats defense as a whole ranked in the bottom ten nationally with 37.7 points allowed per game. The cupboard is not exactly overflowing with talent at defensive end, so Casteel will be sure to earn his paycheck trying to create a respectable pass-rush and run defense.
Shaquille Richardson stepped up last year at cornerback, but it is up in the air who will play next to him. The Wildcats hope it can be Jonathan McKnight, who missed all of 2011 with a torn ACL.
Jake Fischer also missed 2011 after a spring knee injury, but will try to emerge as a leader for the linebacking unit.
Injuries bit hard in 2011, and 2012 already looks to be heading down that road. Casteel has a track record of resounding success, but repairing Arizona's defense looks to be a long-term project.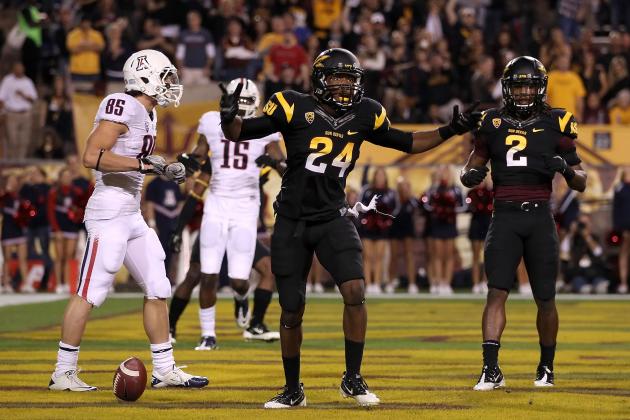 Christian Petersen/Getty Images

With only four starters returning as well as a new coaching staff, the Devils are looking to start fresh on the defensive side in 2012.
Although he missed all of 2011 with a torn ACL, linebacker Brandon Magee can do everything. He will be counted on to be the team's field general. Still, there was a mass exodus at linebacker after last year and the Devils will struggle with inexperience plugging in players around Magee.
An experienced cornerback duo of Osahon Irabor and Deveron Carr could mean silence for opposing receivers due to their pass-disrupting abilities, but Carr needs to show more consistency.
Defensive tackle Will Sutton and the mammoth Mike Pennel (6'5", 350 pounds) have the talent to surprise on the line, but the unit as a whole is unproven.
It will be a transition season for the Devils as they adjust to a new scheme. They have individual talent and will not repeat last season's debacle as the nation's leader in penalty yards, but 2013 will be the year when a significant rise should be expected.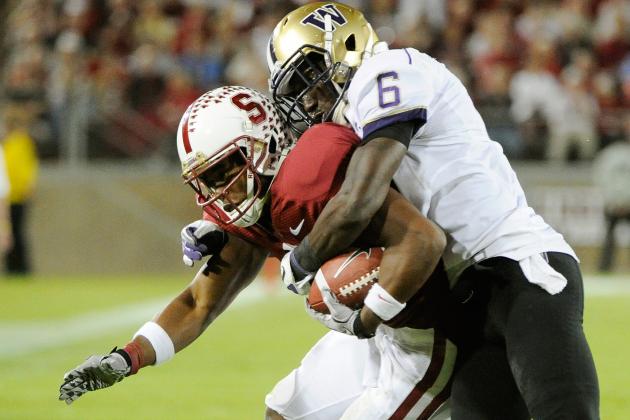 Thearon W. Henderson/Getty Images

After allowing 67 points in their Alamo Bowl loss to Baylor, the only way to go is up.
Justin Wilcox steps in as the new defensive coordinator and should see an improvement from what was an inconsistent and frustrating secondary in 2011.
Safety Sean Parker led the Huskies with 91 tackles last year, while mega-recruit Shaq Thompson could come in as a freshman and play opposite to Parker to create a formidable duo. At cornerback, the Huskies need Desmond Trufant to shake off the inconsistency bug and play up to his NFL-level talent.
Two sophomores will look to anchor the defensive front. Nose tackle Danny Shelton will command double teams in the middle, while "rush end" Josh Shirley will live up to his position's title and create instant havoc in opposing backfields.
While they are more experienced as a whole than last year, the linebacking corps lacks in size and will still struggle once again against the run.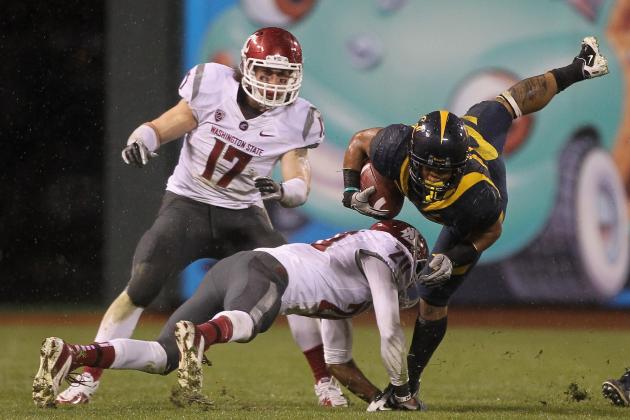 Ezra Shaw/Getty Images

Change is in the air in Pullman. Mike Leach may be the new head coach, but it will be Mike Breske coming in to coach the defense.
The Cougars hope the defense's four takeaways in the spring game is just a sneak preview after the team had just 17 in 2011.
Travis Long led the team in tackles for loss with 12 last season and was named second-team All-Pac-12. He will be depended upon to bring constant pressure as a "buck" linebacker, a hybrid between outside linebacker and defensive end.
Xavier Cooper has shown flashes of being a forceful attacker at the tackle spot, while safety Deone Buchanan will anchor a secondary that needs to improve its coverage after allow opposing quarterbacks to complete 64.2 percent of passes in 2011 while only picking off eight.
The Cougars return nine starters from last season, which will allow for consistency despite coaching changes across the board. The Cougars have depth as well and will build upon last year to earn respectability in the Pac-12.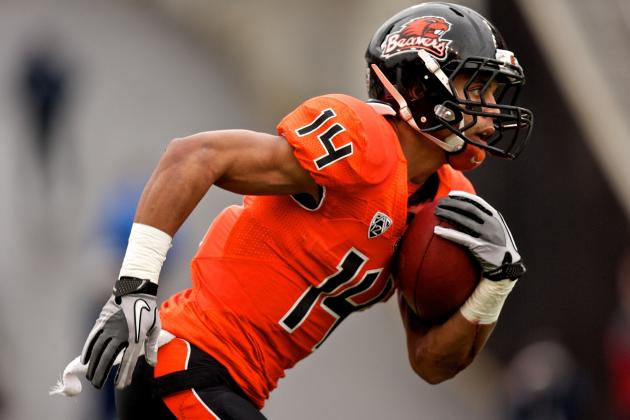 Craig Mitchelldyer/Getty Images

The Beavers appear to be in a bit of a rut, finishing under .500 in consecutive years. The running defense was awful last year in allowing over 200 yards per game, while the Beavers were near the bottom quarter nationally in surrendering 31 points per contest.
The line was ravaged by injuries last season, which opened up playing time for Scott Crichton. The freshmen ended up with 14.5 tackles for loss, six sacks and six forced fumbles and will be relied upon to spearhead a better effort to contain opponent's ball-carriers in the backfield.
Jordan Poyer is a star in the back seven who possesses the speed and ability to shut down top receivers. The Beavers return four of five starters at linebacker, but both the linebacking corps and the secondary need a less porous run-stopping performance from the line in order for the defense to achieve balance.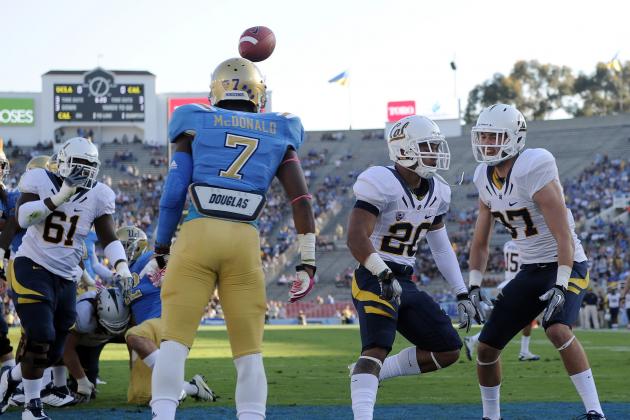 Harry How/Getty Images

The Bruins have a wealth of talent on defense and this should be the year to see that talent actualize into results.
Safety Tevin McDonald had three interceptions against Cal last year and the sophomore looks to be a rising star. Cornerbacks Sheldon Price and Aaron Hester could provide a dynamic duo, with Hester having the speed to cover deep while Price has the ferocity and physicality to lock in on opposing runners.
Linebacker Eric Kendricks is another sophomore poised for greatness and will learn from senior Patrick Larimore how to become a leader of the defense.
Finally, five-star defensive tackle recruit Ellis McCarthy was the big score in new head coach Jim Mora's first offseason. He will join a group with plenty of untapped potential on the defensive front, and will be sure to receive instant playing time.
UCLA has less established stars than the top defensive outfits in the conference, but 2012 could see a large number of former top recruits taking a large step forward in their on-field performances.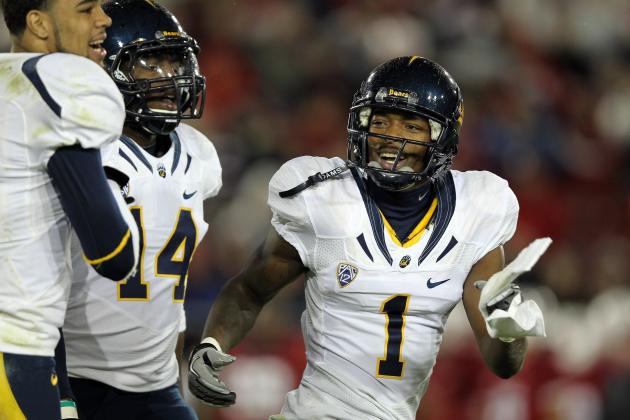 Ezra Shaw/Getty Images

The Golden Bears are solid all-around, but will need some stars to emerge in order to become a defense to be reckoned with.
The player with the highest upside is defensive end Deandre Coleman. He has all the physical tools to become a versatile and explosive pass rusher, while fellow starting end Mustafa Jalil has the strength to be a beast in stopping the run.
The loss of Pac-12 Defensive Player of the Year Mychal Kendricks will be felt at middle linebacker, as no starting spot is safe with all four linebacker positions up for grabs. The Golden Bears will have depth, but need one or two of their young guns to emerge as a leader.
Cornerbacks Marc Anthony and Steve Williams will be able to shut down opposing wideouts, but uncertainty at the free safety spots could bring down the entire unit.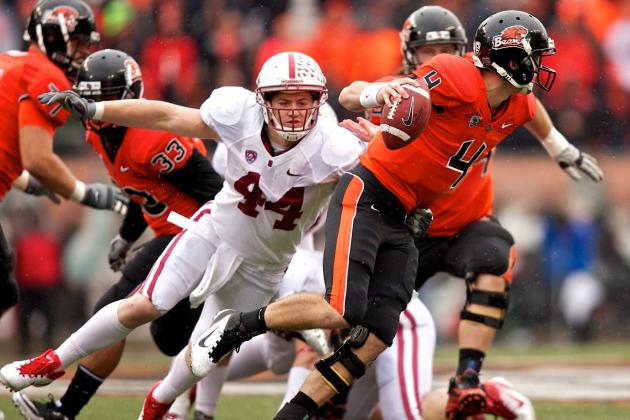 Craig Mitchelldyer/Getty Images

Not only did Stanford finish second nationally with 88.4 rushing yards allowed per game, but they return almost everyone from the front seven.
Without a doubt, the Cardinals has the best linebacking corps in the Pac-12 and possibly the country. Shayne Skov missed all but three games in 2011 due to a knee injury, but his aggressiveness and status as a hard-hitting tackling machine have him as an All-American candidate
Yet, the accolade of best Cardinal linebacker belongs to Chase Thomas, who passed up the draft after having eight-and-a-half sacks and five forced fumbles last season in spite of an increased focus after Skov went down.
Even scarier, fellow backers Jarek Lancaster, A.J. Tarpley and Trent Murphy would be top linebackers on most other Pac-12 squads.
Unfortunately, the defensive line and secondary are not of the same caliber. Defensive end Ben Gardner was second-team All-Pac 12 last year, but the line will not make many big plays behind the line of scrimmage. Though it will be effective in preventing opponents in establishing an effective running game.
The secondary is raw and those who do win starting jobs will need to grow up quickly or be eaten alive against Stanford's slate of pass-happy Pac-12 opponents.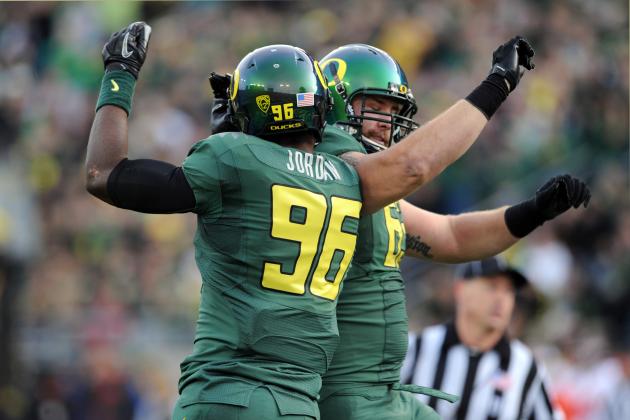 Steve Dykes/Getty Images

Lost in the wake of Oregon's perennial fireworks on offense was a relentless pass rush that finished fourth nationally with 44 sacks. The pass defense was not shabby either, as the Ducks led the nation with 69 passes defended and finished tied for 16th with 17 interceptions.
Like Stanford, the Ducks' primary strength lies with its linebackers. Dion Jordan will be rushing quarterbacks in the NFL soon enough, while inside linebackers Michael Clay and Kiko Alonso will take down any ball carriers in their area code.
Free safety John Boyett was a second-team All-Pac-12 choice last year and will continue to be ever-reliable in the back after leading the Ducks with 108 tackles. Cornerback Terrance Mitchell will also be a menace after starting 12 games last year as a freshman.
Nose guard Taylor Hart is the leader on the defensive line, and will be joined by a group of reliable veterans and talented recruits pushing for playing time.
Six starters return, but Chip Kelly's recruiting is paying off dividends now and shows in the Ducks' remarkable depth on the defensive side.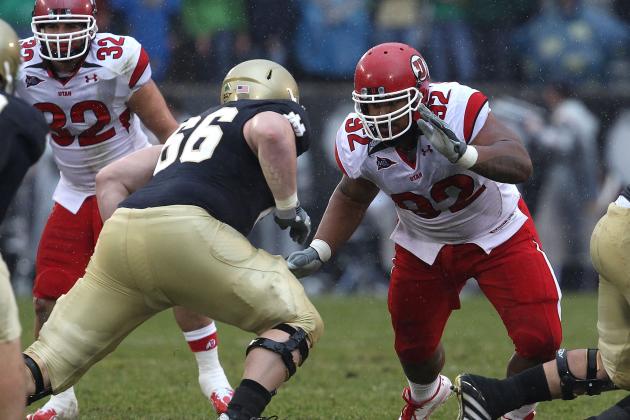 Jonathan Daniel/Getty Images

The Utes led the Pac-12 in scoring defense last season at 20.2 points per game.
Nose tackle Star Lotulelei is a projected All-American and possibly top-five draft choice and will be an immovable object that many an unfortunate running back will be stopped dead in their tracks by this season.
Lotulelei will attract constant double-teams, so the focus is upon Nate Fakahafua and brothers Dave and Joe Kruger to rise up and create a pass rush.
The Utes also led the Pac-12 in interceptions with 19 and held opposing quarterbacks to the lowest yards per attempt and completion percentage as well. Strong safety Brian Blechen has a nose for the ball while also being an aggressive stopper in the run game, while free safety Eric Rowe had 69 tackles starting as a freshman.
The one reason Utah's defensive lineup falls to second is the linebackers. Only Trevor Reilly has extensive experience, so Utah's third game of the season against rival BYU will serve as an ideal early indicator of how the unit is going to shape up.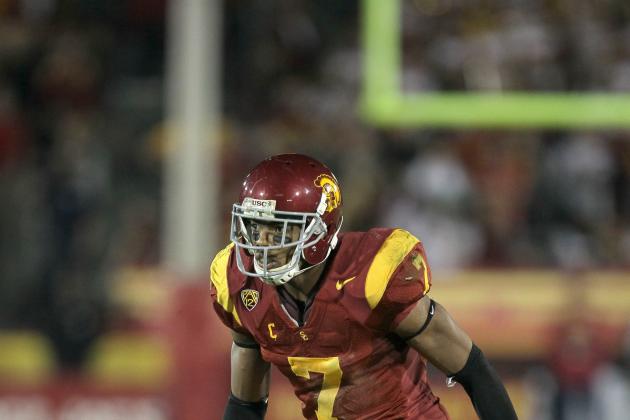 Stephen Dunn/Getty Images

The Trojans will be hunting for a national title and their stars are not all on the offensive side of the ball.
Safety T.J. McDonald was an All-American last year and there should be no reason not to expect a repeat performance.
Nickell Robey and Isiah Wiley front a pesky cornerbacking unit too, with Robey's knack for interceptions likely to result in a big play or two in 2012 as well as some postseason accolades.
All sophomores, Hayes Pullard, Dion Bailey, and Lamar Dawson all settled in well at linebacker as freshman in 2011 and look to be a cohesive and dangerous unit for the next couple of years. Dawson looks to be a star at middle linebacker
The one area of concern is on the defensive line. Tackle George Uko as well as ends Devon Kennard and Wes Horton have NFL talent, but need to show some semblance of NFL performance in order to keep pressure on opposing offensive lines. That will be the USC coaching staff's biggest focus this offseason.
USC's defense is young and/or unproven up front, but if former four and five-star recruits can live up to their billing, then the Trojan defense will make USC almost unbeatable.