NBA Draft 2012: Which Teams Are One Piece Away?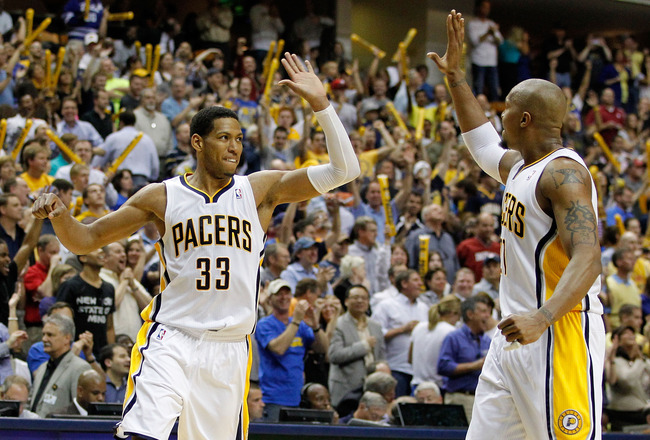 Gregory Shamus/Getty Images
While the lottery teams of the 2012 NBA draft will be looking for guys to build a franchise around, the teams picking later in the first round are simply looking to put the final touches on their organizations.
The Indiana Pacers, Memphis Grizzlies and Denver Nuggets are three teams that had success in 2011 and are just one piece away from taking that next step forward in 2012.
Indiana Pacers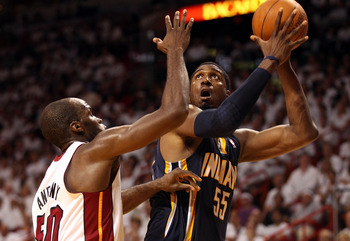 Marc Serota/Getty Images
Before the start of the 66-game season, we knew the new format would favor teams with young and deep rosters, but did people really expect to see the Indiana Pacers as high as third in the East?
The Pacers finished with a 42-24 record, advancing to the conference semifinals where they lost to the Miami Heat in an evenly matched series. Anyone who watched that series should know just how close Indiana is to becoming a consistent threat in the NBA.
Roy Hibbert has finally emerged as the true center he was projected to be in the '08 draft. He is the main reason why the Pacers ranked 10th in points allowed, ninth in blocks and sixth in opponents' field-goal percentage this season. Hibbert's contract expires this offseason, but Indiana will most likely make him an offer he can't refuse.
As far as offense is concerned, the Pacers' success comes from balancing the floor. They rely on five different scorers to reach double figures, and those five players change on a nightly basis. Their best bet in this year's draft will be to pick an offensive-oriented player who can become a more reliant fourth or fifth option on the floor.
Danny Granger is the only small forward in the lineup, so selecting Quincy Miller out of Baylor might be the smartest play with the No. 26 pick.
Miller has been labeled as a "poor man's Kevin Durant."
At 19 years of age, Miller is 6'9'' 219 pounds and has a 7'4'' wingspan. He is highly praised for his ability to score off the dribble, and he would spread the floor well with his ability to knock down the outside jumper. Miller shot 41 percent from behind the arc in college.
The Pacers have yet to re-sign shooting guards Leandro Barbosa and George Hill, so it's also possible they look at the 2-position with their first-round selection. In that case, SG Doron Lamb out of Kentucky will be on their board.
The Pacers had just three real threats from long distance last season, so Miller and Lamb would each be able to contribute in that regard.
One more offensive weapon could be the missing piece that ties everything together in Indiana.
Memphis Grizzlies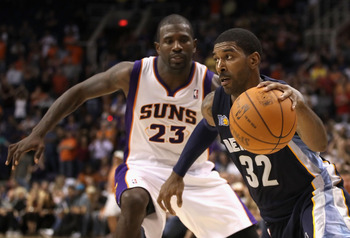 Christian Petersen/Getty Images
As far as I'm concerned, if you have an above-average center in the NBA (Marc Gasol), you are just a few pieces away from being a successful team. Add in the fact that the Grizzlies have Zach Randolph and Rudy Gay, and the only move they really need to make is replacing free agent O.J. Mayo.
Mayo has caught the eye of many teams, and it seems as though he will part ways with Memphis this summer. Finding a 35 percent three-point shooter at shooting guard should be the Grizzlies' strategy in Thursday night's draft.
The two names that fit are Tony Wroten of Washington and Doron Lamb of Kentucky.
As far as Lamb goes, don't get the impression that I think he will be the next big thing in the NBA. The only reason I bring him up again is because he fills the exact needs of the Grizzlies as well.
Lamb is one of the best shooting guards available deep in the first round (Memphis has the No. 25 pick), and he is a solid, two-way player. He is not a go-to guy offensively, but he can and will serve as an NBA role player.
If Memphis also wants to add depth at point guard, Wroten would be the better option. Mike Conley is the Grizzlies starter, but last year's pick, Josh Selby, isn't playing up to standards. A better backup who could cover two different positions would surely help the Grizz.
Wroten is much like the new mold of NBA point guards—shooting guards who take the ball up the floor. He is a good ball-handler and his quick feet allow him to beat most defenders to the rim. Set him a screen, and he knows what to do with it.
Unlike Lamb, however, Wroten's shot will need a fair amount of improvement. Last year, he shot 58 percent from the free-throw line and a dismal 18 percent from the three-point line.
The draft will be a matter of preference for Memphis. Do they replace O.J. Mayo with a nearly identical player (Lamb), or do they risk trying to improve two positions at once (Wroten)?
Denver Nuggets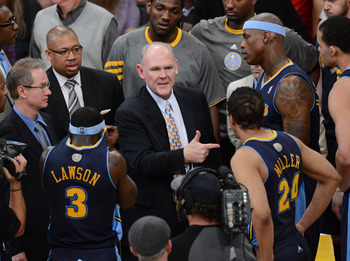 Kevork Djansezian/Getty Images
Last season, the Denver Nuggets shipped Nene to the Washington Wizards in exchange for JaVale McGee and Ronny Turiaf. McGee significantly improved the Nuggets defense (averaged 3.1 blocks/game), but he never seemed to make up for Nene's offensive impact.
Denver had three players at PF/C who averaged above 10 points per game, but McGee is no longer under contract and Al Harrington is now 32 years old.
This year might be the time to look for a future big man.
The Nuggets have the No. 20 pick on Thursday, but there will be some viable options late in the first round.
One idea would be to risk the pick on Jared Sullinger. Sullinger was recently "red flagged" by NBA scouts after receiving word that he would have back issues throughout his professional career (via ESPN). Regardless of the injury, no one can question Sullinger's high basketball IQ, rough play in the paint or his ability to knock down a jumper from anywhere on the floor.
His height, however, does present a problem (Sullinger is only 6'9''). If Denver is looking for a guy to play center, Sullinger should not be the pick.
Instead, the Nuggets would want to target a player much like Arnett Moultrie of Mississippi St.
Moultrie helped lead the Bulldogs to a 21-12 record last season, posting the best numbers of his collegiate career. Moultrie plays well in the post, and he is even better on the offensive glass, recording 4.8 rebounds per game.
He also shoots 87 percent from the free-throw line. Take that, Dwight Howard.
Defensively, Moultrie isn't the greatest shot blocker, but that is not the end of the world. Denver embraces the NBA's West Coast game, playing above the century mark nearly every game.
What's key for both of these players is that they don't have to take over the entire load immediately.
Harrington still has a few more years left in the league, which should allow ample time for the two rookies to build their game.
Keep Reading

Indiana Pacers: Like this team?