Deron Williams Rumors: Mavericks Must Do Whatever It Takes to Get D-Will
June 27, 2012

Christian Petersen/Getty Images
Mark Cuban didn't blow up a championship team for nothing.
In 2011, the Dallas Mavericks imposed their will on the NBA and won the title. In 2012, they were embarrassed by the Oklahoma City Thunder in the first round of the playoffs.
What happened? Cuban isn't used to winning late in the season, that's what happened. He allowed Tyson Chandler, J.J. Barea and DeShawn Stevenson—players who played key roles in the Mavs' Finals run—to walk because he reportedly wanted to reel in Deron Williams and Dwight Howard this summer.
D12 didn't opt out, causing Cuban's dream of a Big Three to go up in smoke. And now Ken Berger of CBS Sports is reporting the Brooklyn Nets have the inside track on re-signing D-Will. If that happens, Dallas is screwed.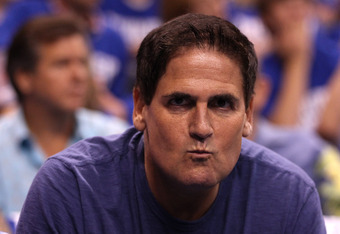 Christian Petersen/Getty Images
Cuban can't allow it. He must do whatever it takes to convince Williams to spurn the Nets.
Sell him that the Mavs are his best shot for a ring. It shouldn't be that difficult. While Dallas still boasts a roster featuring Dirk Nowitzki, Brooklyn's next best player is a seven-footer that averages fewer than six boards a game in Brook Lopez.
Sell him Dallas. Williams grew up in a suburb of the city. In the race for his services, being close to home while playing around family and friends is a selling point the Mavericks must take advantage of.
And with Cuban's massive ego, he should have no problem selling arguably the Mavs' greatest edge: himself. Despite their frequent postseason collapses, Cuban's ability to build a winner is undeniable. Mikhail Prokhorov has yet to gain any credibility in the league and his dedication to the Nets is debatable.
While the Mavericks are capable of clearing plenty of cap room to make a big splash in free agency, there are no big splashes to make outside of Williams. Steve Nash is the next best unrestricted free agent available.
If the Mavs fail to sign Williams, they won't be a legitimate contender this season and, even worse, they'd waste one of the 34-year-old Nowitzki's last few years in the league.
David Daniels is a featured columnist at Bleacher Report and a syndicated writer.